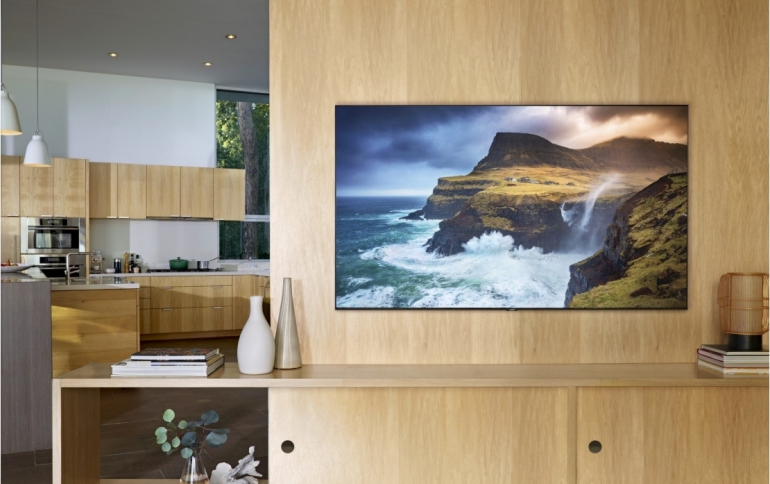 Samsung Launches its 2019 QLED TV Line Featuring 4K, 8K and Design-Focused TV Options
Samsung Electronics is bringing its 2019 TV line to the U.S., offering new QLED 4K and 8K models.
Samsung's 2019 QLED 4K line spans four series—Q60, Q70, Q80 and Q90—that range from 43 to 82 inches. They join the 2019 QLED 8K line, which is available in five sizes ranging from 65 to 98 inches.
Samsung is also enhancing its design-focused lifestyle TVs: The Frame, which features the Samsung Art Store art platform for TV with 1,000+ works of art and interchangeable bezels, and The Serif, which features a post-modern design. New for this year, The Frame and The Serif feature superb QLED picture quality along with new Smart features in a variety of sizes.
The 2019 Q80 and Q90 feature 'Ultra Viewing Angle' technology, which restructures the TV's panels so the backlight passes through the panel with lights evenly onto the screen. The result is reduced glare and enhanced colors, according to Samsung.
In addition, the Q70, Q80, and Q90 models offer Direct Full Array technology that uses a panel featuring concentrated zones of precision-controlled LEDs. These LEDs adjust automatically to display deeper blacks and purer whites.
The Q900 Series 8K TVs incorporate Samsung's Quantum Processor 8K, which upscales lower resolution content to 8K while also allowing for playback of native 8K content. This year's models also utilize the Quantum Processor 8K that optimizes audio and video to the specific content on the screen. It can also tailor the audio settings to the specific layout of the room.
Samsung's new QLED 4K models also feature their own proprietary Quantum Processor 4K. No matter the resolution of the source content, the Quantum Processor 4K can use AI upscaling to deliver improved brightness, picture quality and sound optimized for each scene.
As announced at CES 2019, Samsung is offering iTunes Movies and TV Shows and Apple AirPlay 2 support on 2019 Samsung Smart TV models. Support on 2018 Samsung Smart TVs will be made available via firmware update. A new iTunes Movies and TV Shows app will debut on Samsung Smart TVs in more than 100 countries. AirPlay 2 support will be available soon on Samsung Smart TVs in 190 countries worldwide.
With the new iTunes Movies and TV Shows app on Samsung Smart TVs, Samsung customers can access their existing iTunes library and browse the iTunes Store to buy or rent from a selection of hundreds of thousands of movies and TV episodes. iTunes Movies and TV Shows will work with Samsung's Smart TV Services, such as Universal Guide, the New Bixby and Search. With AirPlay 2 support, Samsung customers will be able to play videos, photos, music, podcasts and more from Apple devices directly to Samsung Smart TVs, including QLED 4K and 8K TVs, The Frame and Serif lifestyle TVs, as well as other Samsung UHD and HD models.
2019 Samsung Smart TVs offer even more ways for users to discover and watch content. The Universal Guide features an improved AI algorithm that leverages a user's subscription services, favorite content, and TV viewing habits to offer customized recommendations about what to watch. Users will be able to leverage the New Bixby feature on 2019 QLED TVs and soon use Amazon Alexa and the Google Assistant to control their TVs and access their content through voice commands.
Users can navigate their content with Samsung's OneRemote. And with the addition of Far Field Voice Capability on the OneRemote, users can use voice commands to control their TV even if they are across the room from their remote.
Real Game Enhancer optimizes the gaming experience through a set of gaming features. This year, Real Game Enhancer features AMD Radeon Freesync variable refresh rate technology, which helps prevent tearing and stuttering, as well as Game Motion Plus, which removes motion blur and judder.
Real Game Enhancer combines these features with Auto Game Mode, which minimizes input lag on compatible devices. It also includes AI-based audio and video enhancements that optimize the settings to delivering cinematic sound and lifelike visuals.
Introduced in 2018, Samsung's Ambient Mode returns to Samsung's 2019 QLED 4K and 8K TV models. The Ambient Mode is also available on the Serif TV.
The Ambient Mode is turning a blank screen into a decorative or informational display when the TV is not in active use. It can provide daily information, like the time, weather forecast, or that day's headlines. It can also display artistic content like photos and works of art.
Although most of the new models will be available for preorder at Samsung's site soon, pricing is only only available for a handful right now. They include the 65-inch RU8000 ($1,400), the 55- and 65-inch Q60R, ($1,200 and $1,800 respectively) and the 65-inch Q70R ($2,200) and Q90R ($3,500).
Then there's the 8K-resolution Q900R, which was announced earlier and starts at $5,000 for the 65-inch size.
Samsung's full 2019 TV line can be found below:
QLED 8K

Q900: 65", 75", 82", 85", 98"

QLED 4K

Q90: 65", 75", 82"
Q80: 55", 65", 75", 82"
Q70: 49", 55", 65", 75", 82"
Q60: 43", 49", 55", 65", 75", 82"

QLED Lifestyle 4K TVs:

The Frame: 43", 49", 55", 65"
The Serif: 55"

4K UHD RU Series

RU8000: 49", 55", 65", 75", 82"
RU7300 (Curved): 55", 65"
RU7100: 43", 49", 55", 58", 65", 75"