Samsung Details Foundry Plans, 3nm Gate-All-Around FETs Coming in 2021
Samsung Electronics unveiled plans to bring to mass production in 2021 the architectural successor to FinFETS, gate-all-around (GAA) transistors, at the 3nm node.
The South Korean giant also reaffirmed plans to begin 7nm production using extreme ultraviolet (EUV) lithography in the second half of this year at its annual foundry technology forum (Samsung Foundry Forum 2018 USA) held in California on Tuesday (May 22).
"The trend toward a smarter, connected world has the industry demanding more from silicon providers," said Charlie Bae, executive vice president and head of the Foundry Sales & Marketing Team at Samsung Electronics. "To meet that demand, Samsung Foundry is powering innovation at the silicon level that will ultimately give people access to data, analysis and insight in new and previously unthought-of ways to make human lives better. It is imperative for us to accomplish the first-time silicon success for our customers' next-generation chip designs."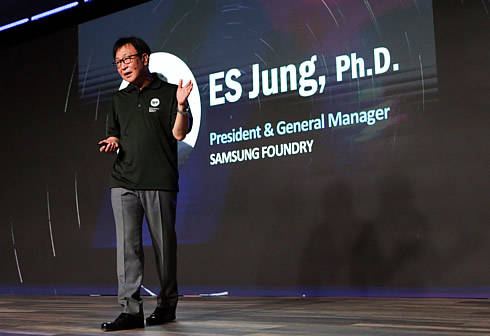 Process Technology Roadmap Updates
7LPP (7nm Low Power Plus): 7LPP, the first semiconductor process technology to use an EUV lithography solution, is scheduled to be ready for production in the second half of this year. Samsung says key IPs are under development, aiming to be completed by the first half of 2019. Rivals TSMC and Globalfoundries have also announced plans to use EUV in commercial production starting in 2019.

5LPE (5nm Low Power Early): Through further smart innovation from 7LPP process, Samsung says that 5LPE will allow greater area scaling and ultra-low power benefits.

4LPE/LPP (4nm Low Power Early/Plus): The use of highly mature and verified FinFET technology will be extended to the 4nm process. As the last generation of FinFET, 4nm provides a smaller cell size, improved performance and faster ramp-up to the stable level of yield by adopting proven 5LPE, supporting easy migration.
3GAAE/GAAP (3nm Gate-All-Around Early/Plus): 3nm process nodes adopt GAA, the next-generation device architecture. To overcome the physical scaling and performance limitations of the FinFET architecture, Samsung is developing its GAA technology, MBCFET (Multi-Bridge-Channel FET) that uses a nano-sheet device. By enhancing the gate control, Samsung says that the performance of 3nm nodes will be significantly improved.
GAA transistors are field-effect transistors (FET) that feature a gate on all four sides of the channel to overcome the physical scaling and performance limitations of FinFETs, including supply voltage.
Last June, IBM and its research alliance partners Samsung and Globalfoundries described the process they had developed for making 5nm GAA transistors based on stacked nanosheets at the 2017 Symposia on VLSI Technology and Circuits conference in Kyoto, Japan. Other chipmakers, including Intel and TSMC, are known to be developing their own versions of next-generation transistors beyond FinFET similar to GAA FETs.
Yongjoo Jeon, a principal engineer with Samsung Foundry, said Tuesday that Samsung will use an internally developed EUV mask inspection tool. This is a significant advantage for Samsung, since no commercial tool has been developed, Jeon added.
Jeon said that Samsung will initially deploy EUV without the benefit of a pellicle to protect EUV photomasks from particle contamination, another technology that is still in development. Jeon said Samsung is making progress on developing an EUV pellicle and that he is confident that the company will eventually have one to deploy in its EUV process.
Samsung is also still developing EUV photoresist and is on track to be able to achieve the target defect density for mass production later this year, Jeon said.
ASML Holding NV is the main supplier of EUV lithography machines, and Samsung is confident it has improved the output of this equipment enough for mass production. The Korean giant managed to make more than 1,000 disks of silicon using EUV each day, the company said.
HPC (High-Performance Computing) Solutions
Samsung Foundry delivers the technology solutions to drive the latest hyper-scale datacenters and accelerate the growth of Artificial Intelligence (AI) and Machine Learning capability. From the latest 7LPP technology and beyond with its EUV capability, to the differentiated high-speed IPs such as 100Gbps+ SerDes on top of the 2.5D/3D heterogeneous packaging, Samsung promised to deliver the total platform solutions to increase computing power and accelerate AI revolution.
Connected Device Solutions
From low-power microcontroller units (MCU) and next-generation connected devices, to the most sophisticated autonomous vehicles based on 5G and Vehicle to Everything (V2X) communication, Samsung Foundry offers full-featured turnkey platforms to enable products. The company is offering a technology portfolio from 28/18 FD-SOI with eMRAM and RF capability to advanced 10/8nm FinFET processes to enable "a great end-user experience" for connected devices.