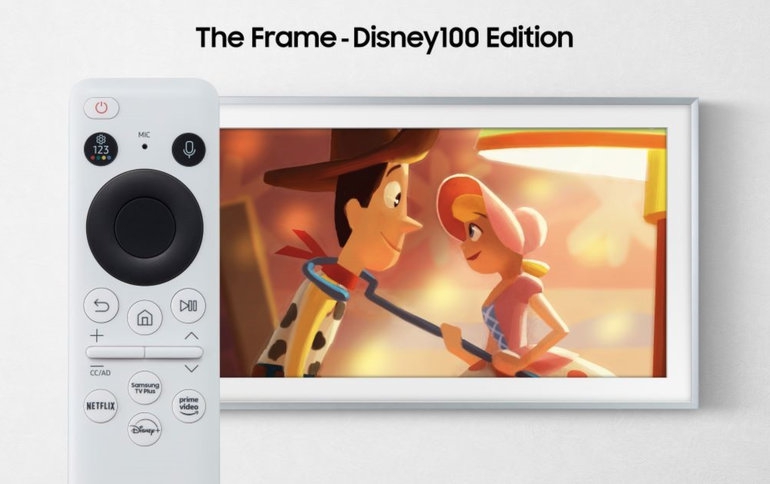 Samsung Celebrates Disney's 100th Anniversary With Special Edition of The Frame
Samsung Electronics today announced the launch of The Frame-Disney100 Edition to commemorate Disney's 100th anniversary. Available in 55, 65 and 75-inch class models, this limited edition of The Frame features a sleek branded bezel, 100 special pieces of art from the Disney collection and a Mickey Mouse-inspired remote, designed to delight Disney fans all over the world.1
"We are thrilled to offer this one-of-a-kind edition of The Frame to celebrate Disney's landmark 100th anniversary," said Cheolgi Kim, Executive Vice President of Visual Display Business at Samsung Electronics. "These collaborations serve as an exciting way to spotlight The Frame's distinct features, which revolutionized how we use our screens and consume content. We hope this unique edition of The Frame allows more people to experience the wonderful viewing experience the TV has to offer."
The Frame-Disney100 Edition exemplifies a delightful blend of Samsung technology and Disney creativity. Upon powering on the TV, viewers are greeted by a Samsung x Disney100 onscreen logo. The TV also features exclusive bezels in the Disney100 signature color — platinum silver metal — paired with a special Disney edition remote as a nod to Disney's most beloved character, Mickey Mouse.
The Frame-Disney100 Edition also comes with 100 pieces of dedicated art from Disney that you can access directly on the Samsung Art Store. With content from Walt Disney Animation Studios, Pixar Animation Studios, Marvel, Lucasfilm and National Geographic, Disney fans can curate and showcase a gallery of their most beloved characters and content right on their TV. With Samsung Art Store, you can also enjoy beautifully curated collections from leading international museums such as the Louvre, Tate and more, as well as artists from Monet to Van Gogh. Samsung Art Store makes it easier than ever to bring the art gallery experience directly into your home, and this new curated Disney collection offers even more captivating pieces to choose from.
Since its launch, The Frame has redefined content consumption by turning traditional displays into stunning works of art. The TV's slim design and matte display has been noted by fans around the world as an excellent addition to match home and interior design preferences, while its premium 4K QLED picture quality breathes new life into art and media consumption.
For more information on The Frame and to purchase The Frame Disney100 Edition while supplies last, please visit https://www.samsung.com/gr/