Roku Debuts Roku TV Wireless Speakers
Roku today announced the Roku TV Wireless Speakers, the first speakers made exclusively for Roku TV.
Adding depth and stereo separation to movies, TV and music, Roku TV Wireless Speakers are easy to setup (wirelessly), they are controlled by the Roku software and ensure audio video sync.
Unlike home theater systems, set up is simple with wireless pairing to Roku TVs via Roku Connect. Once paired, users can listen to audio from any streaming channel on the Roku platform, live TV from an antenna, or other devices such as a cable set-top box through the Roku TV Wireless Speakers. The speakers support Bluetooth music streaming from mobile devices. The speakers also offer Automatic Volume Leveling to lower the volume on loud scenes and boost the volume on quieter ones and Dialog Enhancement to improve the intelligibility of speech.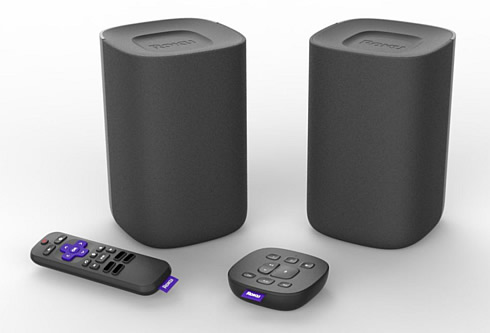 The speakers work exclusively with Roku TVs. They ship with a Roku TV Voice Remote, which controls both the Roku TV and the speakers, as well as the new Roku Touch. Roku Touch is a battery-powered tabletop voice remote featuring a press-and-hold design for voice commands, playback control buttons and programmable preset buttons.
Roku TV users can pre-order from Roku.com between July 16 - 23, 2018, for an introductory price of $149.99. From July 24 through October 15, 2018, Roku TV Wireless Speakers will be available for a special price of $179.99. Beginning October 16, pricing is $199.99. Shipping will begin by late October.
The bundle includes:
(2) Roku TV Wireless Speakers
Roku TV Voice Remote
Roku Touch tabletop remote
(2) Power Cables
(4) AAA Batteries