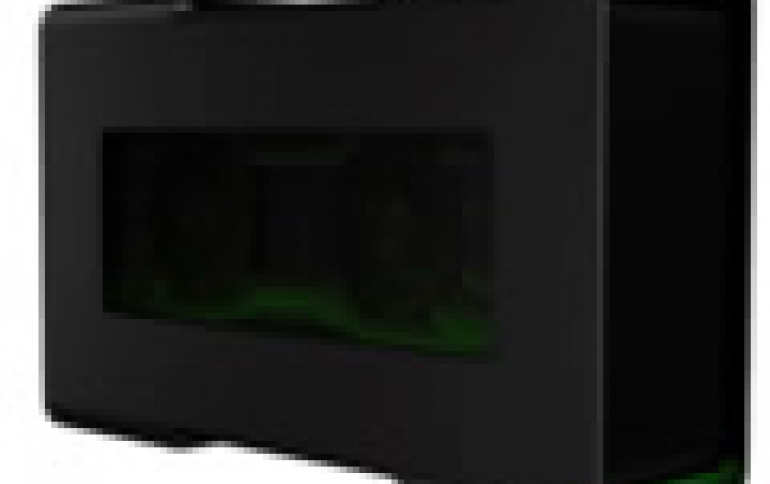 The Razer Core External Graphics Device Will Cost $500
Razer today announced pricing, availability and compatibility of its Razer Core. The device is the first plug-and-play Thunderbolt 3 external graphics enclosure that debuted earlier this year at CES in tandem with the Razer Blade Stealth Ultrabook.
The graphics enclosure supports a single double-wide, full-length, PCI-Express x16 graphics card. Qualified AMD Radeon graphics cards are available for use with the Razer Core. At launch of the Razer Core, NVIDIA will support GeForce GTX GPUs, including the entire lineup of Maxwell GPUs, such as the GTX 970. The Razer Core will be compatible with Razer's latest systems including the Blade Stealth Ultrabook, and the new Razer Blade 14-inch gaming laptop in the near future.
The Razer Core will be available for pre-order starting today and will ship starting in April. The MSRP for Razer Core is $399 with the purchase of a compatible Razer notebook or $499 if purchased separately. Current registered owners of the Blade Stealth will receive the discounted price.
A Thunderbolt 3 (USB-C) cable provides bandwidth and is all it takes to connect compatible Razer systems with the Razer Core. With the Razer Blade Stealth, the Razer Core also provides power to the notebook, charging the internal battery.
The Razer Blade Stealth and Razer Core are the first products to ship that support AMD XConnect technology, which when configured with a qualified Radeon graphics card ensures switching between discrete and integrated Intel HD graphics for a plug-and-play user experience.
Physical installation of a graphics card into the Razer Core requires no tools. Its aluminum housing slides opens and a single included thumb-screw secures the graphics card in place.
The Razer Core also contains four additional USB 3.0 ports and Ethernet connectivity, and it has two-zone lighting technology Powered by Razer Chroma.
Razer Core can accommodate graphics cards that draw a maximum of 375 W and no larger than 12.20 inches x 5.98 inches x 1.73 inches (310 mm x 152 mm x 44 mm). Plug-and-play support varies according to graphics chipset and notebook model.
Qualified AMD Radeon graphics cards (AMD XConnect supported with Blade Stealth):
AMD Radeon R9 Fury
AMD Radeon R9 Nano
AMD Radeon R9 300 Series
AMD Radeon R9 290X
AMD Radeon R9 290
AMD Radeon R9 280
Supported NVIDIA GeForce graphics cards (at launch):
NVIDIA GeForce GTX Titan X
NVIDIA GeForce GTX 980 Ti
NVIDIA GeForce GTX 980
NVIDIA GeForce GTX 970
NVIDIA GeForce GTX 960
NVIDIA GeForce GTX 950
NVIDIA GeForce GTX 750 Ti
NVIDIA GeForce GTX 750
Compatible Razer notebook models:
Razer Blade Stealth
Razer Blade (w/ Thunderbolt 3) in the near future
Razer Core Specifications:
Connection to PC: Thunderbolt 3 using included 40 Gbps cable
GPU Support: graphics card sold separately:

GPU Type: (1) double-wide, full-length PCI-Express x16 graphics card
GPU Max Dimensions: 12.20" x 5.98" x 1.73" (310 x 152 x 44 mm)
GPU Max Power Support: 375 W
Graphics Output: Based on capabilities of installed graphics card

Input & Output:

USB 3.0 x 4
Gigabit Ethernet 10/100/1000
Thunderbolt 3 (for connection to PC)

Lighting: Powered by Razer Chroma - 2 zones
Power Supply: 500 W

Approx. Dimensions: 4.13" (104.9 mm) wide x 13.38" (339.9 mm) deep x 8.6" (218.4 mm) high
Approx. Weight: 10.89 lbs. (4.94 kg)