1. Region Codes
Pioneer DVD-104S IDE DVD ROM - Page 1
This is the latest DVD Rom from Pioneer..Last 6x DVD Rom models made big hit on market..This time Pioneer shipped 10x DVD/40x CD speed read..However this model also includes RPC mode 2 standard which locks drive after 5 changes of region..Will this model also be a must buy or not ??
Introduction
Pioneer's is well known company to most users since it has many patents related to optical technology. It was the 1st company which shipped slot-in CD Roms most of them were very succefull. Slot In drives also continued into DVD Rom models. Previous 4x, 6x models and newest 10x DVD Rom have it.
However the main difference is that this time the drive has RPC mode 2 standard as set down by the DVD Consortium as mandatory for all manufacturers of DVD-ROM drives produced after January 1st 2000. This mean all newest 10x and future DVD Rom will have it. But what is that RPC mode 2 standard about ? It's about Region codes. This time the region protection is hardware. You can change region only 5 times. This is a big problem to many users since many of us have DVDs from different regions.
REGION CODES
Region Codes are part of the DVD Standard. There is a Region number located within one or all of the components required for DVD-VIDEO playback. The Region number defines the region of the DVD-ROM drive and its playback hardware/software. DVD-VIDEO discs may also contain a Region number in the shape of a world globe. Unless the Region number on both the DVD-VIDEO disc and DVD-ROM drive and its playback components match, playback is not possible. When the word "ALL" is located in the world globe on a DVD-VIDEO disc, that particular DVD-VIDEO disc can be played on all DVD-ROM drives and its playback components, regardless of its region.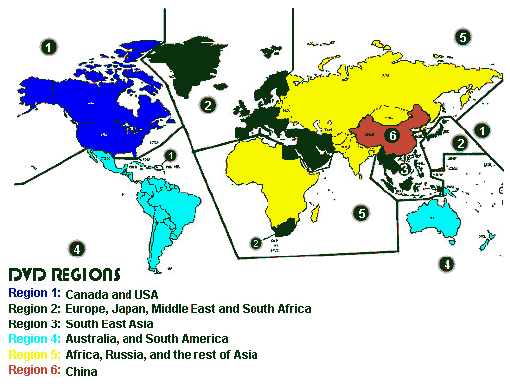 Pioneer DVD-104S DVD ROM Specifications

Supported CD Formats

DVD ROM & Video (Single & Dual Layer), DVD-R (DVD-RAM not supported), CD-R, CD-R/W, CD-DA (Audio CD), CD-ROM (Mode 1 & 2), CD-ROM XA, Video CD, Photo CD (single or Multi-session), CD-EXTRA, HYBRID CD, CD-Text

Interface

ATAPI Model: ATA/ATAPI-4, Ultra DMA 33

Sustained Transfer Rate

4.1X – 10X (5.58MB/sec – 13.5MB/sec) for DVD-ROM
17.2X – 40X (2.58MB/sec – 6.0MB/sec) for CD-ROM

Seek Time (random/average)

90ms for DVD-ROM
70ms for CD-ROM

Access Time (random/average)

100ms for DVD-ROM
80ms for CD-ROM

Functions

Multi Read, Horizontal & Vertical Mounting Orientation , Analog output, Digital Output (SDPIF), Plug & Play/ SCAM Compatible, Flash ROM

Data Buffer

512KB