Panasonic Touts 1TB Optical Disc For Storing Cold Data
Panasonic plans to increase disc capacity the the "Archival Disc" from 500GB to 1TB and start mass production sometime in the near future.
The "Archival Disc" is an optical storage medium co-developed by
Sony and Panasonic, optimal for storing large volumes of data over an extended period of time. Then in 2016, Panasonic began mass producing these Archival Discs, and hopes that the new media could attract the IT industry as a media possible of safely and securely storing large volumes of data over an extended period of time.
Digital data may be classified into 3 categories - hot data, warm data, and cold data - depending on how often it is used or accessed, and it should be housed on media that is best suited for the specific storage criteria. Cold data, data that is not accessed so frequently but should be stored long-term, or in other words archive data is best stored on optical discs.
This is due to the unique attributes of optical discs, which are "permanence = tamperproof," "stability = lifespan of 100 years," and "low power consumption." Power consumed to store data is increasing, so reducing the power consumed by data storage has become a growing environmental concern.
Because optical discs have a long life, there is no need to regularly migrate data from degraded media to new media. Moreover, optical discs do not require operations or cooling of facilities that are associated with hard disks, therefore, long-term storing of data on optical discs can reduce power consumed as well as costs incurred. If 1PB (petabyte) of data are stored for 20 years on HDDs, magnetic tapes, and optical discs, with widely available HDDs and magnetic tapes, the costs come out to be around the same, whereas with optical discs, it is estimated that the data could be store at half the cost.
With respect to the evolution of storage capacity of CDs, DVDs, and Blu-ray Discs, Panasonic has employed smaller sized pits/marks, shorter wavelength laser for data recording, and improved drawing rates. Furthermore, Panasonic has developed double-sided, triple-layer discs with a capacity of 200GB per disc (100GB on each side).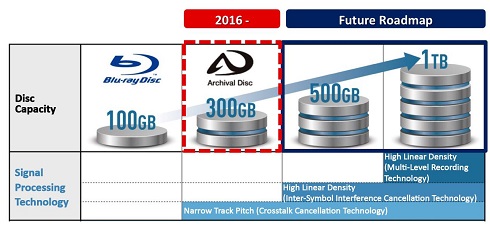 With Archival Discs, Panasonic adopted 2 new technologies to realize a capacity of 300GB per disc.
Land areas between the grooves were traditionally unused, but the "land-and-groove technology" records data on land tracks as well.
"Crosstalk-cancelling technology" cancels crosstalk noise generated by adjacent tracks ensuring playback quality without read error even with narrow track pitches.
In the future, Panasonic will adopt technologies to enhance data recording linear density (multi-level recording technology) and to enable recording and playback that eliminates interference between adjacent data (inter-symbol interference elimination technology) to further improve disc capacity.
In March 2016, working with Facebook, Panasonic announced that it has developed the data archive system, "freeze-ray," which uses Archival Discs with a storage capacity of 300GB.
"freeze-ray" stores data in magazines, which is comprised of twelve 300GB, double-sided, write-once, Archival Discs. Each magazine can store 3.6TB of data, and one row of modules comprised of these magazines can store 273TB of data. A rack is standardly equipped with 7 rows of modules, bringing the total data capacity of the rack to 1.9PB.
The "freeze-ray" system employs Panasonic's proprietary method that can retrieve 6 discs from a magazine and simultaneously record or playback data on 6 drives. In other words, 1 file data may be scattered and simultaneously recorded on 12 sides. And the data transfer speed is 360mbps. This is on par with hard disk data transfer speeds.
In addition, each magazine is compatible with up to RAID 6 recording, ensuring data security. And the data within a magazine can be accessed without changing discs.
There is ever-growing need to store large volumes of data over long periods of time. To meet such needs, Panasonic says it will continue to develop new generation optical discs.