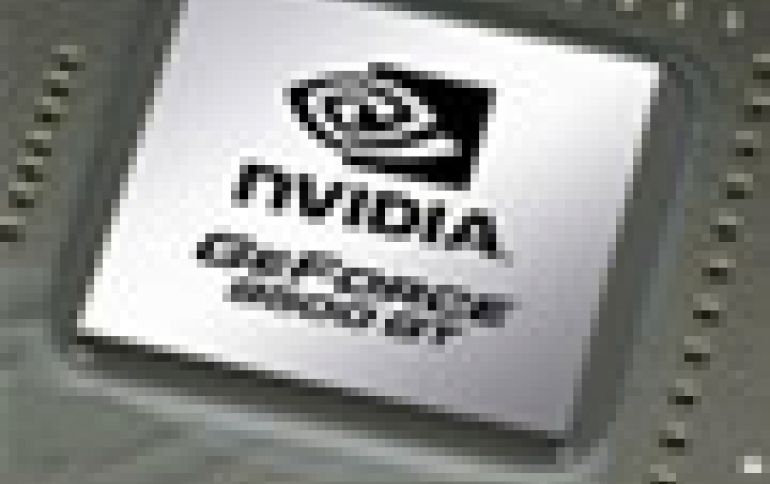 Nvidia Offers PhysX and CUDA Through New Lineup of GeForce CPUs
Nvidia today announced the immediate availability of three new desktop GeForce 9 Series graphics processing units (GPUs) that bring support for NVIDIA PhysX technology and CUDA general-purpose parallel computing to mainstream PC computing markets. The new GeForce 9800 GTX+, 9800 GT, and the 9500 GT GPUs promise to deliver performance, and application compatibility, along with support for NVIDIA SLI technology, across a wide variety of price points, including under $100 USD.
"The addition of the new 9800 GTX+, 9800 GT, and the 9500 GT GPUs brings a new level of visual computing capability to additional mainstream market segments," said Ujesh Desai, general manager of desktop GPUs at NVIDIA. "NVDIA GPUs deliver the best bang for the buck in each price category, and with support for CUDA, PhysX, and 3D stereoscopic technology, consumers can now experience the unique, innovative, and immersive computing experience that only NVIDIA can deliver."
As PC applications become increasingly visual, many ordinary tasks will benefit from the graphics horsepower provided by the GeForce GPU, including editing photos, running a new operating system such as Windows Vista, or encoding and playing high-definition videos. In addition, the general-purpose computing architecture of the GeForce 9 Series GPUs lends itself to powering the increasing number of applications that are being written to use the GPU?and not the CPU?for non-graphical computational tasks.
NVIDIA GPUs are also the only ones to support PhysX technology, a physics development platform that is already delivering dynamic 3D realism to more than 140 games across multiple platforms.
Graphics cards featuring the new GeForce 9 Series GPUs are available now from add-in card manufacturers, such as: ASUS, BFG, Colorful, Emtek, EVGA, Gainward, Galaxy, Gigabyte, Innovision, Leadtek, MSI, Palit, PC Partner/Zotac, PNY, Point of View, Unika, Unitek, and XFX.
Specifications:
GPU Engine Specs
Processor Cores 32
Graphics Clock (MHz) 550
Processor Clock (MHz) 1400
Texture Fill Rate (billion/sec) 8.8
Memory Specs:
Memory Clock (MHz) 800 (GDDR3) and 500 (DDR2)
Standard Memory Config 256/512 MB (GDDR3) and 512 MB (DDR2)
Memory Interface Width 128-bit (GDDR3 and DDR2)
Memory Bandwidth (GB/sec) 25.6 (GDDR3) and 16.0 (DDR2)
Feature Support:
NVIDIA SLI-ready 2-way
NVIDIA PureVideo Technology PVHD
NVIDIA PhysX-ready Yes
NVIDIA CUDA Technology Yes
HybridPower Technology No
GeForce Boost No
Microsoft DirectX 10
OpenGL 2.1
Bus Support PCI-E 2.0 x16
Display Support:
Maximum Digital Resolution 2560x1600
Maximum VGA Resolution 2048x1536
Standard Display Connectors
Two Dual Link DVI (GDDR3) and Single Dual Link DVI (DDR2)
Multi Monitor Yes
HDCP Yes
HDMI Via Adapter
Audio Input for HDMI SPDIF
Thermal and Power Specs:
Maximum GPU Tempurature (in C) 105C
Maximum Graphics Card Power (W) 50W
Minimum System Power Requirement (W) 350W
Supplementary Power Connectors None
Nvidia also released today the new GeForce 9800M and 9700M GPUs for notebooks, also featuring NVIDIA?s PhysX physics engine.
Toshiba is the first of many top-tier notebook makers to announce notebooks using the new GeForce GPUs - the Qosmio X300/X305 Series.
Five versions of the new GPUs are available. At the ultra-high-end is the GeForce 9800M GTX, GeForce 9800M GTS, and GeForce 9800 GT. These are joined by GeForce 9700M GTS and GeForce 9700M GT flavors. These join the existing GeForce 9600M and 9500M GPUs for mid-range and mainstream notebooks.
The new NVIDIA GeForce 9800M and GeForce 9700M GPUs feature:
- NVIDIA?s PhysX technology
- 112 processing cores
- New graphics engine
- Support for NVIDIA SLI multi-GPU configurations
- Support for Hybrid SLI technology
- PureVideo HD video processing
- Full support for BD-Live and dual-stream video playback
- Support for the new MXM version 3.0 graphics module specification
The new GeForce 9800M and GeForce 9700M Series GPUs will be available from over 20 notebook companies worldwide.