NTT DoCoMo To Offer Smart Clothing
Japan's mobile carrier NTT DoCoMo will start offering new smart clothing and a wrist band that can monitor wearers' health and communicate with smartphones and the cloud.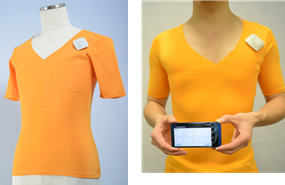 Developed by Toray Industries, 'Hitoe' is a new nanofiber-laced material tha can be used to make clothes such as T-shirts and underwear. Using conductive fibers integrated into the material, it monitors wearers' biological information such as their heart rate. The material can be stretched and be washed without being damaged, according to Toray Industries.
NTT DoCoMo will release a smartphone-linked clothes this year and expand its current healthcare-related services portfolio.
The clothing could work in conjunction with health-monitoring apps on DoCoMo phones such as i Bodymo, a paid service that has functions like an automatic step counter, exercise tracker, and calorie counter.
On Wednesday, DoCoMo and Toshiba also announced Move Band, a water-resistant wristband that links to Android or iOS smartphones via Bluetooth and transmits data during the wearer's walking, such as his or her number of steps, calories burned and sleeping time.