New Toshiba Q300 And Q300 Pro Family Of SSDs Launch With 15nm TLC Flash Memory
Toshiba is launching its Q300 and Q300 Pro series of internal 2.5"/7mm Solid State Drives (SSDs) with 15nm flash memory technology. As well as enhancing performance and reducing power consumption, the evolution from 19nm to 15nm flash sees the maximum available capacity of the Toshiba SSD Q300 Pro family rise to 1024GB.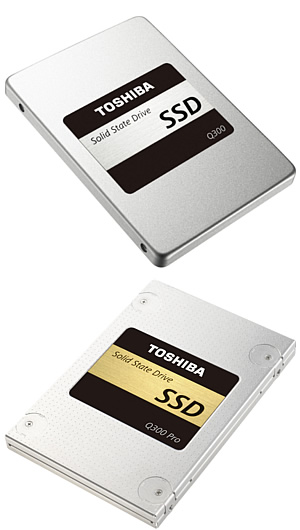 Based on 3-bit-per-cell TLC (triple-level-cell) 15nm flash memory, Toshiba's Q300 series have been designed for users looking to upgrade their PCs by replacing conventional internal hard drives.
The flagship Q300 Pro models, which use 2-bit-per-cell MLC (multi-level-cell) 15nm technology, are designed to address the performance demands of graphic designers or gamers.
The new SSDs feature a backwards-compatible SATA III interface that is rated for maximum data transfer rates of 6.0Gbit/s. Toshiba's adaptive size SLC write cache advanced speed technology optimises processing speed to deliver sequential write speeds up to 530MB/s, while maximum sequential read speeds go up to 550MB/s. Maximum respective random read and write speeds are 92,000 IOPS and 63,000 IOPS for Q300 Pro models and 87,000 IOPS and 83,000 IOPS in the case of Q300 SSDs.
Toshiba's Q300 Pro SSDs are available in capacities of 1024 GB, 512 GB and 256 GB. Capacity options for the Q300 SSDs are 960 GB, 480 GB, 240 GB and 120 GB.
All of the drives offer support for native command queuing (NCQ), S.M.A.R.T. (self-monitoring analysis and reporting technology), zeroing TRIM and Patrol Read (this is only available with Q300 Pro).
Models in the Q300 Pro series also feature Toshiba's proprietary QSBC (Quadruple Swing-By Code) error correction technology.
MTTF ratings for all Q300 Pro and Q300 models are 1,500,000 hours.
The new drives will be available from April 2016. Standard warranty is five years for the Q300 Pro and three years for the Q300. Typical purchase prices (TPP) are expected to be as follows (UK):
| | | |
| --- | --- | --- |
| Q300 Pro | Capacity | TPP |
| HDTSA25EZSTA | 256GB | £105.00 |
| HDTSA51EZSTA | 512GB | £162.00 |
| HDTSA1AEZSTA | 1024GB | £324.00 |
| | | |
| --- | --- | --- |
| Q300 | Capacity | TPP |
| HDTS812EZSTA | 120GB | £40.00 |
| HDTS824EZSTA | 240GB | £57.00 |
| HDTS848EZSTA | 480GB | £97.00 |
| HDTS896EZSTA | 960GB | £235.00 |
SSD Q300
SSD Q300 Pro 
Sequential Read Speed (measured with Iometer)

Up to 550 MB/s

Sequential Write Speed (measured with Iometer)
Up to 530 MB/s (960GB)
Up to 520 MB/s (480GB, 240GB)
Up to 450 MB/s (120GB)
Up to 520 MB/s (1024GB, 512GB)
Up to 510 MB/s (256GB)
Random Read Speed (measured with CrystalDiskMark 4.1.0, 4kiB, QD32)
Up to 87,000 IOPS (960GB)
Up to 86,000 IOPS (480GB, 240GB)
Up to 81,000 IOPS (120GB)
Up to 92,000 IOPS (1024GB, 512GB)
Up to 90,000 IOPS (256GB)
Random Write Speed (mesured with CrystalDiskMark 4.1.0, 4kiB, QD32)
Up to 83,000 IOPS (960GB, 480GB)
UP to 73,000 IOPS (240GB)
Up to 40,000 IOPS (120GB)
Up to 63,000 IOPS (1024GB, 512GB)
Up to 58,000 IOPS (256GB)
 Specifications
Storage memory
 3-bit-per-cell 15nm NAND Flash
 2-bit-per-cell A15nm NAND Flash
Capacity
960 GB, 480 GB, 240 GB, 120 GB
1024GB, 512GB, 256GB
Controller
Toshiba TC58NC1000
Toshiba TC358790
Interface
SATA III (6.0 Gbit/s, backwards compatible with 3.0 Gbit/s and 1.5 Gbit/s)
Max. transfer rate
6.0 Gbit/s
Advance Speed Technology
Adaptive Size SLC Write Cache Technology
Error Correction Code (ECC)

-

QSBC (Quadruple Swing-By Code)  
Deterministic Zeroing TRIM Support

Yes and requires OS support

Native Command Queuing (NCQ)

Yes

S.M.A.R.T Support

Yes

Garbage collection

Yes

Read only mode

Yes

Patrol Read

-

Yes

Thermal control

-

Yes

MTTF

1.500.000 hours

TBW (Client endurance workload specified by JESD219A Solid-State Drive (SSD) Endurance Workloads)
960 GB: 240 TB
480 GB: 120 TB
240 GB: 60 TB
120 GB: 30 TB
1024GB: 640TB
512GB: 320TB
256GB: 160TB
Operating temperature

0° C - 65° C

Non-Operating temperature

-40° C - 85° C

Power consumption
Active: 3.6 W typ. Idle: 0.3 W typ.
Active: 3.3 W typ. Idle: 125 mW typ.
Dimension

100 x 69.85 x 7 (mm)

Weight
57 - 61 g typ.
53 - 54 g typ.
Warranty
3 years
5 years
Software & Services
Cloning tool software
NTI Echo 3 (migration software) by download
Utility tool software
Toshiba Storage Utilities Tool by download