New Nintendo 2DS XL Gaming Handheld System Coming On July 28
Nintendo is launching the Nintendo 2DS LL (sold as New Nintendo 2DS XL outside Japan), a new handheld gaming system featuring a large display screen and portability.
This is the latest addition to the lineup of handheld systems in the Nintendo 3DS family, which has had global sell-through of 63 million units. The new handheld system will launch in Japan on July 13, 2017 for a manufacturer suggested retail price of 14,980 yen (tax not included). It will also debut in North America on July 28 at a suggested retail price of $149.99.
The new system will be available in a black/turquoise color, and will use the same size large screen found on New Nintendo 3DS XL systems. As the name of the new system implies, visuals will be displayed in 2D only. The system is lighter but still packs the same power as New Nintendo 3DS XL, and has built-in NFC support for amiibo cards and figures. It can play the library of quality Nintendo 3DS, New Nintendo 3DS and Nintendo DS games in 2D.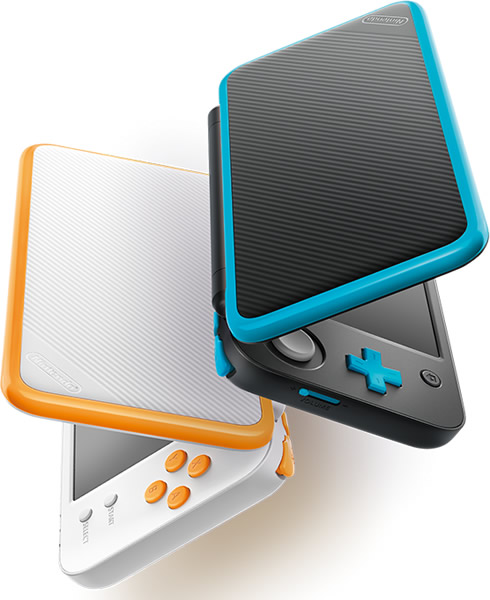 New Nintendo 2DS XL will launch on the same day as two big new games for the Nintendo 3DS family of systems: Hey! PIKMIN and Miitopia.
Included in the retail box are a stylus, a 4 GB microSDHC card (installed), a battery (installed) and six AR Cards.Plus, it comes with built-in software so users can play right away. New games can be downloaded from the Nintendo eShop.
Users can also connect to the Internet to surf the Web with the built-in browser, watch videos on YouTube, or use services such as HuluPlus or Netflix, and share game tips and screenshots with other fans on Miiverse.
In addition, StreetPas lets users exchange certain game data from other gamers by enabling the feature and carrying your system with you in Sleep Mode.
Gamers can also also create and share their own Mii characters as well as play games with the Mii characters they collect in StreetPass Mii Plaza.
Old game data can be easily transferred from an old system when users upgrade to the Nintendo 2DS.
The Nintendo group shipped 7.27 million units of Nintendo 3DS family hardware in the year from April 2016 through March 2017 (an increase of 0.48 million on the previous year), of which 4.78 million were units with 3D display and 2.49 million were units with 2D display. Other than the 2D display, New Nintendo 2DS LL has nearly the same features as New Nintendo 3DS LL.