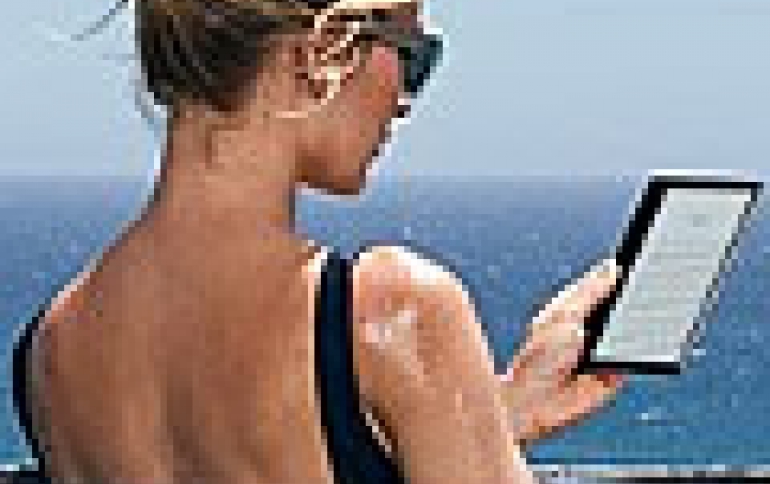 New Amazon Kindle Oasis is Waterproof, Features a 7-inch, 300 ppi Display
Today, Amazon announced its most advanced Kindle e-reader ever-the new Kindle Oasis, featuring a 7-inch, 300 ppi Paperwhite display and a 3.4 mm thin and waterproof design.
The new Kindle Oasis is the first waterproof Kindle (IPX8 - up to two meters of fresh water for up to 60 minutes) allowing you to read in even more places, from the bath to the swimming pool. It has a battery life measured in weeks and it includes a fast-charging capability that allows it to go from no battery to fully charged in less than two hours. With Audible built in, you can listen to audiobooks and switch between reading and listening to a professionally narrated performance on Bluetooth headphones or speakers.
Audible will be available on the all-new Kindle Oasis via a free over-the-air update when the device ships - and it will be available via a free over-the-air update to Kindle (Gen 8) and the first Kindle Oasis in the coming months.
The new Kindle Oasis comes with two storage options - 8 GB, which has twice the storage as the first Kindle Oasis; and 32 GB.
The device has the fastest page turns of any Kindle e-reader. The crisp text reads like paper with uniform display lighting and no glare, even in bright sunlight.
Other features include:
New Font Size and Bold Settings: Now choose from more font sizes and five levels of boldness.
New Accessibility Options: In addition to the OpenDyslexic font, Amazon has added a feature to invert black and white on the display if you have light sensitivity.
Light Settings: Built-in ambient light sensors automatically adjust the display to your surroundings whether you're in a dimly-lit room or outside in the sun - and can be fine-tuned even further based on personal preferences.
Ragged Right Alignment: You can now read using left-aligned (ragged right) text.
Starting today, the new size and bold settings as well as ragged right alignment will be delivered as a free, over-the-air update to Kindle Paperwhite (Gen 6 released in 2013), plus all newer Kindle devices.
The new Kindle Oasis is available for pre-order today. It costs $249.99 for the 8 GB model and $279.99 for the 32 GB model. The 32 GB with free cellular connectivity is $349.99. All are available today for pre-order globally and will start shipping October 31.
New Way for Teens to Shop on Their Own While Parents Stay in the Know
Amazon also today introduced a new way for teens 13 through 17 years old to shop on Amazon with their own login. Teens can independently use the Amazon App, allowing them to shop or stream content while still keeping their parents informed. Parents can approve all orders or set pre-approved spending limits per order.
When a teen finds something they wish to order, they can place the order on the Amazon App, and parents will receive a text or email showing the item, cost, shipping address and payment information. The teen can also include a personalized note like, "this is the book I need for class." The parent can approve the order by text or they can visit their orders page to review it in more detail. By default, parents approve every order. Parents can choose to skip the approval step and set pre-approved spending limits, offering teens the freedom to place orders up to a certain dollar amount on their own. Parents receive itemized notifications for every order and can cancel and return any item in accordance with Amazon's policies.
Signing up takes moments for both teens and parents. Teens can also send an invitation to their parent through either SMS or email. The parent will choose a payment method and shipping addresses their teen can use when placing orders. Once a teen receives an invitation, they create their own user name and password, and then download the Amazon App to start shopping. To get started, parents can visit amazon.com/forteens.