MSI Unveils its First 90nm Graphics Card
MSI introduces today its next-generation graphics card codenamed RX1300PRO-TD256E. The card uses ATi's 90nm process GPU. MSI RX1300PRO-TD256E default frequency is 600MHz (Core)/ 800MHz (Memory). With 4 parallel pipelines & DDR2 graphics memory, the new card would be very competitive to existing mid-end graphics card like NVIDIA 6600 series.
MSI RX1300PRO-TD256E is optimized for Shader Model 3.0 to deliver new high dynamic range visual effects, enhanced adaptive anti-aliasing realism and lightening fast performance.
In image quality, MSI RX1300PRO-TD256E uses next-generation video & display technology named Avivo. ATI's Avivo adds High-Definition (HD) imaging and video features for smooth video playback, sharp images, and universal connectivity with all TVs, displays, and projectors. Avivo delivers HDTV, PVR, and HD video playback with advanced 3D comb filtering, automatic gain control, and hardware accelerated processing for the ultimate PC entertainment experience.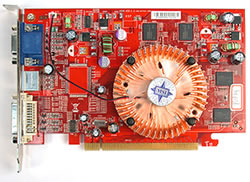 CrossFire's 'supertiling' GPU renders speed sharing by evenly dividing the graphics processing, intelligently alternating the rendering workload to each Radeon GPU for efficient load balancing, and optimized performance. By combining with another CrossFireTM master card and compatible motherboard, user could get almost doubled 3D performance.
All RX1XXX series products family utilize the 90nm process GPU, which brings better performance & lower power consuming. Besides RX1300PRO-TD256E, MSI will release other RX1XXX series before the end of this year.
MSI RX1300PRO-TD256E features:
Powered by ATi X1300PRO Extreme GPU
DDR2 Graphic Memory in 2.5ns
HDTV Ready; D-Sub/ DVI
PCI Express16X Interface
ATi AvivoTM Video Technology
Support all DirectX 9.0 & OpenGL 2.0 Game Titles & Programs