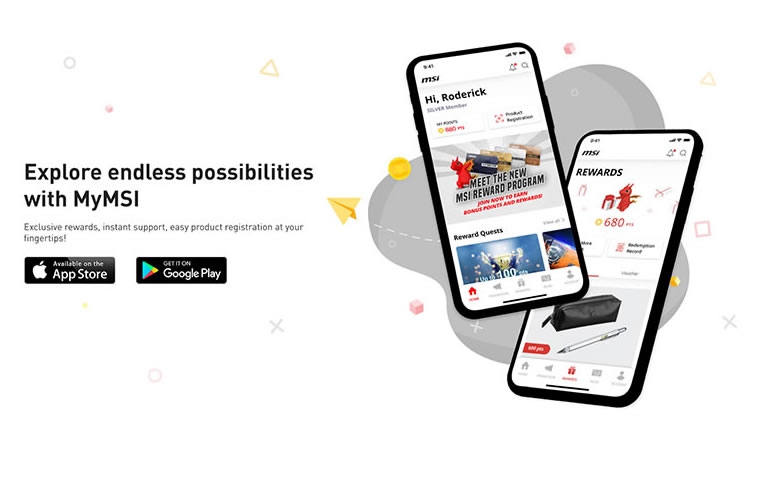 MSI Launches MyMSI App and Now Available on iOS and Android
You can now enjoy MSI rewards, receive product updates, register MSI gear, and get instant support wherever you are. From tracking and participating in the latest MSI Rewards promotions and redeeming exclusive app-only prizes to requesting instant help when you need it, the MyMSI app does it all.
MyMSI App
MyMSI Makes Your Life Easier and More Rewarding!
The MyMSI Mobile App comes with a host of features and offers additional rewards to MSI fans.
Here are a few things that you can expect the mobile app to do:
1. MyMSI Exclusives
a. Exclusive Rewards: In addition to your regular MSI rewards, you'll also find exclusive app-only contests and rewards like VIP event invites, monthly lucky draws, and game codes when using the MyMSI application.
b. Daily Login Rewards: Enjoy Daily Login bonuses for logging into the MyMSI app every day. Users will find premium rewards every 7 consecutive days!
c. Quests: Earning points by completing tasks is an even more rewarding experience now with instant rewards.
d. Product Registration: Register your MSI products on mobile.
e. Sign up to be the first to receive the latest information about upcoming MSI products and other exclusives reveals.
f. Discover hidden gems as you add your favorite promotions and blog articles to your favorites.
g. Enable push notifications and you'll never miss upcoming products, new product launches, and so much more!
2. Quick Product Registration
Product registration got even simpler! You can now register your MSI products in an instant using the MyMSI app. Just 3 steps:
a. Scan the product barcode
b. Confirm product type and model name
c. Get your rewards.
3. Instant Support
a. Submit new support tickets or follow up on old ones right within the MyMSI app.
b. Get 1-on-1 live support instantly – anytime, anywhere. Help is now just a tap away!
The Most Rewarding MSI Experience Awaits!
Head on to the MyMSI app download page to get download links and more information about the application and its features.