Mitsubishi, Epson And Sony Showcase New DLP 3D Projectors at IFA
Japanese companies have on display their latest 3D DLP projector models at IFA 2011. Mitsubishi's new DLP projector is premiering at IFA 2011. Technical highlights of the company's flagship HC9000 Advanced model include a new anti-ghosting strategy and a frame rate converter, which generates up to four times the actual number of images present. An intelligent 2D/3D converter uses a new process to prepare 2D film material to create depth effects.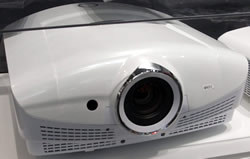 Thanks to an active shutter process and 240 Hz technology, the HC9000 series provides great 2D reproduction capabilities as well as new features such as intelligent 3D frame interpolation and fine-tuned colour management for a gripping home cinema experience.
Other technical characteristics include a brightness of 1,500 lumens, a contrast ratio of 30,000: 1 and a fan noise of just 23dB.
In addition, Mitsubishi Electric offers high-speed shutter glasses (also newly developed) for brighter images.
Sony launched its newest 3D home projector, the VPL-VW95ES, the successor to the VPL-VW90ES, which was announced last September.
The projector promises to offers picture quality with high dynamic contrast ratio (150,000:1). The comfort of home cinema has also been advanced with the availability of low fan noise, flexible picture calibration, and picture position memory which allows users to set the 2.35:1 aspect ratio with just one button.
The product is equipped with Sony's Advanced Iris 3 technology which includes a contrast enhancer to maximize the dyanmic contrast ratio when used with the iris. Motionflow technology also reduces motion blur and judder.
New features include a converted 3D mode to reproduce a 3D effect from any 2D source. Additional picture position memory also remembers the positions set to meet aspect ratio and users can enjoy a cinema scope size screen. In addition, Sony's 3D glasses have been upgraded so they are lighter by about 24 percent and the transmitter has been built around the lens so it doesn't need to be connected or installed with a cable.
The VPL-VW95ES also encourages comfortable viewing and runs quietly in the background with an advanced cooling system so fan noise is suppressed to 22dB at low lamp mode. In addition, the VPL-VW95ES has a motorised adjustable 'Lens Shift' function which means the picture can be adjusted making the installation process a lot simpler.
The projector will be available across Europe in October.
EPSON's new series of 3LCD Full HD 3D projectors includes the EH-TW5900, EH-TW6000 and EH-TW6000W models, available in Europe from mid-October, as well as the Epson EH-TW9000 and EH-TW9000W, available in November.
Prices in Germany
EH-TW5900: €1,149 (RRP including VAT)
EH-TW6000: €1.499 (RRP including VAT)
EH-TW6000W: €1,799 (RRP including VAT)
EH-TW9000: €2,871 (RRP including VAT)
EH-TW9000W: €3,202 (RRP including VAT)
Epson claims that its new new panel technology increases the light transmission of the 3-LCD panels and ensures that 3D content is brighter than previous 3D Full HD home cinema projectors. The new projectors are also featuring a new technology that brightens 3D images by doubling the image refresh rate from 240 Hz to 480 Hz.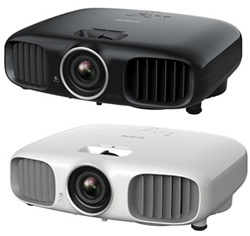 The two top models of the line, the EH-TW9000 and the EH-TW9000W feature the same brightness of up to 2,400 lumens and a contrast ratio of up to 200,000:1. The EH-TW6000 and EH-TW6000W models are more affordable 3D 1080p home theater projectors and fearure a brightness of up to 2,200 lumens at a contrast ratio of up to 40,000:1.
Epson is also showcasing the is the Epson MG-850HD model, an HD 3LCD projector with a docking station for iPod. Users are able to output content from the projector directly to tgeir iPod without downloading any special apps. It will be available in Europe in from November for €699.
The Epson MG-850HD projects 720p content in the 16:9 format in an up to 300 inches (7.6 m) screen and features two 10Watt stereo speakers, a white and color brightness of 2,800 lumens and a contrast ratio of 3,000:1. It's lamp life is rated at 6000 hours.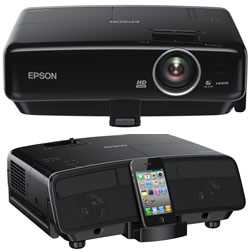 Epson has also on display the Epson EH-TW480 projector for gaming and home theaters. The HD-ready projector features a white color and brightness of 2800 lumens, a contrast ratio of 3000:1 and a lamp life of up to 5,000 hours. The Epson EH-TW480 will be available in November for about €600.