Microsoft at E3 2016
Monday at the Xbox E3 2016 Briefing, Microsoft unveiled a new family of Xbox One devices including the Xbox One S, a host of new Xbox Live features and the biggest lineup of games in Xbox history. The company also teased the audience with the 'Project Scorpio' gaming console, coming in holiday time next year. Xbox is working to bring Xbox Live to all devices and networks - PC, console, virtual reality and mobile - to create a unified experience . The new Xbox Play Anywhere program lets gamers buy a game once and play it on both their Windows 10 PC and Xbox One console with shared progress, game saves and achievements. Every new Microsoft Studios title shown at the Xbox E3 2016 Briefing will support Xbox Play Anywhere, with more titles on the way.
"Gamers have never had more choice in how and where they play," said the head of Xbox Phil Spencer. "We are bringing our biggest games lineup ever to Xbox One and Windows 10, uniting gamers across networks on Xbox Live and expanding the Xbox One family of devices with the addition of Xbox One S and "Project Scorpio" to give gamers more choice in how and where they play. There's never been a better time to be an Xbox gamer."
Introducing the Xbox One family of devices
Microsoft announced a new lineup of Xbox One hardware and accessories. All Xbox One devices will play current and future Xbox One games as well as titles in the Xbox One Backward Compatibility program, and all accessories will work across every console in the Xbox One family as well.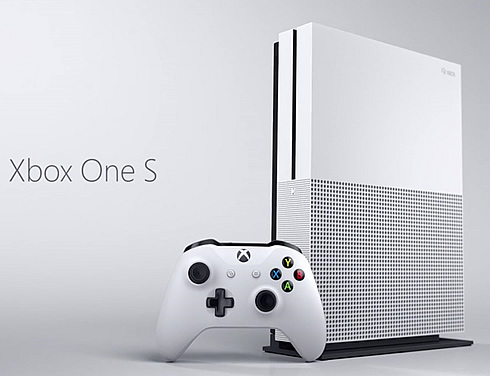 Xbox One S. Debuting a sleek new design and "robot white" color, the new Xbox One S is the smallest and most compact Xbox ever. The 40 percent smaller console has an internal power supply and supports 4K Ultra HD for Blu-ray movies and content streamed from Netflix and Amazon Video. High Dynamic Range (HDR) support for video and gaming delivers more luminous colors in games like "Gears of War 4.

For increased accessibility, Microsoft shifted one of the three USB ports and the pairing button to the front of the Xbox One S alongside the newly added IR blaster. Additionally, in order to make the Xbox One S as compact as possible and make all of these updates, Microsoft's engineering team removed the dedicated Kinect port from the back. Kinect for Xbox One will still be compatible with Xbox One S via the Xbox Kinect Adapter for USB connection. For anyone that currently own a Kinect for Xbox One and plan to purchase the Xbox One S, Microsoft is offering a free Xbox Kinect Adapter.xbox.com/XboxOne/KinectAdapter
The Xbox One S comes with a newly designed Xbox Wireless Controller featuring textured grip. Microsoft has improved the Xbox Wireless signal performance - it is up to twice the wireless range when used with Xbox One S. To enable easier wireless connection to your Windows 10 devices, Microsoft also added Bluetooth support (Windows 10 Anniversary Update required). In addition, a new thumbstick design reduces wear to help maintain accuracy and smooth rotation over the life of the controller. The new Xbox Wireless Controller is included with all Xbox One S consoles and will be available worldwide for individual purchase for $59.99 USD.
Available for preorder beginning today and in stores starting August 2016:
500GB Xbox One S is $299/249 pounds/299 euros
1TB Xbox One S is $349/299 pounds/349 euros
Limited launch edition 2TB Xbox One S will be available in select markets for $399/349 pounds/399 euros

"Project Scorpio." Coming holiday 2017, "Project Scorpio" will be "the most powerful console ever created," according to Microsoft, with 6 teraflops of GPU delivering a 4K gaming and high-fidelity virtual reality. "Project Scorpio" will join the Xbox One family and coexist alongside Xbox One and Xbox One S and all of your Xbox One games and accessories are compatible.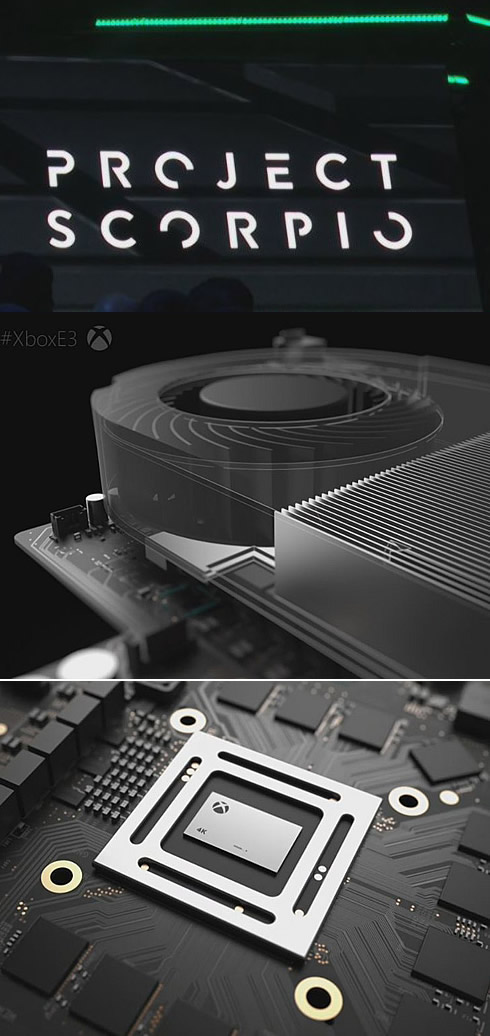 Xbox Design Lab. Now Xbox fans can create their own official, one-of-a-kind Xbox Wireless Controllers with more than 8 million color variations to customize the controller body, D-pad, thumbsticks, ABXY buttons and more. Each controller is handmade to order and shipped directly to fans. Xbox Design Lab is open for orders now in the U.S., Canada and Puerto Rico for $79.99 through http://www.xbox.com/xboxdesignlab. Laser engraving is also available for an additional $9.99.
Xbox Elite Wireless Controller – "Gears of War 4" Limited Edition. A pro-level controller designed in collaboration with The Coalition, the Xbox Elite Wireless Controller - "Gears of War 4" Limited Edition features laser-etched claw marks and a battle-weathered design, telling the survival story of a confrontation with the Swarm. Available in very limited quantities in early October for $199.99/199.99 euros/159.99 pounds with pre-orders starting the week of June 13 at select retailers.
Uniting gamers through Xbox Live
The goal of Xbox Live is to cultivate a safe, fun online community, where all types of gamers are welcome. Team Xbox announced a slew of new features to break down barriers between gamers playing on different devices and make gaming more accessible for all.
Clubs on Xbox Live. A new way to connect with gamers and create private communities with people who have similar play styles, personal interests and values.
Looking for Group on Xbox Live. Like a "want ad" for multiplayer, Looking for Group on Xbox Live is the easiest way to seek out players who are available - and qualified - to jump into your multiplayer match right now.
Arena on Xbox Live. A new online tournaments platform designed for everyone, from novice to aspiring pro, Arena on Xbox Live brings competitive gaming to Xbox One and Windows 10 devices. Sign up for tournaments directly through the Xbox UI or the Xbox app and play for prizes and bragging rights.
Cross-play. Gamers on Xbox One and Windows 10 can now play select multiplayer games together. "Gears of War 4," "Forza Horizon 3," "Sea of Thieves" and "Scalebound" all support cross-play between Xbox One and Windows 10 PC, and now "Minecraf"" players on iOS, Android, Windows 10 phone and Windows 10 devices can all join together in cross-device multiplayer fun.
Cortana on Xbox One. Microsoft is bringing its digital assistant Cortana to Xbox One, featuring familiar voice commands available on Windows 10 devices and new gaming-specific scenarios for Xbox One. Cortana will initially launch on Xbox One in the U.S. and U.K. with additional markets coming soon after.
PC games (Win32) in Xbox Live. With the Xbox update coming this summer you'll see the top PC games on Xbox Live, with more added every month. Use the Xbox app to see what PC games your friends are playing, view game clips and upload your own, and message and voice chat with friends across games.
Language Region Independence. Microsoft is enabling Language Region Independence to give gamers even more control over their Xbox experience and how they engage with their Xbox One. Language Region Independence gives gamers the freedom to choose any supported language on Xbox One, regardless of their location.
Biggest lineup comes to Xbox One and Windows 10
Xbox premiered a wide range of games launching in 2016 and beyond for Xbox One and Windows 10, including a mix of exclusives, blockbusters and independent games through the ID@Xbox program.
"ARK: SURVIVAL EVOLVED" (FIRST ON XBOX ONE AND WINDOWS 10). The popular indie game from Studio Wildcard has sold over 1 million copies on Xbox One via Game Preview, and is soon coming to Windows 10. Stranded naked, freezing and starving on a mysterious island, you must hunt, harvest, craft items, grow crops and build shelters to survive.
"BATTLEFIELD 1" (ELECTRONIC ARTS). Featuring some of the largest, most dynamic battles in FPS history, experience the dawn of all-out war across war-torn France, in the sand dunes of the Arabian Desert, and in the skies over London - only in "Battlefield 1." Join in massive 64-player battles. Play it first, exclusively on Xbox One with EA Access beginning Oct. 13. Available worldwide on Xbox One and Windows PC on Oct. 21, 2016.
"DEAD RISING 4" (WORLD PREMIERE). Developed by Capcom Vancouver, "Dead Rising 4" marks the return of photojournalist Frank West in an all-new chapter of one of the popular zombie game franchise. Available Holiday 2016 on Xbox One and Windows 10.
"FINAL FANTASY XV" (SQUARE ENIX). "FINAL FANTASY XV" is the highly anticipated action RPG and 15th mainline entry in the iconic "FINAL FANTASY" franchise. Set in an enthralling world where fantasy meets reality, players will join Crown Prince Noctis and his comrades on an epic journey of brotherhood, love and despair as they unravel Noctis' destiny and take up arms against the nefarious Niflheim empire. Available worldwide for Xbox One on Sept. 30, 2016.
"FORZA HORIZON 3" (XBOX ONE AND WINDOWS 10 EXCLUSIVE - WORLD PREMIERE). The racing franchise returns with "Forza Horizon 3." Race and explore the rugged wonder of Australia with your friends in over 350 of the world's greatest cars as you win new fans and build the world's greatest automotive festival. Available worldwide as an Xbox Play Anywhere title on Sept. 27, 2016.
"GEARS OF WAR 4" (XBOX ONE AND WINDOWS 10 EXCLUSIVE). After narrowly escaping an attack on their village, JD Fenix and his friends Kait and Del must rescue the ones they love and discover the source of a monstrous new enemy. "Gears of War 4" returns the franchise to the dark tone and intensity of the original and includes split-screen and online co-op, the next generation of the five-player favorite, Horde Mode, 60 frames-per-second Versus multiplayer, and visuals powered by Unreal Engine 4. Available worldwide as an Xbox Play Anywhere title on Oct. 11, 2016.
"GWENT" (WORLD PREMIERE OF CLOSED BETA ON XBOX ONE AND WINDOWS 10). "Gwent,"the hit card game from CD PROJEKT RED's game of the year — "The Witcher 3: Wild Hunt" — is now its own standalone collectable card game. Inspired by player feedback, with new rules and mechanics, "Gwent" puts players and their style of play, and not only their cards, in the center of the action. In "Gwent," You are the Wild Card.
"HALO WARS 2" (XBOX ONE AND WINDOWS 10 EXCLUSIVE). The console real-time strategy (RTS) of all time is back. Developed in partnership by 343 Industries and Creative Assembly, "Halo Wars 2" is an action-packed RTS on the biggest Halo battlefield ever. Get ready to lead armies of Spartans and other Halo fighting forces like Warthogs, Scorpions and exciting new units in a brutal war against a terrifying new enemy, The Banished. Available worldwide as an Xbox Play Anywhere title on Feb. 21, 2017.
"INSIDE" (FIRST ON XBOX ONE). Developed by Playdead, "INSIDE" is the long-awaited follow-up to 2010's digital hit "Limbo." Featuring Playdead's trademark dark art, emotion and game craft, this adventure puzzler ships June 29, 2016, and is available for pre-order now.
"MINECRAFT" (REALMS AND ADD-ONS). Mojang and Microsoft showcased cross-device multiplayer between iOS, Android, Samsung Gear VR and Windows 10 devices, made possible with Monday's launch of the "Friendly Update" for "Minecraft: Windows 10 Edition" Beta and "Minecraft: Pocket Edition." With Xbox Live and the "Minecraft Realms" service, Windows 10 and mobile Minecraft players can host their own multiplayer worlds on private, cloud-based servers and play with friends 24/7, even when the original world creator is offline. Starting today, players with Xbox Live accounts can try "Minecraft" Realms on mobile and Windows 10 free for one month through the "Minecraft" app. The team also announced new game add-ons coming this fall that will let players modify their in-game worlds to customize key game elements and create their own maps and minigames.
"RECORE" (XBOX ONE AND WINDOWS 10 EXCLUSIVE). From the team behind the "Metroid Prime" series comes "ReCore," an action-adventure game crafted for the modern generation. Available worldwide as an Xbox Play Anywhere title starting Sept. 13, 2016.
"SEA OF THIEVES" (XBOX ONE AND WINDOWS 10 EXCLUSIVE). Developed by Rare, the creators of "Perfect Dark" and "Banjo-Kazooie," "Sea of Thieves" is a shared world adventure game filled with pirates, unexpected dangers and loot for the taking. Be the pirates you want to be, share adventures with friends, and set your own rules, roles and goals in a world where every sail on the horizon is another crew of players with unknown intent.
"STATE OF DECAY 2" (XBOX ONE AND WINDOWS 10 EXCLUSIVE, WORLD PREMIERE). The next installment in "State of Decay" franchise brings you in an all-new multiplayer zombie survival fantasy. Players work together to build lasting communities where choices made shape an interconnected world. Available worldwide as an Xbox Play Anywhere title in 2017.
"SCALEBOUND" (XBOX ONE AND WINDOWS 10 EXCLUSIVE). From the developer PlatinumGames Inc. and renowned Game Director Hideki Kamiya, "Scalebound" brings epic adventures and battles at enormous scales across the beautiful and dangerous open world of Draconis. Customize main hero Drew and your dragon, Thuban, to suit your playstyle as you battle legions of soldiers and massive monsters solo or cooperatively with up to three additional friends on Xbox Live. Available worldwide as an Xbox Play Anywhere title in 2017.
"TACOMA" (FIRST ON XBOX ONE AND WINDOWS 10). It is the year 2088, and humanity has taken to the stars. You step aboard the abandoned space station "Tacoma," the facility's Augmented Reality technology your only connection to the crew that once lived here. What happened to them - and what role did the station's AI overseer, ODIN, play . Discover the truth in "Tacoma," Fullbright's follow-up to the genre-defining story exploration game "Gone Home," when it comes to Windows 10 and Xbox One next year.
"TEKKEN 7" (BANDAI NAMCO ENTERTAINMENT INC.). Known for revolutionizing the fighting genre through both its hard-hitting gameplay and diverse cast of characters, "TEKKEN 7" introduces enhanced fight mechanics alongside a slew of new combatants. Available worldwide for Xbox One in early 2017.
"TOM CLANCY'S THE DIVISION– EXPANSION I: UNDERGROUND" (UBISOFT). Dive into the underbelly of New York to save what remains in Underground, the first expansion for "Tom Clancy's The Division." Explore the randomly generated mazes of subways, tunnels and sewers to fight deadly enemies and recover powerful loot. Available first on Xbox One and Windows PC beginning June 28.
"WE HAPPY FEW" (FIRST TO CONSOLE ON XBOX ONE). Developed by Compulsion Games, "We Happy Few" is coming to Windows 10 and Xbox One this summer. In a dystopian, mod 1964 England that lost World War II, the citizens of Wellington Wells are taking a happy drug called "Joy," and living in denial of their grim existence and a terrible past.