LG.Philips LCD Develops First Flexible Color A4-Size E-Paper
LG.Philips LCD has developed the world?s first 14.1-inch flexible color E-paper display, equivalent in size to an A4 sheet of paper. The 14.1-inch flexible color E-paper uses electronic ink from E-Ink Corp. to produce a maximum of 4,096 colors. It can be viewed from a full 180 degrees, so that images always appear crisp, even when the display is bent.
Like the black and white flexible display, the color version uses a substrate that arranges Thin-Film Transistors (TFT) on metal foil rather than glass, allowing it to recover its original shape after being bent. This model includes a color filter coated onto the plastic substrate, allowing it to display color images.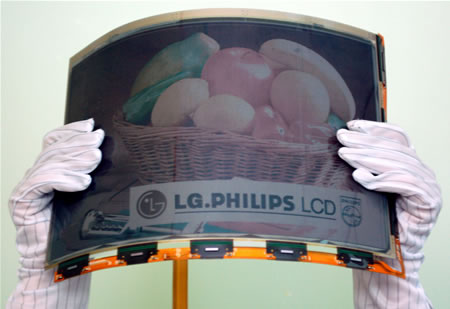 LG.Philips LCD?s use of metal foil and plastic substrate rather than glass substrate makes the flexible color E-paper display bendable and durable while maintaining its display qualities.
To make this new display possible the company developed proprietary processing technology that minimizes panel deformation and prevents circuit structure change during high-temperature processes. LG.Philips LCD focused on the designs of the color filter structure and TFT, as well as color filter lamination technology. This allowed them to overcome processing difficulties inherent in the lack of heat resistance in metal foil and plastic substrates.
These displays are also energy efficient, only using power when the image changes. Additionally the displays are extremely thin, less than 300 micrometers. The images displayed are comparable in quality to printed pages, according to the company.
In October 2005, LG.Philips LCD unveiled the world?s first 10.1-inch flexible E-paper display. The company followed it up with its 14.1-inch model in May 2006.