LG Optimus Vu 2 Relased In Korea
LG's response to Samsung's Galaxy Note II, the new Optimus Vu 2, has been officially released in S. Korea. Compared to the original Optimus Vu released last February, the new smartphone boasts an upgraded processor, more RAM and the addition of VoLTE.
The new device has a 4:3 ratio, 5-inch screen with a 1024 x 768 pixel resolution. It is powered by a 1.5Ghz clock MSM8960 dual-core Snapdragon profcessor, comes 2GB RAM and a 2150mAh battery cell.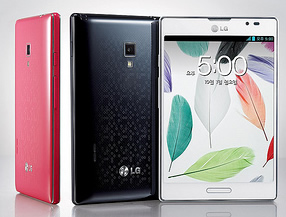 Android 4.0 Ice Cream Sandwich is still the operating system of choice. The phone comes with LG apps such as the Q Translator and Q Memo, which makes use of the included stylus and supports VoLTE, an industry standard for sending voice calls over a 4G data connection. Other features of the Optimus Vu 2 include wireless charging, Bluetooth 4.0, Wi-Fi, Wi-Fi Direct.
Users can also connect their household appliances on the phone and use it as a remote control for their TVs, radios and air conditioners.
The Vu 2 also features One Key, which requires you to purchase a special keyring, with a button that when pressed, makes the phone beep to help you locate it.
LG hopes that the Optimus Vu 2 along with the Optimus G will be succesful amid heated competition.