LG Debuts World's largest Digital Signage OLED Display
LG Electronics unveiled two of the largest OLED displays - equivalent to three large-sized shipping containers - in the world at South Korea's Incheon International Airport. The South Korean company worked with French design firm Wilmotte & Associes to develop the massive structures which adorn the main terminal of the airport.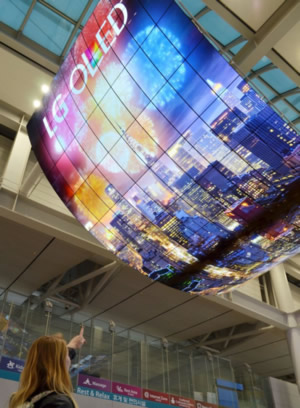 Each sign is composed of 140 55-inch curved OLED panels, resulting in displays that stands 13 meters high and 8 meters across. The two curved displays will feature a variety of content to demonstrate the capabilities of OLED technology, such as brilliant fireworks set against a night sky. And because every pixel in an OLED display emits its own light, there is no need for heavy LED backlighting, making both of the airport displays light and flexible, allowing them to hang from the ceiling with minimal support.
OLED Push
The world's No.2 TV maker is betting that chopping prices almost in half before the U.S. year-end holiday season will create enough buzz to push its next-generation TV technology mainstream.
The world's No.2 TV maker and affiliate LG Display have invested billions of dollars in organic light-emitting diode displays to rebuild profit decimated by Chinese competition in the liquid crystal display TV market.
The results of the early investments in OLED production are already here; LG has cut prices of six models in the world's biggest TV market by as much as 45 percent from last month, without crimping margins. Two are now below $2,000, a fraction of the $14,999 of LG's first OLED TV in 2013.
LG Display plans to invest more US$4 billion in new OLED facilities in South Korea to meet expected market demand as of 2017 onwards.
LG Pay is here
In related news, LG has confirmed yesterday's report and is set to launch its own mobile payment system, called LG Pay. The mobile payment service will be available early next year.
The company has partnered with Shinhan Card and KB Kookmin Card to prepare for the launch of the service, in a a bid to catch up rival services of Apple and Samsung Electronics.
The company has adopted the White Card payment method for its mobile payment system, unlike Apple Pay and Samsung Pay, which allow users to make payment by touching a smartphone to a payment terminal. Apple introduced its NFC-based mobile payment system last October while Samsung Electronics' Samsung Pay using MST technology made its debut in August.
White Card is a card-shaped electronics device, which stores information of various credit cards and enables its user to make payment through a smartphone. LG has not clarified what the White Card-based payment service would be like, but sources said that it will likely support all three payment terminals, such as magnetic-swiping terminals, NFC-enabled terminals and IC chip terminals.
LG Pay will be also compatible with all smartphone models manufactured by LG Electronics. Samsung Pay is only available in four models - the Galaxy Note 5, the Galaxy 6 Edge+, the Galaxy S6 and the Galaxy S6 Edge. But LG Pay users have to carry the White Card to make payment, making it less portable than Samsung Pay.
On Thursday, LG Electronics closed a deal with South Korea's card companies - Shinhan Card and KB Kookmin Card - to boost partnership for LG Pay.
At the signing ceremony, Cho Joon-ho, head of Mobile Communications division, said, "Through the strategic partnership with our partners, we'll provide the mobile payment service that will be available anytime and anywhere."