Lenovo ThinkPad X1 Fold Foldable OLED Laptop Starts From $2,500
Lenovo announced the ThinkPad X1 Fold, a foldable PC featuring a 13.3-inch OLED display.
The Windows 10 version of the device will be available in mid-2020, starting at $ 2,499. The release of a Windows 10X version (two-screen optimized OS) will follow.
The screen of the ThinkPad X1 has a screen ratio of 4:3. The device can be folded in the center of the display and it can be used as a 13.3-inch tablet in its flat state, or as a laptop using a software keyboard. It is housed into a lightweight alloy and carbon fiber, and a two-fold leather cover case is used on the outside. Its weight is lower than 1kg.
The device is compliant with Microsoft's Always Connected PC, and its Intel Core processor supports Intel's Hybrid Technology. An optional 5G modem will be also available.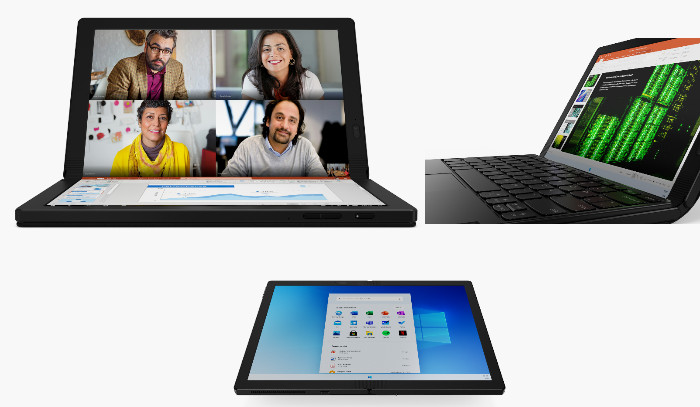 There is also a hardware keyboard that can be attached to a magnet and be wirelessly charged. The deice also supports the company's Active Pen, a digital stylus pen, and Dolby Audio.
The foldable OLED panel is made by LG Display, and the hinge part is designed with mechanical and electrical parts in cooperation with Intel. Lenovo says that the foldable display is durable and reliable.
An optional "ThinkPad X1 Fold Stand" will be also released, functioning as a vertical or horizontal stand but also in order to connect an external display and keyboard / mouse through a USB Type-C port.