Lenovo Launches ThinkBook 13s and 14s, ThinkReality A6 AR Headset and Other Enterprise Solutions
Lenovo is holding its Transform 3.0 at Accelerate event in Orlando, FLorida, and announced a new sub-brand dedicated to small and medium-sized businesses (SMBs) called ThinkBook, along with other commercial solutions.
The ThinkBook S series, available in a 13-inch and 14-inch model, is designed for business buyers and come packed with security and support services.
The laptops can lay flat at 180°, and feature ultra-narrow bezels to pack a larger display into a small portable package. Wrapped in aluminium and magnesium metals in a Mineral Grey finish, the laptop's light-weight body weighs in at 3.3lbs (1.5kg) on the ThinkBook 14s and 2.95lbs (1.34kg) on the ThinkBook 13s.
Business features include:
Single-step authentication and power-on with the touch fingerprint reader
Discrete TPM 2.0 to enable Windows 10 security features and user data encryption
Physical ThinkShutter camera cover for privacy control
Hinges coated in Indium metal to reduce WiFi interference
Dolby Audio sound and HARMAN speakers
FHD displays with Dolby Vision (on ThinkBook 13s)
Spill resistant keyboard designed to withstand up to 60cc of liquid
Up to 11 hours of battery life and RapidCharge on ThinkBook 13s, up to 10 hour3 on ThinkBook 14s
The Windows Modern Standby feature on the ThinkBook 13s brings smartphone connectivity to business laptops; your device can download emails, receive Skype call alerts, and get Windows app updates – even with the lid closed. Moreover, it resumes from standby almost instantly with the Smart Power On button or voice command in some instances.
The ThinkBook is powered by 8th Generation Intel Core processors, standard SSD, and powerful graphics with either Integrated Intel UHD 620 or discrete AMD Radeon 540X. RapidCharge technology is also standard on the ThinkBook 13s providing 80 percent battery capacity on one hour's charge.
ThinkBook is also supported by a range of business-grade services including Lenovo Premier Support, warranty extensions and upgrades, such as onsite next business day support and International Warranty Service to minimize any downtime.
ThinkBooks also come with built-in self-management features. Among these, the preloaded Lenovo Vantage software offers tools for preventive hardware diagnostics, personalized hardware settings and auto-install of critical updates.
ThinkBook 13s will be available in late May 2019, with an expected starting price of $729 The 14s model will be also be available in late May 2019, with an expected starting price of $749.
New Intelligent Devices and Solutions for Enterprise
Lenovo has also on display at the evenr PCs, augmented reality (AR), Internet of Things (IoT) and security solutions.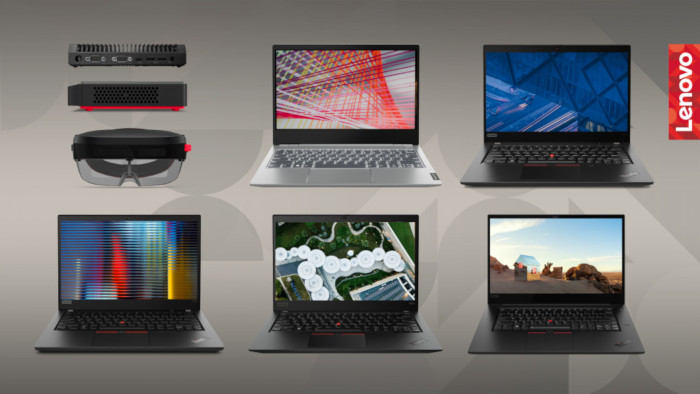 Created as part of Lenovo's smarter business initiative, ThinkReality is a newly launched sub-brand that brings businesses a solutions-based approach comprised of both software and hardware. It is designed to help enterprise workers use AR applications to receive assistance, reduce repair times, eliminate errors, streamline complex workflows, and collaborate.
The ThinkReality platform enables users to pin, interact and collaborate with 3D digital information in the real world, improving their contextual awareness and efficiency. The platform is device and cloud agnostic, making it easy for enterprise users to adopt and manage AR and VR software applications across multiple operating systems, cloud services, and devices.
The first device in the ThinkReality solutions portfolio, the ThinkReality A6 is a lightweight, heads-up, hands free mobile head-worn device that can be used to deploy both simple and complex AR solutions for enterprises. With a weight of 380g (0.83lbs) and a 40-degree diagonal field of view with 1080p resolution per eye, the A6 is one of the lightest fully featured AR headsets in its class. Qualcomm Snapdragon 845 Mobile XR Platform in the Android compute box powers the ThinkReality A6 headset which features waveguide optics by Lumus inside an Intel Movidius Vision Processing Unit (VPU).
Lenovo is also adding customer-validated solutions to its ThinkIoT ecosystem of offerings.
ThinkIoT's portfolio includes edge computing devices such as, ThinkCentre Tiny or the new ThinkCentre Nano IoT, the EPC300 as well as an array of sensors, including, high-powered smart cameras, motion-enabled lighting, machine vision cashier and facial recognition devices—able to detect and convey information fast to make intelligent decisions at the edge, i.e. locally, in the warehouse or showroom.
Imagine a doctor using AR glasses to view X-rays on the cloud, or a warehouse associate aided by a high-performance camera sensor (shown below) that can identify whether packages are put on the right pallet within 200 milliseconds of picking up a box via a QR code on the sticker – made possible through ThinkIoT's warehouse automation solution.
Equally valuable to retail businesses is the automated computer vision cashier prototype, currently being tested as a pilot program at Lenovo's Beijing campus. Brick-and-mortar store owners wanting to bust up long queues and avoid pricing errors will soon be using object recognition technology at self-checkout. With integrated camera, processor, and sensors, this smart retail solution of the future allows shoppers to scan all their items at once, eliminating the need to detect individual barcodes, plus, it weighs the purchases to provide feedback to suppliers, as well as allows for a virtual wallet payment gateway.

At Accelerate, Lenovo also displayed ThinkIoT offerings powered by Azure, with Azure SQL Database Edge and solutions for verticals such as retail and manufacturing. Now, Lenovo's customers deploying Microsoft Azure solutions for IoT, AI and data management can do so leveraging the full spectrum of Lenovo offerings including the ECP300 edge gateway and IOT510C Smart Camera, ThinkCentre Nano IoT and ThinkSystem SE350 edge server.
Smarter PCs
Lenovo also unveiled fresh computing choices with its latest lineup of intelligent Windows 10 PCs, including the all-new ThinkCentre Nano and the ThinkPad™ X1 Extreme Generation 2.
Designed to deliver performance in an ultra-portable size, the ThinkCentre M90n is a compact commercial desktop - models are one-third the size of the ThinkCentre Tiny and bring up to 30 percent energy savings annually vs. traditional desktops. This makes them a good solution for deployments in dense call centers or in environments where space is constrained.
The ThinkCentre M90n Nano expected to ship August 2019, with an expected list price $639.
The ThinkCentre M90n-1 Nano brings convenience and manageability to any vertical user because it can fit virtually anywhere – behind the monitor, under a table, or on a bookshelf, offering a clutter-free shared-desk work environment. ThinkCentre Nano can be powered by a compatible USB Type-C monitor or Type-C dock.
Built to be energy-efficient with a fan-less design, the ThinkCentre M90n-1 Nano IoT has a broader thermal range (0-50 °C) and is designed for higher vibration and thermal environments like manufacturing. As a secure IoT Gateway, the ThinkCentre Nano IoT is designed to provide processing and security for the IoT devices you have in your environment that demand real-time responsiveness at the edge. The Nano IoT is enabling the rapid relay of information between connected IoT peripherals, sensors and devices.
The ThinkCentre M90n Nano IoT expected to ship August 2019, with an expected list price of $539.
The ThinkPad X1 Extreme Gen 2 improves upon its predecessor with upgrades including up to 9th Gen Intel Core i9 processors and NVIDIA GeForce GTX 1650 GPU with Max-Q design, and up to double the storage at 4TB.
Made for usiness users, the ThinkPad X1 Extreme Gen 2 is a 15-inch Windows 10 laptop armed with features including a brighter optional 4K OLED touch display featuring Dolby Vision and Dolby Atmos Speaker System.
Built to protect businesses, ThinkShield is a fully customizable suite of security related services, software and hardware capabilities that protect the full lifecycle of commercial devices, from development to disposal.
The ThinkPad X1 Extreme Gen 2 starts at $1,499.99 and is expected to be available starting July 2019.