Lenovo at CES 2017
Lenovo today kicked off the 2017 Consumer Electronics Show with a full range of products including the latest ThinkPad X1 family and Miix 720 detachables; new gaming sub-brand Lenovo Legion and the Legion Y720 and Legion Y520 laptops; the Lenovo Smart Assistant with Amazon Alexa; and the Tango-enabled Lenovo Phab 2 Pro smartphone.
ThinkPad X1 family
The 2017 ThinkPad X1 Carbon, available in classic ThinkPad Black and a new silver color, is among the lightest 14-inch business notebooks, weighing just 2.5 pounds and packs a 14-inch IPS display into a new 13-inch form factor. Now offering up to 15 hours of battery life, the X1 Carbon has been redesigned to include Thunderbolt 3 ports, LTE-A Wireless WAN and WIFI CERTIFIED WiGig options. A fingerprint sensor with a dedicated chip that handles biometric processing helps secure and simplify the Windows Hello logon experience with a new face recognition Infrared camera.
Also available in the new metallic silver, the updated ThinkPad X1 Yoga is flexible and adapts to its users' needs offering multi-mode capability and can deliver great colors and blacks on the only 14-inch notebook with an OLED screen. It features a redesigned rechargeable pen and an improved "rise and fall" keyboard. Alongside it is the ThinkPad X1 Tablet. The device has modules that offer port expansion and up to 5 hours of additional battery life, and an integrated projector option.
Miix 720
The Miix 720 Windows detachable combines a 12-inch QHD+ display and precision touchpad-enabled keyboard with up to 7th Gen Intel Core i7 processor and Thunderbolt 3. When it's time to hit the road, you can remove the keyboard to transform the Miix 720 into a touchscreen tablet. Paired with a multifaceted Lenovo Active Pen 210 the Miix 720 can be used for effortless note taking.
The integrated infrared camera with Windows Hello facial recognition allows you to settle in for an evening binge-watch session of your favorite show, without the hassle of having to recall or re-type your password.
The Miix is 720 measuring in at 0.57 in (14.6 mm) and 2.4 lbs (1.1 kg) including the touchpad-enabled keyboard.
Lenovo Legion
To meet the needs of the gaming community, Lenovo is launching a new gaming sub-brand, Lenovo Legion. As part of the new Lenovo Legion brand, the company is unveiling its first offerings: the new Lenovo Legion Y720 Laptop and Lenovo Legion Y520 Laptop.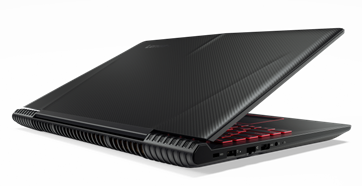 The new PCs are powering VR through the latest NVIDIA graphics, they offer better sound with Dolby Atmos, 16 GB DDR4 memory, and performance with the latest 7th Gen Intel Core i7 processor.
Specifically, the Lenovo Legion Y720 laptop comes with Thunderbolt 3 port and it is VR-ready with up to NVIDIA GeForce GTX 1060 graphics. Just plug a VR headset into the HDMI port and you're set for gaming.
Lenovo is offering up to UHD (3840 x 2160) IPS anti-glare display on the Lenovo Legion Y720 laptop and is among the first Dolby Atmos Windows based PCs.
An optional RGB keyboard on the Lenovo Legion Y720 Laptop and optional red backlit keyboard on the Lenovo Legion Y520 Laptop is making it easy to game at night without having to clamber for your keys again.
Better yet, the Lenovo Legion Y720 Laptop comes with the option of an integrated Xbox One Wireless receiver, which is able to support up to four controllers simultaneously for gaming with friends.
Connected Home
Lenovo designed the Lenovo Smart Assistant, a new mainstream digital personal assistant, with Amazon Alexa cloud-based voice services. Built in collaboration with Amazon, the Lenovo Smart Assistant recognizes users' voice commands to conduct web searches, play music, create lists, calendar reminders and much more. And because Alexa's brains are in the cloud, it means she's always getting smarter. The Lenovo Smart Assistant is also designed to run Lenovo smart home devices, as well as scores of existing third-party products to expand user options.
Lenovo Smart Storage is a digital storage solution with 6TB capacity, dual-band wireless access and multi-device auto-sync capabilities. Designed for security and P2P (peer-to-peer) access to stored media like photos, music and documents, Lenovo Smart Storage offers users quick control of data and files. Its integrated facial recognition software can organize an entire photo library based on faces with high accuracy.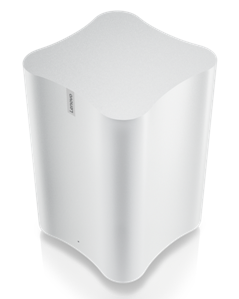 The new Lenovo 500 Multimedia Controller is wireless keyboard and mouse that fits in the palm of your hand. The keyboard area doubles as a Windows 10 gesture-supported, multi-touch capacitive touchpad-meaning that users can type like a normal keypad with their thumbs or glide their fingers across the surface like a touchpad.
The Lenovo 500 Multimedia Controller offers up to 65.6 ft (20 m)4 of wireless range and weighs just 0.31 lbs (141 g).
AR/VR Experiences with Phab 2 Pro Apps
The first Tango enabled smartphone, the Lenovo Phab 2 Pro is now available online and on shelves. To enable Tango, the Lenovo Phab 2 Pro is equipped with a set of sensors that capture 250,000 measurements a second, processing information through motion tracking, area learning and depth sensing. The apps that use this technology are now opening up a wave of new AR and VR experiences in the areas of shopping, games, interior design and education. These include apps such as iStaging, Matterport and Hot Wheels Track Builder.
New Glass C200 Adds Smart Glasses to Portfolio
At CES 2017, Lenovo is also showcasing Lenovo New Glass C200 (along with compatible AR software), a smart glass product that leverages the augmented reality (AR) and artificial intelligence (AI) technolofies.
Lenovo New Glass C200 is a monocular smart glass system that recognizes and identifies real-life objects using AI technologies. The product comes with two main parts, a Glass Unit and Pocket Unit. The Glass Unit is lightweight, under 60 grams, and runs on Linux operating system. It only uses one eye, enhancing a user's perception of "mixed reality" while viewing the AR world simultaneous to the real world. After downloading the New Glass app to your smartphone and plugging the Pocket Unit into the phone, the Lenovo New Glass C200 system runs with more processing power, and offers enhanced CPU performance and an LTE connection to the smart glass. There are accessories in the box available for you to place the Pocket Unit on your belt or in your pocket. The New Glass C200 allows you to gather information in your field of view, provide step-by-step directions and instructions for repair, identify disabled equipment and trouble shoot issues with a remote colleague all while your hands are free.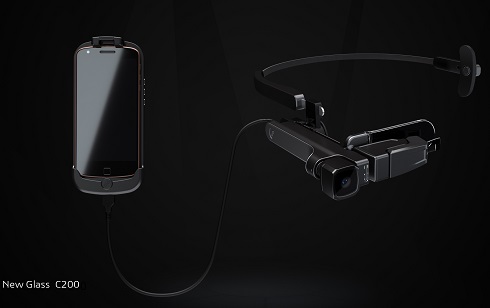 Lenovo New Glass C200 recognizes about 20 kinds of objects, such as building schematics within a real-life image and uses AI recognition software, named Lenovo NBD Martin, to identify the image it is viewing and label it using bounding boxes and annotations. Lenovo has created Lenovo NBD Martin to perceive a scene or object through "computer vision," then act as an AI assistant to help identify what the image actually is in real-time. It analyzes data coming from the smart glass camera, sensors and user habit history and combines that insight with user interaction such as voice commands, gestures and pressed buttons to act as an AI assistant, providing commercial users with access to information and tools needed to complete their job.
As part of the smart solution, Lenov is also unveiling a software platform Lenovo NBD Titan, which lets users at all level of developer skills create and edit AR content quickly. This solution brings AR to every user with visual editing software that can operate on a multitude of devices and platforms. Users can immerse themselves in an AR world with AR Content Builder and Space Visitor, which allows users to manipulate and edit items in an AR scene. For example, this will make home improvement and interior design easier, offering an AR space to experiment with interesting architectures and designs-all without requiring coding or developer skills.
Pricing and Availability
All Lenovo products are available on www.lenovo.com.
ThinkPad X1 Carbon starts at $1,349, available beginning in February 2017.
ThinkPad X1 Yoga starts at $1,499, available beginning in February 2017.
ThinkPad X1 Tablet starts at $949, available beginning in March 2017.
Miix 720 (keyboard included) starts at $999.99, available in two color options Champagne and Iron Gray beginning in April 2017.
Lenovo Active Pen 2 starts at $59.99, available beginning in February 2017.
Lenovo Legion Y720 Laptop starts at $1,399.99, available beginning in April 2017.
Lenovo Legion Y520 Laptop starts at $899.99, available beginning in February 2017.
Lenovo Smart Assistant starts at $129.99, available in Light Gray, Green and Orange beginning in May 2017. Lenovo Smart Assistant Harman Kardon
Edition starts at $179.99, available beginning in May 2017.
Lenovo Smart Storage starts at $139.99, available beginning in May 2017.