JVC Delivers New Line of HD LCD TVs
JVC announced that it has begun shipping its new line of high definition LCD televisions, with screen sizes ranging from 26 to 40 inches, each featuring an integrated tuner for receiving digital broadcasts and an HDMI input. Boasting a high resolution widescreen W-XGA LCD display that delivers high brightness, a wide viewing angle and flicker-free picture, the new line includes 770p 26-, 32-, 37- and 40-inch models and features an elegantly designed cabinet.
JVC's top-end LCD series includes the LT-26X776, LT-32X776, LT-37X776 and the LT-40X776, all based on a 1366 x 768 WXGA panel. Each includes a built-in ATSC tuner and CableCARD capability, which eliminates the need for a separate set-top box; HDMI input for a simple, one-wire digital and audio connection; dual IEEE 1394 inputs for connection to a video camera or other device; and a universal remote . The 40-inch LT-40X776 adds a memory card slot to view images captured from a digital camera.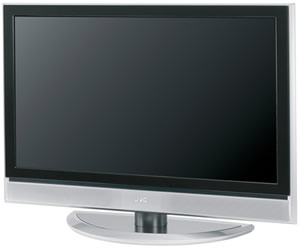 All four sets feature the company?s fourth generation Digital Image Scaling Technology (D.I.S.T.) that upconverts any video source to 770p and GENESSA, a new 32-bit CPU dedicated to controlling picture refinement. These technologies work in tandem to optimize image quality, regardless of the source and to deliver a smooth picture while enhancing vertical resolution. Another exclusive is JVC's Five-Point Color Management that samples red, green, blue, yellow and flesh tones and adjusts each separately to delivers vivid color reproduction.
The sets also include JVC's HD DSD (Digital Super Detail) edge enhancement which is active on still, fast and slow motion areas of the picture for crisp defined edges. JVC further enhances the home theater entertainment experience by adding Dynamic Gamma Control Circuitry and such home theater features such as TheaterPro D6500K Color Temperature, Digital Noise Clear Circuitry, Interactive Plug-in Menu, XDS ID display, and Natural Cinema 3-2 pull down with on/off capability for all telecine sources.
Pricing is as follows:
LT-26X776 - $2,499.95
LT-32X776 - $3,299.95
LT-37X776 - $4,099.95
LT-40X776 - $4,999.95
In the fall, JVC will launch a 40-inch 1080p LCD television, the LT-40FH96, with ATSC/CableCARDTM, dual HDMI inputs, dual IEEE 1394 inputs, memory card slot that will accept the Microdrive used in JVC?s popular Everio camcorders, and universal fully illuminated remote.