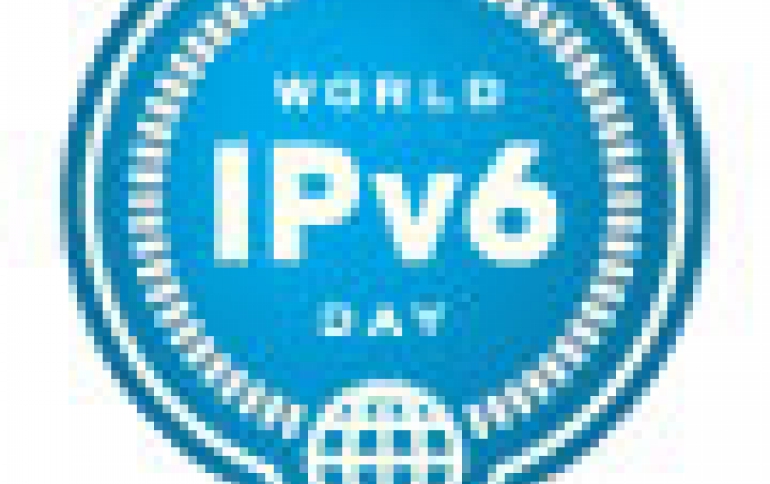 Internet Society's World IPv6 Day Tests New Global Internet Protocol
Websites and Internet service providers around the world are joining Facebook, Yahoo! Google, Akamai, and many others, on 8 June 2011, in the first global-scale trial of the new Internet Protocol, IPv6, being organised by the Internet Society (ISOC). During World IPv6 Day on 8 June 2011, more than 225 participating organizations from every part of the globe will enable IPv6 on their main services for 24 hours.

With IPv4 addresses running out this year, the industry must act quickly to accelerate full IPv6 adoption or risk increased costs and limited functionality online for Internet users everywhere. World IPv6 Day participants are coming together to help motivate organizations across the industry - Internet service providers, hardware manufacturers, operating system vendors and other web companies - to prepare their services for the transition.

Users with IPv6 Internet capabilities should automatically utilize IPv6 when connecting to a participating website. To use IPv6, your Internet Service Provider needs to support it, as well as your computer. For the small percentage of users already set up to access IPv6, they will be able to connect through the usual URLs - such as Google.com or Yahoo.com.

Behind the scenes, their browsers will be pointed to the new, much longer IP address.

For users with an ordinary internet connection, the changeover to IPv6 may involve upgrading their hardware (routers.) ISPs should ship new routers or offer those updates.

"The building interest in and amazing response to World IPv6 Day around the world is extremely encouraging, and highlights the growing momentum behind deploying IPv6," said Leslie Daigle, Chief Internet Technology Officer for the Internet Society. "We see this test flight as an important step towards ensuring the global Internet can continue to grow and evolve so that it can connect billions of new users and devices."

Facebook has long been preparing for World IPv6 Day and will be monitoring all aspects of its infrastructure. "We need to find solutions as an industry to accelerate global adoption of IPv6," said Jay Parikh, director of engineering at Facebook. "Participating in World IPv6 Day enables us to gain valuable insights about potential IPv6 issues and how we as an industry can address them. We?re working together with our peers to keep the Internet open and make sure all computers and devices stay connected."

On World IPv6 Day, Akamai Technologies will provide a real-time view of IPv6 traffic served via its global platform at www.akamai.com/ipv6.

Erik Kline, IPv6 Software Engineer at Google said, "We've been working to make Google services publicly accessible over IPv6 since 2008, because we believe it?s critical to the long-term prosperity of the open Internet. We are happy to be joining hundreds of participants around the world for this important transition, and to share in the enthusiasm to help IPv6 succeed."

"Enabling IPv6 is like moving from a 10-digit phone number to a 38-digit phone number," said Adam Bechtel, VP of Infrastructure Engineering at Yahoo!. "Some computers will have trouble dialing the new 39-digit numbers. World IPv6 Day will shed light on how these misdials occur."

Microsoft will also join other members of the Internet Society in support of World IPv6 Day as part of a broad industry effort to test the next generation Internet Protocol (IPv6). The company is providing IPv6 access to Bing.com, Xbox.com and Microsoft.com for a one-day test of this vastly improved Internet Protocol.

One of the goals of World IPv6 Day is to expose potential issues under controlled conditions and address them as soon as possible. Given the diversity of technology that powers the Internet, the global nature of the trial is crucial to identify unforeseen problems. The vast majority of users should be able to access services as usual, but in rare cases, misconfigured or misbehaving network equipment, particularly in home networks, may impair access to participating websites during the trial. Current estimates are that 99.95% of users will experience no problems connecting to web services on IPv6 Day, and participating organizations will be working together with operating system manufacturers, home router vendors and ISPs to minimize the number of users affected.

The Internet Society is supporting World IPv6 Day as part of its efforts to accelerate IPv6 deployment. IPv6, the successor to the protocol currently used on the Internet, was designed in the late 1990s but has not seen deployment on a global scale. With IPv4 address space running out, the industry cannot afford to wait much longer.