1. Introduction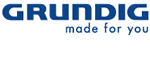 Grundig is a well known manufacturer of Consumer Electronics equipment and has been producing players for many formats. Being at the forefront of technology, it was among the first manufactures to support the Nero Digital format. We test their first Nero Digital compatible player, the GDP-3550.
- Grundig GDP-3550
The Grundig GDP-3550 is a high level DVD player, supporting playback of Nero Digital and DivX coded discs. Its main features are:
Digital DVD player, slim line cabinet 43 mm high.
Playback of DVD video, S-VCD, DVD-ROM, JPEG-Pictures, Kodak Picture CDs, Audio CD's, MP3 -, WMA-, DivX- and Nero Digital-CDs.
Picture Viewer: allows you to view your JPEG pictures directly on your display
The digital audio formats, Dolby Digital AC-3, PCM, MP3, WMA and DTS are supported and can be output via Digital Audio out coaxial and optical
Progressive scan. Especially for good picture quality on flat panel displays
Economical and environmentally friendly, thanks to low-power standby operation with a power consumption of less than 3 Watts.
System remote control TP 81 D including basic remote functions for Grundig TV's

The main chipset comes from ESS (ES6698 Vibrato II) and is quite powerful:
Single-chip DVD processor
Mpeg4 Advanced Simple Profile at full screen (D1)
High quality progressive scan
Integrated NTSC/PAL encoder with Pixel-adaptive de-interlacer and five video DACs.
Supports DVD-Video, DVD-R/RW, DVD+R/RW, SVCD, VCD, CD-ROM, CD-R/RW and CD-DA.
DivX Home Theater quality video at full screen.
Up to 7.1 channel audio DAC.
Macrovision protected, NTSC/PAL interlaced video.
JPEG digital photo support (Kodak Picture CD and FujiFilm FujiColor CD).
MPE and Windows Media Audio (WMA).
Dolby Digital, Dolby Pro Logic, and Pro Logic II.
DTS surround
S/PDIF digital audio input and output.
MPEG AAC and Multichannel.
SRS TruSurround and TruSurround XT.
Professional karaoke with full scoring scheme
- Full specifications
Playable disc formats 12/8 cm

DVD-Video / DVD+RW / DVD–RW / DVD+R
DVD–R / Audio-CD / CD-R / CD-RW /
Video CD (2.0) / S-VCD / MP3 / JPEG /
Kodak Picture CD / WMA

Nero digital

•

DivX (Home Theater certificated)

•

Picture Viewer

• /JPEG- / Kodak-Picture-CD

Laser scan

2 Laser (1 x CD, 1 x DVD)

PAL / NTSC- playback

•/•

Video

Video D/A converter

27 MHz

Horizontal resolution (DVD) SD / HD

576i, 576p / –

Progressive Scan PAL / NTSC

•/•

Digital video optimizing for still picture /
Block noise reduction

•/•

Audio

D/A converter

96 kHz / 24 Bit

Frequency range DVD 48 kHz / 96 kHz

4 Hz – 22 kHz /
4 Hz – 44 kHz

Frequency range CD 44.1 kHz

4 Hz – 20 kHz

Dynamic range (1 kHz) / Signal noise (1 kHz) dB

80 / 90

Dynamic adjustment

•

Audio down sampling

•

Digital sound decoder

Dolby Digital AC3, MPEG 2, MP3, WMA

Digital outputs

Dolby Digital AC3, MPEG, DTS, PCM

Dolby ProLogic

•

Virtual Dolby Surround

•

Playback Features

Fast picture search (forward and reverse)

2x / 4x / 8x /20x

Title / chapter skip

•

Direct chapter selection with 10 key keypad

•

Perfect still picture / Picture by picture playback

•/•

Slow motion (forward and reverse)

1/2, 1/4, 1/8

Quick Replay

-

Repeat

Title/chapter/sequence A – B

Random Play / Programme Play (CD, MP3)

•/•

Zoom

Zoom

•

Child lock

•

Language choice (dialog, subtitle)

•

Multi-angle choice)

•

CD text

-

Operating features

Infrared remote control

TP 81 D, remote control with
elementary functions for Grundig TV

On Screen Display

•

Connections

Card reader (CF, MS, SD, SM, MMC) / Edit function

-

HDMI / HDCP

-

YUV-sockets (Progressive Scan; 3 x Cinch)

•

Euro-AV, Scart

1 x (RGB)

Cinch video-out (CVBS) / Cinch audio stereo downmix

•/•

S-video socket (Y/C) out

•

Digital audio output coaxial / optical

•/•

Mains unit

Mains voltage V~

100 – 240, 50 – 60 Hz

Power consumption max. / standby approx. W

10 / < 1

Weight kg

2.2

Dimensions (W x H x D) cm

43 x 4.3 x 25.7
Looking at the specs and compared with the newer GDP-3560/3570, the only differences we can see are that GDP-3560 supports HDMI output and upscaling up to 1080p, while the GDP-3570 supports Card Reader/Edit function.