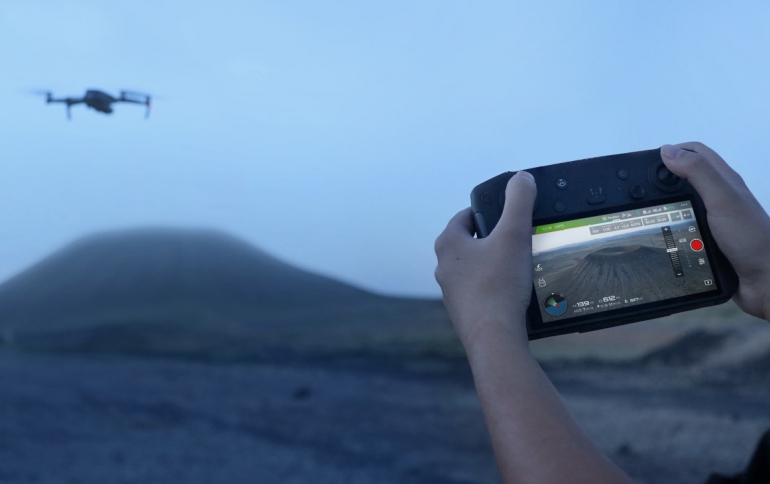 DJI Introduces A Smart Remote Controller With Built-In Display
DJI continues its tradition of making aerial technology accessible to everyone by introducing a new remote controller for its drones at CES 2019.
The Smart Controller features an ultra-bright display screen and controls optimized for DJI drones, allowing pilots to fly the newest drones without using a smartphone or tablet.
Using a crisp 5.5" screen built into the controller itself, the Smart Controller allows pilots to quickly get their drone in the air without the need to connect a mobile device. It can be paired with DJI's newest drones including Mavic 2 Zoom and Mavic 2 Pro which use DJI's OcuSync 2.0 video transmission system, displaying images in Full HD resolution. It features a display with an output of 1000 cd/m2, twice the brightness of standard smart phones. A customizable Android dashboard supports DJI GO 4, DJI Pilot, along with various third-party apps such as editing programs. The DJI GO 4 app also touts several new features including SkyTalk, that allows pilots to livestream the drone's camera feed to social channels including Facebook, Instagram and WeChat.
Another new feature is DJI GO-Share which transfers imagery from the Controller to your mobile device. The DJI Smart Controller has 2.5 hours of battery life and the ability to operate in adverse temperatures as cold as -4° Fahrenheit and as hot as 104° Fahrenheit.
SPECS
OcuSync 2.0
Operation Frequency Range: 2.400-2.4835 GHz, 5.725-5.850 GHz
Max Transmission Distance (unobstructed, free of interference):

2.400-2.4835 GHz:

8 km (FCC), 4 km (CE), 4 km (SRRC), 4 km (MIC)
5.725-5.850 GHz:
8 km (FCC), 2 km (CE), 5 km (SRRC)

Transmitter Power (EIRP)

2.400-2.4835 GHz:

25.5 dBm (FCC), 18.5 dBm (CE), 19 dBm (SRRC), 18.5 dBm (MIC)
5.725-5.850 GHz:
25.5 dBm (FCC), 12.5 dBm (CE), 18.5 dBm (SRRC)

Wi-Fi Direct, Wireless Display, 802.11a/g/n/ac, Wi-Fi with 2×2 MIMO is supported
Operation Frequency Range:

2.400-2.4835 GHz, 5.150-5.250 GHz
5.725-5.850 GHz

Transmitter Power (EIRP)

2.400-2.4835 GHz:

21.5 dBm (FCC), 18.5 dBm (CE)
18.5 dBm (SRRC), 20.5 dBm (MIC)

5.150-5.250 GHz:

19 dBm (FCC), 19 dBm (CE)
19 dBm (SRRC), 19 dBm (MIC)

5.725-5.850 GHz: 21 dBm (FCC), 13 dBm (CE), 21 dBm (SRRC)
Bluetooth 4.2
Operation Frequency Range: 2.400-2.4835 GHz
Transmitter Power (EIRP): 4 dBm (FCC), 4 dBm (CE), 4 dBm (SRRC), 4 dBm (MIC)
Battery: 18650 Li-ion (5000 mAh @ 7.2 V)
Supports USB power adapters rated 12 V/2 A
Rated Power: 15 W
Storage Capacity: ROM 16 GB + scalable (microSD)
Charging Time: 2 hours (using a USB power adapter rated 12 V/2 A)
Working Time: 2.5 hours
Video Output Port: HDMI Port
Power Supply Current / Voltage (USB-A port): 5 V/ 900 mA
Operation Temperature Range: -4° to 104° F (-20° to 40° C)
Storage Temperature Range:

<1 month: -22° to 140° F (-30° to 60° C)
1-3 months: -22° to 113° F (-30° to 45° C)
3-6 months: -22° to 95° F (-30° to 35° C)
>6 months: -22° to 77° F (-30° to 25° C)

Charging Temperature Range: 41° to 104° F (5° to 40° C)
Supported Aircraft Models: Mavic 2 Pro, Mavic 2 Zoom
GNSS: GPS+GLONASS
Weight: Approx. 630 g
Supported SD Cards:
Supports microSD cards with a capacity of up to 128 GB and R/W speed up to UHS-I Speed Grade 3