CloudMinds XR-1 Hunanoid Robot Has Its Brains to the Cloud
CloudMinds Technology showcased at MWC 2019 a cloud AI based, intelligent service-oriented humanoid robot, the XR-1.
The robot's intelligence is stored in the cloud and connects to its body via 5G. CloudMinds hopes the XR-1 is the first step in creating robots that are capable enough to take on jobs in hospitals, hotels, and assisted living homes.
The XR-1 is powered by two technologies: intelligent robot joints - Smart Compliant Actuators (SCAs), and a cloud brain – Human Augmented Robotic Intelligence with Extreme Reality (HARIX), a cloud platform that organically integrates AI capabilities such as vision processing, natural language processing, robotic motion control, vision-guided grasping and manipulation.
By placing its AI brain in the cloud, it can utilize powerful AI engines, collective learning capabilities, and scalability, to achieve a high level of intelligence while still providing low cost and low battery consumption for the robot body.
As part of CloudMinds' robotic demonstrations in Barcelona, the XR-1 robot delivered beverages and coffee to guests with its flexible arms built with compliant joints. A "compliant" joint is a joint that can detect resistance force and stop its actions until the resistance is gone. During the interaction with guests at the show, the XR-1 used a multimodal sensing subsystem to understand its surroundings and tasks. The smart joints (SCAs) sensed resistant force applied by humans and other objects, and operated smoothly in a compliant manner. The XR-1's 3D vision sensing system combined with HARIX platform's 3D object recognition and other algorithms supports closed-loop visual feedback. These technologies enable the XR-1 to perform tasks accurately and safely.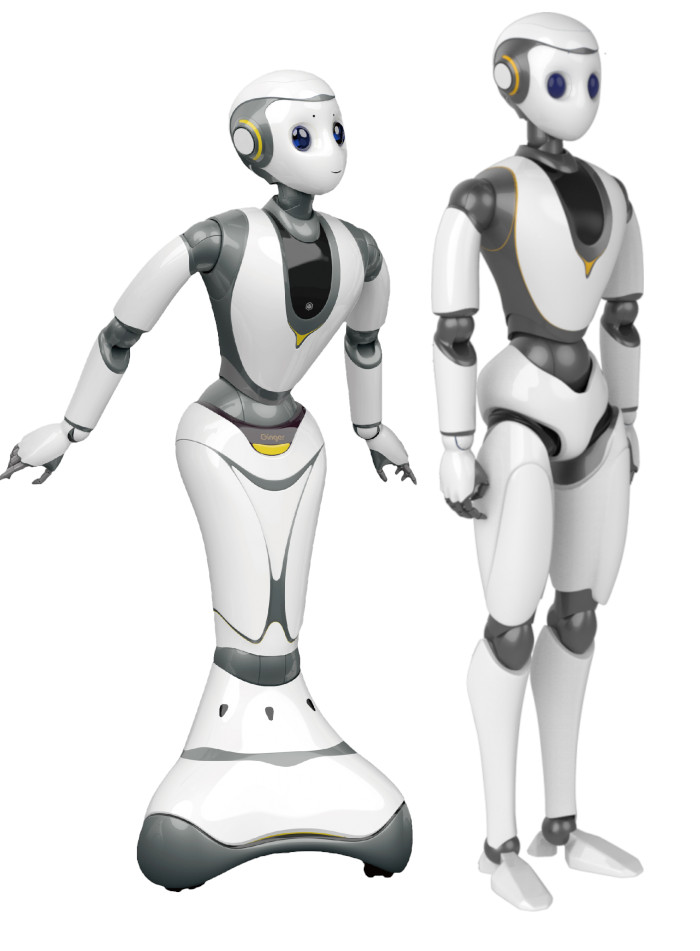 The XR-1's ability was further demonstrated in a needle-threading demonstration where it guided a thread through the small hole of a needle. The act was accomplished by controlling 14 SCAs collectively, a very difficult precision level for compliant actuators to achieve.
Completing its AI capability package, the XR-1 is equipped with a cloud-based natural language processing system. It can understand human users' intents and take actions accordingly. It can also carry on meaningful and life-like conversations, even injecting humor at times.
The XR-1 also danced to a number of songs ranging from soft melodies to heart-pumping rhythms, with human-like grace. The dance routines were learned from human dancers.
To achieve compliant, flexible and smooth movements similar to humans', a robot needs high quality compliant joints. CloudMinds developed the intelligent and compliant actuator - SCA.
Each SCA has several dedicately embedded chips and multimodal sensors, supporting intelligent control algorithms and communication functions, to make the robot motion compliant, smooth, precise, and safe. This allows the robot to achieve human-like motion, or even better in some cases. The design also supports a variety of sizes to fit different robotic joints. CloudMinds says it is ready to start mass production of the SCA, providing partners with much-needed components, features, and significant cost savings.