CEATEC 2016: Sharp Showcases 27-inch 8K 120Hz IGZO Monitor, 5.2-inch Full HD Curved Display
Sharp's booth at CEATEC is offering a glimpse of how the company's free-form displays incorporating IGZO technology, 8K ultra-high-definition displays. Sharp's prototype IGZO monitor is sized at 27-inches, marking a 326 PPI. The IPS panel is listed at 1000 nit brightness, it supports 120 Hz while in 8K (7,680 x 4,320 pixels) mode, and also supports High Dynamic Range. The question is how much bandwidth is required in order to feed this beast with display data? Well, we are probably talking about more than 15 GB/sec and as you see in the picture below, it is connected with eight DisplayPort cables.
Sharp has also on display a 85-inch 8K HDR LCD TV, along with a 2.87-inch display. The latter is offering 1920x2160 resolution and rolling in at over 1000 pixels per inch (1008 PPI). The display could be used in head-mounted units or virtual reality headsets.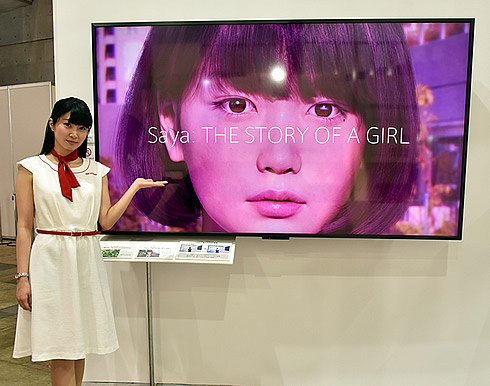 The immersiveness of VR (virtual reality) is often impaired by the visible dots of a display. This is a problem common to existing VR headsets, which magnify the images of display panels by using lenses.
Sharp claims that its super-high-definition IGZO display solves these issues. Because two (right and left) displays are used for a VR headset, it becomes possible to realize a resolution of 4k (3,840 x 2,160 pixels).
Below you see some circular IGZO displays designed for vehicles. The left one has a resolution of 824 x 824 pixels and a pixel density of 328ppi. The circular display on the right is rated at 1,280 x 720 pixels.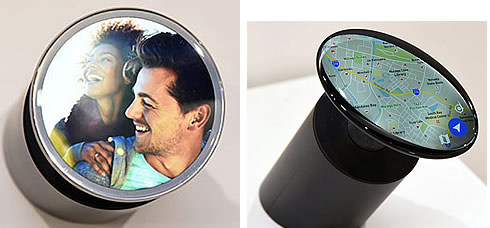 Another interesting product is a 5.2-inch full HD display with curved corners, designed for smartphones. This one has a pixel density of 425ppi.