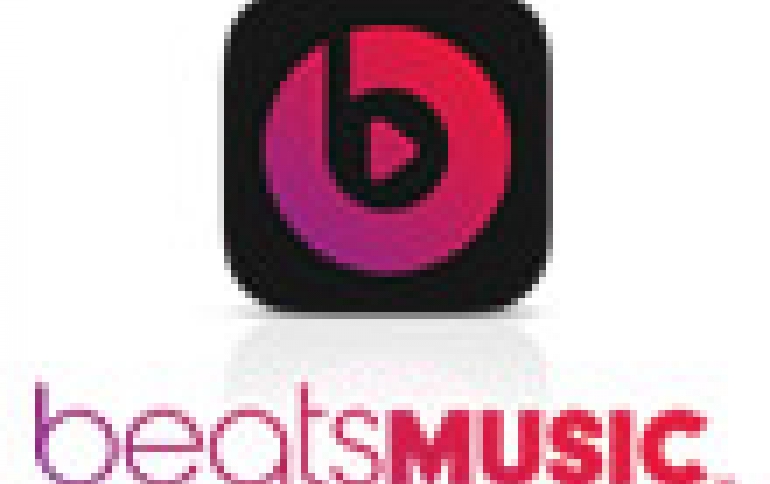 Beats Music Service Coming Soon
Beats Music on Saturday announced their new music streaming subscription service officially launching in the US on January 21, 2014, with the aim of unseating Spotify as market leader of the music subscription industry. At launch, the company will offer to a free trial of Beats Music, after which a $9.99/month subscription fee will apply. The service will be available on iOS, Android and Windows Phone as well as via the web beginning January 21st. Fans will be able to stream their music or download to listen offline.

Unlike Spotify and YouTube, Beats will have no ad-supported free service.

The service features a catalog of more than 20 million fully licensed songs from all the major labels, including Universal Music Group, Sony Music Entertainment, and Warner Music Group, as well as all independent labels.

Beats Music also features a collection of editorialized playlists from music brands in the world, including Pitchfork, Rolling Stone, DJ Mag, Country Weekly, Hot97/Power 106, among many others.

Additionally, Beats Music will provide users with multiple ways to find the right song at the right time by taking advantage of key features including:

- Just For You: A personalized selection of albums and playlists delivered at least 4 times a day to each user. Selections are delivered based on users' musical preferences, time of day, activity, and additional cultural and contextual clues.

- Right Now: A continuous playlist compiled from users' answers to four specific questions about their location, their activity, their surroundings, and their musical preference at that moment.

- Highlights: Beats Music editorial staff-recommend playlists or albums compiled based on time of year, news, cultural milestones, and new releases worth noting.

- Find It: An enhanced browsing function that lets users seek out playlists [and individual songs] by genre, activity or curator.

Beats Music said it would be paying the same royalty rate to all content owners major and indie alike, while simultaneously providing a platform for fan interaction.

Through an exclusive deal with AT&T, Beats Music will be available to AT&T wireless customers on a multiline account for $14.99 a month. Up to five family members across 10 devices will be able to access the Beats Music service and get their own personal music on their own personal devices.

For a limited time, only AT&T wireless customers who subscribe to the family offer of Beats Music get the first 90 days free.

Beats Music has also selected Target as the exclusive retail partner to curate playlists for the streaming service, and the only place to purchase prepaid Beats Music gift cards. Target will curate a varied mix of music. Beats Music prepaid gift cards will be available only at Target in denominations of $10, $25 or $50, for guests who want to give subscriptions to friends and family. As part of the partnership, Target will offer guests a free one-month trial of Beats Music with any purchase made at the Electronics & Entertainment counter the week of Jan. 26.

Beats Music was launched in 2014 through a unique collaboration between Interscope/Geffen/A&M chairman and founder/CEO of Beats Electronics Jimmy Iovine and Beats Electronics president Luke Wood with musician Trent Reznor of Nine Inch Nails, and is led by CEO Ian Rogers.