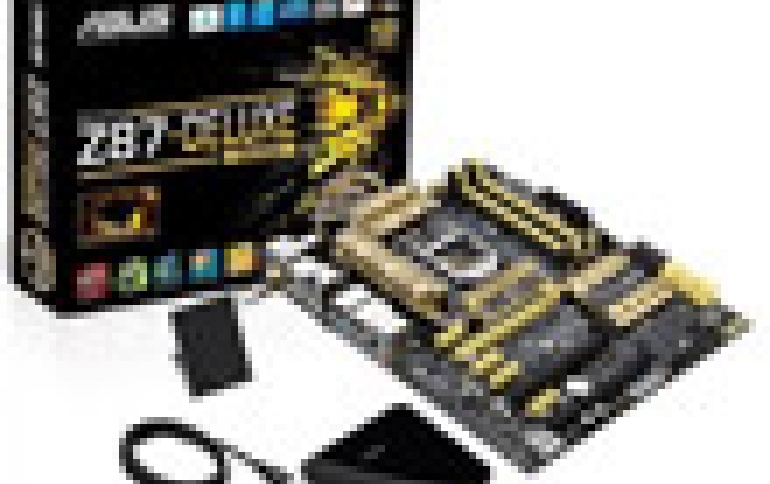 ASUS Announces Thunderbolt 2 - certified Z87 Deluxe Quad Motherboard
ASUS announced the first motherboard certified by Intel with Thunderbolt 2 technology, the Z87-Deluxe/Quad. Based on the new Intel Z87 chipset and ready for the latest 4th generation Intel Core processors, the ASUS Z87-Deluxe/Quad ATX motherboard has two Thunderbolt 2 ports which allow for up to 12 simultaneously connected devices. Each Thunderbolt port is capable of up to a 20Gbit/s transfer rate and is backward compatible with first generation Thunderbolt.

TThe first generation Thunderbolt standard has four separate transfer channels - two upstream and two downstream - with a maximum transfer rate of 10Gbit/s per channel. Thunderbolt 2 combines these four channels into two 20Gbit/s bi-directional channels, providing 4X the bandwidth of USB 3.0. Together with DisplayPort 1.2 support, Thunderbolt 2 enables simultaneous delivery of high-resolution video to the latest 4K/2K (4096 x 2160 and 3840?2160) displays while still offering communication with other bandwidth-hungry devices such as hard drives. Additionally, the ASUS Z87-Deluxe/Quad's onboard HDMI port means that it can drive a total of three 4K UHD displays at once.

Thunderbolt 2 also supports daisy-chained connections with up to six devices on each port. With two Thunderbolt 2 ports, the ASUS Z87-Deluxe/Quad can connect to up to 12 devices at once, reducing the need for separate hubs and helping to maintain a clutter-free workspace.

The ASUS Z87-Deluxe/Quad also includes a number of ASUS technologies. Dual Intelligent Processors 4 with 4-Way Optimization is an easy-to-use tuning tool that dynamically adjusts performance and cooling for reduced noise and increased efficiency with a single click. The UEFI BIOS presents a friendly graphical interface, making it easy to set up shortcuts and favorites for quick access to the options that are used most often.

The ASUS Z87-Deluxe/Quad also includes the NFC Express accessory, which can automate common PC tasks simply by tapping the supplied NFC tag or NFC-compatible smart devices to the box. NFC Express can be used to securely login to your Windows user account without the need to type in a password, and also provides the ability to launch multiple applications to create a particular workflow. Using the free Wi-Fi GO! & NFC Remote companion apps for NFC-compatible smart devices, users can also wirelessly synchronize photos and videos with their PC and remotely control their system by tapping the NFC Express box.