Apple WWDC 2018: iOS 12 Brings Shared AR Experiences, WatchOS 5 and ARKit 2 Also on the Way
Apple today announced iOS 12, the latest version of its mobile operating system, which brings support for AR, Memoji and Group FaceTime, and with Screen Time, helps users take control of the time they spend interacting with their iOS devices.
iOS12
Apple says that iOS 12 brings performance improvements across the system. Camera launches up to 70 percent faster, the keyboard appears up to 50 percent faster and typing is more responsive. Even when there is a lot going on across the system, apps can launch up to twice as fast.
New features make communicating with friends and family from iPhone X more expressive with new Animoji and personalized Memoji characters that are customizable. You can create Memoji right within Messages by choosing from a set of inclusive and diverse characteristics. The existing set of Animoji also expands with ghost, koala, tiger and T. rex. All Animoji and Memoji now feature winks and tongue detection to capture even more expressions.
New camera effects bring Animoji, Filters, Text and Stickers to Messages and FaceTime. Filters like comic book and watercolor add personality to photos and videos, new labels and shapes let users add captions and titles to highlight parts of an image, and stickers can be placed using iMessage sticker packs.
Group FaceTime, allows users to chat with multiple people at the same time. Participants can be added at any time, join later if the conversation is still active and choose to join using video or audio from an iPhone, iPad or Mac - or even participate using FaceTime audio from Apple Watch.
Siri Shortcuts deliver a faster way to get things done with the ability for any app to work with Siri. Siri intelligence can suggest an action at just the right time. Users can customize Shortcuts by creating a simple voice command to kick off the task or download the new Shortcuts app to create a series of actions from different apps that can be carried out with a simple tap or customized voice command.
An new For You tab surfaces favorite moments in one place, combining Memories and iCloud Shared Albums. A new sharing suggestions feature makes it easier to share photos with friends, and friends who receive photos are prompted to share back any photos and videos they have from the same trip or event. Search suggestions surface the most relevant Events, People, Places, Groups, Categories and recent searches, and new search functionality lets users combine multiple search terms to find just the right photos.
Apple has also added to iOS 12 new tools to help users understand and take control of the time they spend interacting with their iOS devices.
These new features, available later this month as part of the iOS 12 public beta, include Activity Reports, App Limits and new Do Not Disturb and Notifications controls.
iOS 12 brings enhancements to Do Not Disturb. For example, Do Not Disturb during Bedtime mode dims the display and hides all notifications on the lock screen until prompted in the morning. Do Not Disturb has also new options from Control Center where it can be set to automatically end based on a specified time or location.
To help reduce interruptions, iOS 12 gives users more options for controlling how notifications are delivered. Instantly manage notifications to be turned off completely or delivered directly to Notification Center. Siri can also make suggestions for notifications settings, such as to quietly deliver or turn alerts off, based on which alerts are acted upon. iOS 12 also introduces Grouped Notifications, making it easier to view and manage multiple notifications at once.
Apple announce some new anti-Addiction iPhone controls. Empowering users with insight into how they are spending time with apps and websites, Screen Time creates detailed daily and weekly Activity Reports that show the total time a person spends in each app they use, their usage across categories of apps, how many notifications they receive and how often they pick up their iPhone or iPad.
By understanding how they're interacting with their iOS devices, people can take control of how much time they spend in a particular app, website or category of apps. The App Limits feature allows people to set a specific amount of time to be in an app, and a notification will display when a time limit is about to expire.
Screen Time helps everyone to better understand and manage their device usage, but can be especially helpful for kids and families. Parents can access their child's Activity Report right from their own iOS devices to understand where their child spends their time and can manage and set App Limits for them.
Screen Time also gives parents the ability to schedule a block of time to limit when their child's iOS device can't be used, such as at bedtime. During Downtime, notifications from apps won't be displayed, and a badge will appear on apps to indicate they are not allowed to be used. Parents can choose specific apps like Phone or Books that will always be available, even during downtime or after a limit is spent.
Screen Time is account-based and works across all of a child's iOS devices, so settings, reports and allowances are based on their total usage. Screen Time works with Family Sharing and is easy to set up. Parents can configure Screen Time settings remotely for their child within the same Family Sharing group or locally on a child's device.
Screen Time and the new Notifications and Do Not Disturb features will be available with iOS 12 this fall.
Additional App Features
Apple Books is redesigned to make it easier to discover books and audiobooks, and the Book Store tab makes it easy to explore new titles and browse the top charts, curated collections and special offers.
Apple News is redesigned to make it easier to discover new channels and topics or jump straight to favorites, and on iPad, a new sidebar makes navigation even simpler.
Stocks comes to iPad and illustrates how the market is moving with quotes and news.
CarPlay adds support for third-party navigation apps displayed right on the car's dash - joining music, messaging, calling and automaker apps.
Voice Memos is now available on iPad and adds iCloud support to sync recordings and edits across devices. A new design makes it easier to capture, share and edit recordings.
Siri translation expands to more than 40 language pairs and brings more knowledge of sports, celebrities, food and nutrition. Siri can also surface favorite photos by person, place, event, time and topic.
Wallet on iPhone and Apple Watch adds support for student ID cards, making it more convenient to access everything on campus.
The developer preview of iOS 12 is available to Apple Developer Program members at developer.apple.com starting today, and a public beta program will be available to iOS users later this month at beta.apple.com. iOS 12 will be available this fall as a free software update for iPhone 5s and later, all iPad Air and iPad Pro models, iPad 5th generation, iPad 6th generation, iPad mini 2 and later and iPod touch 6th generation.
ARKit 2
Apple also introduced ARKit 2, a platform that allows developers to integrate AR into their projects. Apple also unveiled the Measure app for iOS, which uses AR to quickly gauge the size of real-world objects, as well as a new open file format with iOS 12, usdz, which is designed to more deeply integrate AR throughout iOS and make AR objects available across the ecosystem of Apple apps.
Shared experiences with ARKit 2 make AR even more engaging on iPhone and iPad, allowing multiple users to play a game or collaborate on projects like home renovations. Multiple users can play a single augmented-reality game together. In a demonstration, the company showed a Lego game and displayed how two iPhone users could play at the same time from different locations. Developers can also add a spectator mode, giving friends and family the best views of AR gameplay from a different iOS device.
Persistent AR will also change the way consumers interact with AR apps by creating opportunities to leave virtual objects in the real world to which users can return. They can start a puzzle on a table and come back to it later in the same state or create an art project over the course of a few weeks without starting over each time.
ARKit 2 also extends support for image detection and tracking, making it possible to detect 3D objects like toys or sculptures, and adds the ability to automatically apply reflections of the real world onto AR objects.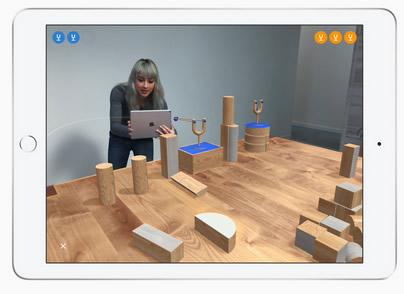 Measure is a new app in iOS 12, which uses AR to gauge the size of real-world objects similar to a tape measure. The new app automatically provides the dimensions of objects like picture frames, posters and signs, and can also show diagonal measurements, compute area and allow users to take a photo and share it with accurate dimensions right from their iPhone or iPad.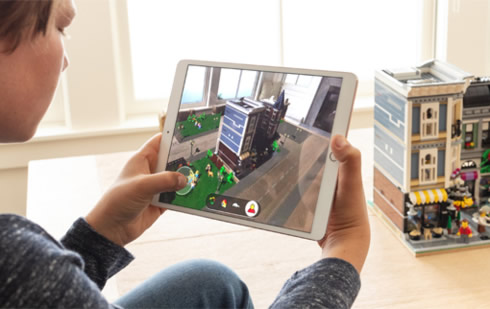 In collaboration with Pixar, Apple is introducing a new augmented-reality open file format, usdz, which is optimized for sharing in apps like Messages, Safari, Mail, Files and News, while retaining powerful graphics and animation features. Using usdz, Quick Look for AR also allows users to place 3D objects into the real world to see how something would work in a space. A demo showed how news publishers can integrate AR into stories and web developers can add it to their websites. Adobe Systems Inc. came on stage and announced AR integration is coming to its iPhone apps.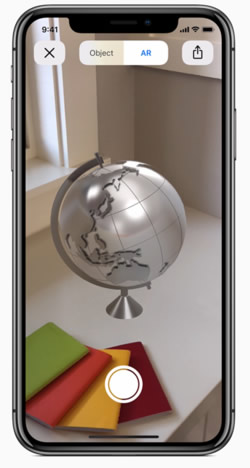 ARKit 2 and usdz are part of the developer preview of iOS 12 that is available to Apple Developer Program members starting today. ARKit 2 and usdz support will be available this fall.
watchOS 5 adds activity and communications features
Applealso today previewed watchOS 5, an update to the watch. New features include Activity Sharing competitions, auto-workout detection, advanced running features, Walkie-Talkie, Apple Podcasts and third-party apps on the Siri watch face:
Activity Sharing now enables users to invite another Apple Watch wearer to compete in a seven-day Activity competition, earning points for closing Activity Rings, while receiving coaching notifications to help stay engaged and win the week.
Auto-workout detection provides an alert to start the correct workout and gives retroactive credit. This feature also offers a reminder to end workout sessions after a period of inactivity if the user forgets.
Yoga and Hiking join 12 other dedicated workout types, tracking active calories burned and exercise minutes earned.
Performance features for running enthusiasts, including a new cadence (steps per minute) metric for indoor and outdoor runs and walks, as well as a new pace alarm for outdoor runs that alerts users when they are behind or ahead of their designated target pace. A new metric - rolling mile pace - is introduced as an additional option for runners to see their pace for the immediately preceding mile in addition to their average pace or current pace.
Walkie-Talkie, a new way to communicate with voice and just a tap of the wrist. This new watch-to-watch connection is fast, personal and can be activated between any compatible Apple Watch users around the world over Wi-Fi or cellular.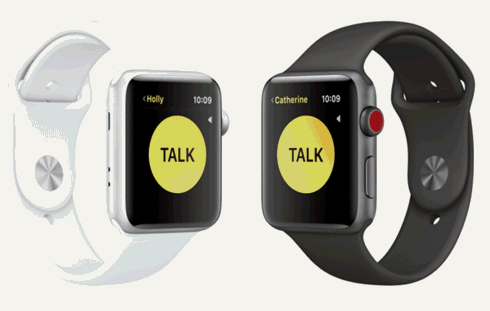 Users can listen to podcasts on the go with Apple Podcasts on Apple Watch and stream any podcast in the catalog by using Siri. Episodes will automatically sync to Apple Watch, and as they're listened to on other devices, the app will automatically refresh with the latest episode. A new feature for developers allows music, audiobooks and meditation sessions from apps such as Pandora, Audible and 10% Happier to be synced to Apple Watch for playback offline without the user's iPhone nearby.
The updated Siri watch face now offers more predictive shortcuts throughout the day based on routines, locations and information such as heart rate after a workout, commute time with Maps at the appropriate time of day or sports scores for a favorite team. The Siri watch face will also show actionable content from favorite third-party apps such as Nike+ Run Club, Glow Baby and Mobike.
Notifications from third-party apps can now have interactive controls and be used without needing to open the app; for example, a Yelp reservation notification will have the option to modify the time or change the number of guests right from the notification.
With watchOS 5, Apple Watch replaces Student ID cards. With a raise of the wrist, students can gain access to places including the library, dorms and events, and pay for snacks, laundry and dinners around campus by adding their ID cards to Wallet on Apple Watch. The program launches with Duke, the University of Alabama and the University of Oklahoma this fall. Johns Hopkins University, Santa Clara University and Temple University will bring the capability by the end of the year.
watchOS 5 will be available this fall as a free update for Apple Watch Series 1 and later and requires iPhone 5s or later on iOS 12. watchOS 5 will not be available on the original Apple Watch. Features are subject to change. Some features may not be available in all regions.