Apple Unveils 28-core Mac Pro and Pro Display XDR
Apple today introduced a new Mac Pro, a redesigned workstation for pros, and unveiled Apple Pro Display XDR.
Designed for maximum performance, the new Mac Pro features workstation-class Xeon processors up to 28 cores, a high-performance memory system with a massive 1.5TB capacity, eight PCIe expansion slots and a graphics architecture featuring the world's most powerful graphics card. It also introduces Apple Afterburner, an accelerator card that enables playback of three streams of 8K ProRes RAW video simultaneously.
Pro Display XDR features a massive 32-inch Retina 6K display with P3 wide and 10-bit color, an extreme 1,600 nits of peak brightness, a 1,000,000:1 contrast ratio and a superwide viewing angle.
The Mac Pro features powerful Xeon processors up to 28 cores, with 64 PCI Express lanes. It also provides over 300W of power along with a thermal architecture to allow the processor to run fully unconstrained all the time.
It is featuring a six-channel memory architecture and 12 physical DIMM slots to allow allows for a massive 1.5TB of memory. And with eight PCI Express expansion slots, which is twice that of the previous-generation Mac Pro tower, pros can customize and expand their system in ways never before possible in a single workstation.
The Mac Pro features the world's most powerful graphics card and up to 56 teraflops of graphics performance in a single system. Its graphics expansion architecture, the Apple MPX Module, features Thunderbolt integration and over 500W of power, both firsts for any graphics card. And for super quiet operation, the MPX Module is cooled by the Mac Pro system thermals.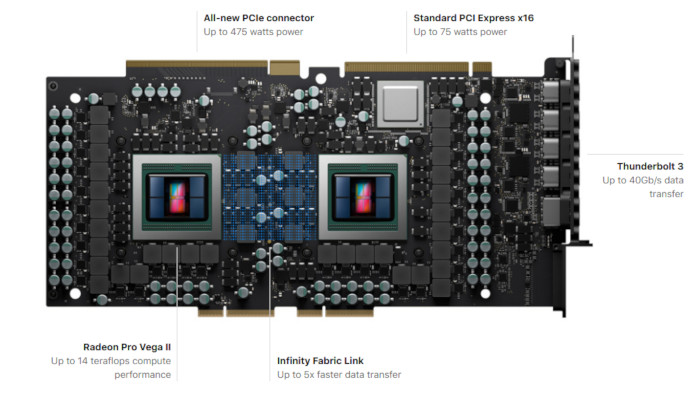 Mac Pro graphics options start with the Radeon Pro 580X. Mac Pro debuts the Radeon Pro Vega II, featuring up to 14 teraflops of compute performance and 32GB of memory with 1TB/s of memory bandwidth, the highest of any GPU. Mac Pro also introduces Radeon Pro Vega II Duo, which features two Vega II GPUs for an 28 teraflops of graphics performance and 64GB of memory. Mac Pro can accommodate two MPX Modules so customers can use two Vega II Duos for a staggering 56 teraflops of graphics performance and 128GB of video memory.
The new Mac Pro debuts Afterburner, featuring a programmable ASIC capable of decoding up to 6.3 billion pixels per second. With Afterburner, video editors using high-quality cameras that require the conversion of native file formats into proxies for easy editing can now use native formats right from the camera and decode up to three streams of 8K ProRes RAW video and 12 streams of 4K ProRes RAW video in real time,1 virtually eliminating proxy workflows.
The design of the new Mac Pro starts with a stainless-steel space frame with an aluminum housing that lifts off for 360-degree access to the entire system. The frame incorporates smooth handles for easily moving Mac Pro around the studio. The housing also features a lattice pattern to maximize airflow and quiet operation. For those who want to rack mount their Mac Pro in edit bays or machine rooms, an optimized version for rack deployment will be available this fall.
The new Mac Pro starts at $5,999 and will be available to order in the fall.
Featuring a 32-inch LCD panel with a 6016 x 3384 Retina 6K resolution with more than 20 million pixels, Pro Display XDR delivers a super-sharp, high-resolution viewing experience with nearly 40 percent more screen real estate than a Retina 5K display. With a P3 wide color gamut and true 10-bit color for over 1 billion colors, pros will have a more true-to-life viewing experience — critical for video and photo editing, 3D animation or color grading. Apple claims that thje Pro Display XDR features the industry's best polarizer technology, delivering a superwide, color-accurate, off-axis viewing angle, so now multiple people can view more accurate content simultaneously. To manage reflected light, Pro Display XDR has an anti-reflective coating and offers a new matte option called nano-texture, with glass etched at the nanometer level for low reflectivity and less glare.
Pro Display XDR uses a direct backlighting system with a large array of LEDs that produce 1,000 nits of full-screen brightness and 1,600 nits of peak brightness. With an advanced thermal system that uses its aluminum lattice pattern as a heat sink, Pro Display XDR can sustain 1,000 nits of full-screen brightness indefinitely. And with a 1,000,000:1 contrast ratio, images will have the brightest specular highlights, super dark blacks and all the details in between.
With edge-to-edge glass and narrow, 9-millimeter borders in an aluminum enclosure, Pro Display XDR features a highly functional and flexible design. The Pro Stand has an intricately engineered arm that perfectly counterbalances the display so it feels virtually weightless, allowing users to easily place it into position. The Pro Stand provides both tilt and height adjustment, and also allows Pro Display XDR to rotate into portrait mode. Easily removable, the Pro Stand quickly attaches and detaches so it is easy to take on location. For pros with unique mounting requirements, a VESA mount adapter is interchangeable with the Pro Stand. With a single Thunderbolt 3 cable, Pro Display XDR connects to the Mac product line, including the new Mac Pro, which supports up to six displays for a breathtaking 120 million pixels.
Pro Display XDR starts at $4,999, the Pro Stand is $999 and the VESA Mount Adapter is $199. All will be available to order in the fall.
Pro Display XDR
Finish: Standard glass ($4999), Nano-texture glass ($5999)
Retina 6K Display
32-inch (diagonal) IPS LCD display with oxide TFT technology
Resolution: 6016 by 3384 pixels (20.4 million pixels) at 218 pixels per inch
Aspect ratio: 16:9
XDR (Extreme Dynamic Range)

Brightness: 1000 nits sustained (full screen), 1600 nits peak
Contrast ratio: 1,000,000:1
Color: P3 wide color gamut, 10-bit depth for 1.073 billion colors
SDR brightness: 500 nits
Viewing angle: Superwide angle with high-fidelity color and contrast at 89º left, 89º right, 89º up, 89º down
Fully laminated; 1.65% reflectivity (typical)
Technology

2D backlighting system using 576 full array local dimming zones
Apple-designed timing controller (TCON) chip engineered to precisely control high-speed modulation of both 20.4 million LCD pixels and 576 LEDs in backlight for seamless synchronization
True Tone technology with dual ambient light sensor (ALS) design to ensure an accurate viewing experience in any ambient lighting condition

Refresh Rates

47.95Hz
48.00Hz
50.00Hz
59.94Hz
60.00Hz

Available reference modes:

HDR Video (P3-ST 2084)
HDTV Video (BT.709-BT.1886)
NTSC Video (BT.601 SMPTE-C)
PAL and SECAM Video (BT.601 EBU)
Digital Cinema (P3-DCI)
Digital Cinema (P3-D65)
Design and Print (P3-D50)
Photography (P3-D65)
Internet and Web (sRGB)

Size and Weight
Width: 28.3 inches (71.8 cm)
Height: 16.2 inches (41.2 cm)
Depth: 1.1 inches (2.7 cm)
Weight: 16.49 pounds (7.48 kg)
Height adjustment: the system allows for a total height adjustment of 120 mm (60 mm in each direction from the midpoint)
Orientation: landscape or portrait
Tilt: –5° to +25°
Pro Stand $999
Depth (tilt 25°): 10.9 inches (27.8 cm)
Weight: 25.99 pounds (11.78 kg)
Landscape orientation

Width: 28.3 inches (71.8 cm)
Height in top position: 25.7 inches (65.3 cm)
Height in bottom position: 21.0 inches (53.3 cm)

Portrait orientation

Width: 16.2 inches (41.2 cm)
Height in top position: 31.7 inches (80.6 cm)

Stand size and weight

Width: 7.1 inches (18.0 cm)
Height (arm 0º, tilt 0º): 17.0 inches (43.3 cm)
Depth: 9.3 inches (23.6 cm)
Height (arm 45º, tilt 25º): 19.6 inches (49.7 cm)
Weight: 9.5 pounds (4.3 kg)
VESA Mount Adapter $199

Width: 4.7 inches (11.9 cm)
Height: 4.7 inches (11.9 cm)
Depth: 0.72 inch (1.83 cm)
Weight: 0.62 pound (0.28 kg)

Connections

One upstream port for Mac Pro or other Thunderbolt 3 host (96W host charging)
Three USB-C (USB 2) ports for charging or syncing

Limited Warranty: 90 days of complimentary technical support and a one-year limited warranty.