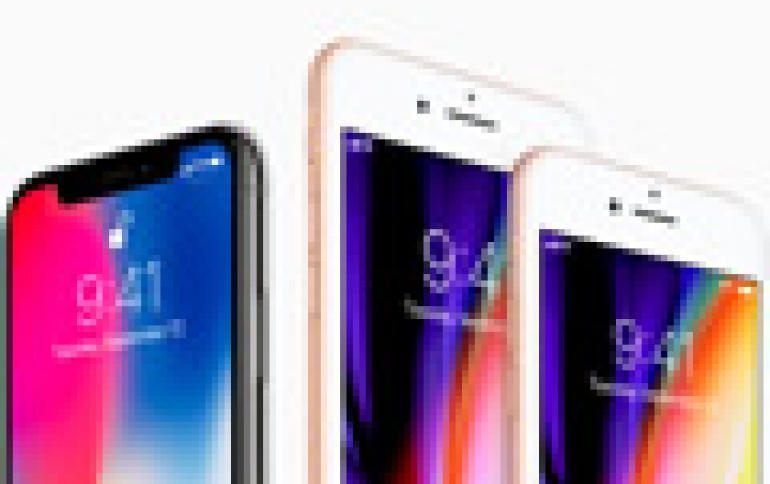 Apple Praises TSMC's Investments, Says iPhones Will be AI an Platform
Apple sees its mobile devices as a major platform for artificial intelligence in the future, and said it is grateful to Taiwan Semiconductor Manufacturing Co's (TSMC) capital investment of US$9 billion in the Taiwanese firm's first initiative with Apple to supply all the processors used in iPhones and iPads.
Apple Inc chief operating officer Jeff Williams participated at a panel discussion to celebrate the 30th anniversary of the foundation of TSMC.
"We think that the frameworks that we've got, the 'neural engines' we've put in the phone, in the watch ... we do view that as a huge piece of the future, we believe these frameworks will allow developers to create apps that will do more and more in this space, so we think the phone is a major platform," Williams said.
Later this week, Apple is set to begin taking pre-orders for its new smartphone, the iPhone X - which starts at $999 and uses artificial intelligence (AI) features embedded in the company's latest A11 chips.
The phone promises new facial recognition features such as Face ID that uses a mathematical model of a person's face to allow the user to sign on to their phones or pay for goods with a steady glance at their phones.
Williams said technological innovations, especially involving the cloud and on-device processing, will improve life without sacrificing privacy or security.
"I think we're at an inflection point, with on-device computing, coupled with the potential of AI, to really change the world," he said.
He said AI could be used to change the way healthcare is delivered, an industry he sees as "ripe" for change.
Williams said Apple's integration of artificial intelligence wouldn't be just limited to mobile phones.
"Some pieces will be done in data centers, some will be on the device, but we are already doing AI in the broader sense of the word, not the 'machines thinking for themselves' version of AI," he said referring to the work of Nvidia.
At Monday's event, TSMC Chairman Morris Chang described his company's relationship with Apple as "intense."
Williams said the relationship started in 2010, the year Apple launched the iPhone 4, with both parties taking on substantial risk.
"TSMC invested US$9 billion and had 6,000 people working around the clock to bring up the Tainan fab in just 11 months, and in the end, the execution was flawless," Williams said. "Companies in the world spent US$9 billion in capital across everything, not a single bet."
In that short period of time, Apple and TSMC together shipped more than 500 million chips, Williams said.
To produce and develop advanced process technologies such as 7-nanometer and 5-nanometer chips, TSMC budgeted a record capital expenditure of US$10.8 billion this year, and its annual budget is to stay above US$10 billion over the next few years.
Answering an analyst's question about when Moore's law will come to an end, Chang said that the original version of Moore's law is no longer valid, as it has a time element.
"The doubling of density is continuing, but not every 18 to 24 months [as the law says]," Chang said.
The economic feasibility of density doubling will be tested in 2025 before geometry shrinking reaches its physical limit, Chang said.
TSMC will continue to work on density doubling for another eight years, Chang said.