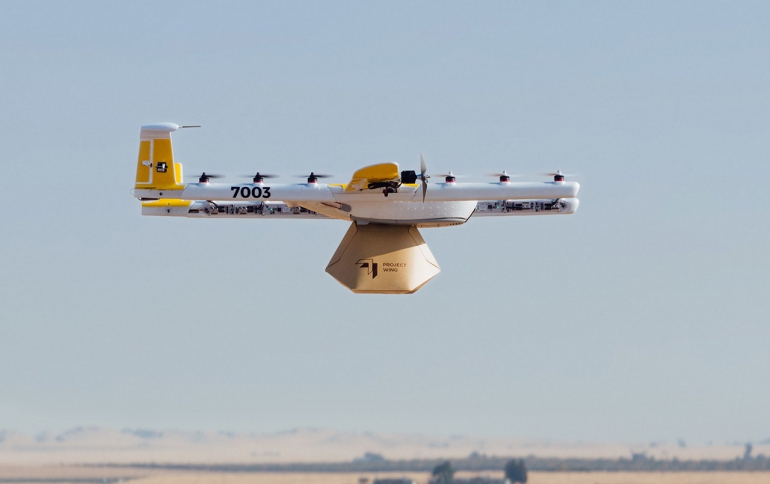 Alphabet's Wing Unveils App to Provide Air-Traffic Control for Drones
Wing LLC, an offshoot of Alphabet Inc.'s Google, on Tuesday unveiled a new app it calls OpenSky that it hopes will become the basis for an air-traffic control system for drones.
The company has been approved to manage drone flights in Australia, where it is free. Wing has been working on demonstration programs with the U.S. Federal Aviation Administration and is also holding discussions with other countries on getting its app approved.
Other companies, such as AirMap Inc. and Iris Automation Inc., are also developing similar products and have been conducting tests with FAA.
While the U.S. hasn't finalized its drone air-traffic plans, officials have said that they anticipate a similar system. Unlike the air-traffic network for traditional aircraft, which is operated by the government, drone tracking and management will be done by private companies, the officials have said.
Wing has made 80,000 test flights using its OpenSky app in three continents. It is available to Australian users of Apple Inc. and Android operating systems. There is also a PC version.
So far, systems such as OpenSky allow users to plan a flight. The Australian app tells drone pilots whether a flight is legal and also provides notifications of no-fly zones, such as a sporting event.
As more and more drones become equipped with tracking devices, such apps may become the underpinning of an air-traffic management system for low-level drone flights that uses computers to automatically keep flights flowing orderly.
NASA has been preparing a framework for how drone traffic could be monitored and the FAA is working on regulations to require that the devices send out some type of radio beacon that will identify them.