Toshiba Showcases Folio 100 Tablet, 3D BD Players New 3D and LED TVs at IFA 2010
Toshiba today announced a brand new selection of products at the IFA tradeshow in Berlin, including Toshiba's first ever 3D ready television and 3D Blu-ray player, Toshiba's Android tablet, new super slim REGZA televisions and updates to the Satellite A665 3D laptop.
Toshiba FOLIO 100
The TFOLIO 100 is Toshiba's answer to Apple's iPad and the recently announced
Galaxy TAB
tablet device by Samsung.
The Toshiba FOLIO 100 is a 25.7cm (10.1") tablet device designed to offer a portable way to enjoy digital and web-based content.
The device has a touchscreen interface designed to run on top of the Android 2.2 (Froyo) platform. It features a wide range of connectivity options with an SD card slot, HDMI connector, USB 2.0, Wi-Fi and Bluetooth all included as standard, while the integrated 1.3MP front-facing webcam also makes video-chat simple. Toshiba said that a Mobile Broadband model with 3G support will also be launched later in the year, providing on-demand access to the web, regardless of location.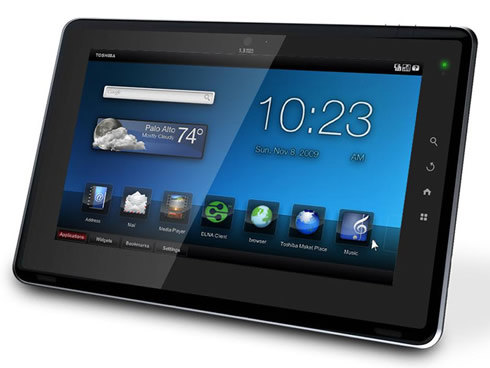 The touchscreen makes is offering multi-touch control that enables users to zoom, pinch and swipe their way through menus, documents and applications. The device also offers full compatibility with Adobe Flash Player 10.1.
Only 14mm thick and weighing just 760g, the Toshiba FOLIO 100 features an NVIDIA Tegra 2 processor. Up to seven hours of battery life enables users to enjoy a full day's use on a single charge, and instant-on functionality ensures the device is operational within less than 30 seconds of being switched on. Each model offers 16GB of on-board storage, with storage easily expandable thanks to support for SDHC memory cards up to 32GB.
The Toshiba FOLIO 100 also provides on-screen video, as well as additional support for the external playback of high definition (HD) video on HD ready TV screens. The integrated card reader offers great versatility to load content without occupying internal memory, and the integrated mini HDMI port enables users to view their HD movie content on their TV sets. DLNA support allows users to stream music, video and images between devices around the home, and an optional HDMI-dock also comes complete with a remote control.
The Toshiba FOLIO 100 ships with pre-installed applications. An Opera Mobile web browser, FBReader e-book reader, Document To Go office suite and Evernote are all included as standard. Video calls are supported also by Fring - an application that uses the embedded 1.3MP front-facing webcam.
The Toshiba FOLIO 100 will be available in the UK from October 2010 for £329 inc VAT (non-3G).
Toshiba FOLIO 100 - facts and figures: - CPU: NVIDIA Tegra
- 2 25.7cm (10.1") Multi-Touch display with 1,024 x 600 pixels
- Based on Android 2.2 (Froyo)
- On-board storage capacity: 16 GB
- Bluetooth 2.1 +EDR, WLAN (802.11 b/g/n), Mobile Broadband (available Q1 2011)
- DLNA compatible
- 1 x mini HDMI, 1 x USB 2.0 (client and hub), SD/MMC Card Reader
- Supports Adobe Flash Player 10.1
- Rotation of displayed content on the screen by accelerometer
- Webcam with 1.3MP Battery life: 7 hours (65% web browsing, 10% video playback, 25% standby)
- Weight: 760g Size: 281mm x 181mm x 14mm
- Software (excerpt): Opera Mobile, Toshiba Media Player, FBReader, Fring, Document to Go, Evernote
REGZA WL Series - Toshiba's first ever 3D television
Toshiba also announced the arrival of the new REGZA WL series - the company's first-ever range of 3D enabled LED TVs.
Available in 102cm (40"), 117cm (46"), and 140cm (55") sizes, the new REGZA WL768 series. Integrated Wi-Fi connectivity and applications for YouTube and BBC iPlayer provide an expanded range of content for users to enjoy, and all models also feature a stunning exterior designed in collaboration with Danish designers JACOB JENSEN DESIGN.
All REGZA WL768 models feature a full 1920x1080p HD panel with LED Edge backlighting. The LED display provides a high dynamic contrast ratio of 7,000,000:1. Powered by Toshiba's MetaBrain engine, each model also features a range of advanced Toshiba picture enhancement technologies, including new and enhanced Resolution+ and Active Vision M200HD Pro picture processing.
The 200Hz refresh rate provided by Active Vision M200HD Pro enables smooth motion during fast-moving pictures, and also offers the fast response time required to achieve an adequate separation of pictures reaching the left and right eye.
The REGZA WL768 series includes:
Active shutter technology: The new REGZA WL768 series uses active shutter technology to maintain Full HD picture quality when switched to 3D mode. Each model in tandem with a pair of compatible Toshiba 3D active shutter glasses, synchronises with the TV's refresh rate via an IR emitter, integrated within the TV chassis.
Intelligent 3D: Compensating for common effects of using active shutter glasses, including loss of brightness due to the alternate darkening of the viewer's eyes and the change in colour contrast, all REGZA WL768 models feature Toshiba's Intelligent 3D technology. Intelligent 3D automatically optimises the TV screen's brightness and colour reproduction as soon as it detects a 3D signal.
3D Resolution+: To provide advanced playback of 3D TV broadcasts, Toshiba has further refined its Resolution+ picture enhancement technology. Due to limited broadcast bandwidth; 3D content is most likely to be broadcast in a 'side-by-side' format, using a single 1080p frame to transmit pictures for left and right eyes side-by-side - resulting in lower resolution and perceived sharpness than is possible from a Blu-ray 3D disc. By using complex algorithms, new 3D Resolution+ analyses each single image and improves edge detail and texture in near-real time, generating a 3D image at near Full HD quality from a side-by-side input signal. The result is a sharper, more detailed and enhanced 3D TV experience.
The complete REGZA WL series also features an integrated DVB-T2 tuner as standard, allowing users to access Freeview HD broadcasts out of the box.
Each model offers four HDMI inputs and two USB inputs supporting JPEG and MP3 audio playback, whilst integrated Wi-Fi connectivity also allows users to access internet-hosted content, with applications for BBC iPlayer and YouTube integrated as standard.
The latest programmes on BBC iPlayer can be accessed by wirelessly connecting any of the REGZA WL series models to the internet. A user interface designed for TV use makes it simple to browse and select content, allowing the whole family to access their favourite BBC programmes on demand.
Owners of REGZA WL series TVs will also be able to connect to their home network, allowing instant sharing of digital content between Windows 7 certified devices. Music, video and images can be easily sent from laptops and media servers to REGZA WL series TVs using the Toshiba Media Controller, which features a drag-and-drop interface that makes it easier to stream content to other PCs and compatible AV devices within a home network.
Bass reproduction is enhanced by integrated subwoofer with an output of 10 Watts in 102cm (40"), 117cm (46") sizes, and 20 Watts in the 55" model. An Audyssey EQ equalizing system also compensates for acoustic irritations caused by dominant or under-represented frequencies.
The REGZA WL series also features Dolby Volume and Toshiba SoundNavi technology.
3D TV Without Glasses in October
Toshiba will also unveil a 3D LCD TV that can be viewed without special glasses in October 2010.
"We would like to pursue 3D video technologies," said Masaaki Osumi, president of the Visual Products Company, Toshiba. "It is still difficult to release a large 3D TV that can be viewed with the naked eye from the viewpoints of LCD panel and peripheral technologies."
The company is expected to announce the 3D TV at Ceatec, a trade show on consumer devices that took place from Oct 5, 2010, in Japan.
The technology behind Toshiba's new glasses-free LCD TV has been developed by Toshiba Mobile Display. Called "integral imaging method," it does not require special glasses. In the method, lenticular lenses are used on the front of an LCD panel. And it leverages motion parallax in addition to parallax between the right and left eyes.
BDX3100 and BDX1100 Blu-ray players
Toshiba is also launching the BDX3100KB - Toshiba's first ever Blu-ray player to support Blu-ray 3D movie playback.
The BDX3100KB provides Full HD 1920x1080p 3D output. Blu-ray movies are played back at 24 frames per second. A 3D-capable HDMI port allows output of 3D content from Blu-ray 3D discs to a 3D capable TV set. REGZA-LINK (HDMI-CEC) technology via HDMI also enables users to control the BDX3100KB and compatible TV sets with a single remote control.
The BDX3100KB is also offering true surround sound. Dolby TrueHD and DTS-HD Master Audio Essential provide a cinema like experience, reproducing high-quality uncompressed audio to a maximum of 7.1 channels.
The BDX3100KB supports a wide selection of formats, including image, video and audio files in MKV, DivX, HD-JPEG and MP3 formats, whilst an integrated USB input situated on the front of the body allows data to be read from compatible USB sticks. To offer instant playback of home movies, the BDX3100KB is also capable of translating AVCHD-compressed footage, offering instant and simple playback of videos shot on personal camcorders.
Users can also take advantage of bonus material available on Blu-ray discs thanks to full support for BD Live (Profile 2.0).
Toshiba also released the new BDX1100KB. The BDX1100KB offers Toshiba's build quality, and upscaling technology also breathes new life into existing DVD collections by up-converting standard definition DVD content to 1080p.
The new Toshiba BDX3100KB Blu-ray 3D and BDX1100KB will be available in the UK from October 2010.
BDX3100KB:
Support of Blu-ray 3D disc
3D content playback over HDMI
1080p/24p playback DivX & MKV playback AVCHD , HD-JPEG, MP3 playback
USB 2.0 support o, JPEG, MP3, connection to BD-Live BD-Live (Profile 2.0)
REGZA-LINK (HDMI-CEC) 1080p upscaling
Dolby TrueHD and DTS-HD Master Audio Essential
Bonus View
Deep Colour
Black 'Crystal Cut' design
Dimension: 430mm x 45mm x 225mm
BDX1100KB:
1080p/24p playback
BD-Live
REGZA-LINK (HDMI-CEC)
1080p upscaling Dolby TrueHD and DTS-HD Master Audio Essential
Bonus View
Deep Colour
Dimension: 361mm x 50mm x 241mm
REGZA VL Series
The REGZA VL Series is a premium range of Full HD LED TVs, combining performance, internet connectivity and an ultra slim look designed in collaboration with JACOB JENSEN DESIGN.
The REGZA VL series is available from October 2010.
Feature list:
102cm (40"), 117cm (46") screen sizes
Full HD (1920x1080p) resolution
Active Vision M100HD (100Hz) processing
Freeview HD BBC iPlayer YouTube
Wi-Fi Ready (Dongle required)
Resolution+
4x HDMI
2x USB
Dolby Volume
Sound Navi
Audyssey EQ
Eco Panel
Ethernet port
REGZA 42SL738 - Toshiba's entry level large screen LED television
The new REGZA 42SL738 is an entry-level LED TV that offers a Full HD resolution, advanced picture quality and an all-new Toshiba design. The new REGZA 42SL738 will be available from October 2010.
Toshiba REGZA SL738 series:
107cm (42") screen size
Full HD resolution (1920x1080p)
Active Vision M100 picture processing
1,000,000:1 Dynamic Contrast ratio
4x HDMI
1x USB
REGZA SL738 Series - Toshiba's entry level small screen LED televisions
The REGZA SL738 is an entry-level range of LED TVs available in a selection of small screen sizes, combining features, performance and an all-new slim design.
Toshiba REGZA SL series:
48cm (19"), 56cm (22"), 66cm (26") and 81cm (32") screen sizes
HD ready (1366x768)
Active Vision LCD picture processing
Freeview
1,000,000:1 Dynamic Contrast Ratio (on each model)
2x HDMI (REGZA19SL738, REGZA 22SL738)
3x HDMI (REGZA 26SL738, REGZA 32SL738)
1x USB
Eco Panel
PC Input
REGZA Link (HDMI-CEC)
Satellite A665 - new update brings even more 3D content to the home
Toshiba has also added 3D and multimedia features to its Satellite A665 laptop. The update adds a 2D to 3D conversion application, rendering standard 2D content in 3D in real time. The update also provides support for Blu-ray 3D discs, and allows 3D content, including games and video, to be streamed to 3D-ready televisions.
The Satellite A665 comes bundled with a pair of NVIDIA 3D Vision active shutter glasses and includes the ability to take 2D content and instantly upconvert it to 3D, when played on the Toshiba Video Player 3D software.
The Satellite A665 now also offers an HDMI interface capable of outputting 3D content directly to a 3D TV set, as if it were a 3D Blu-ray player.
The laptop has an HD 15.6" TruBrite LED backlit screen and it is available available now.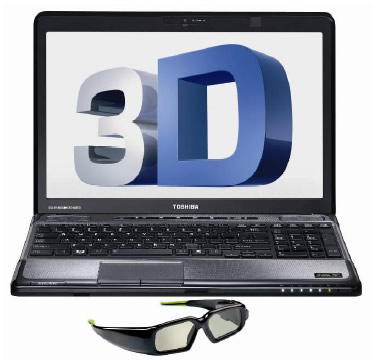 Facts & Figures
Intel Core i7 (Quad Core) processor
Up to 4 GB DDR3 (1066 MHz) RAM
Up to 500 GB HDD with 3D impact sensor
39.6cm (15.6'') TruBrite HD display (120 Hz) with LED backlighting
1,366 x 768 pixels(16:9)
NVIDIA GeForce GTS 350M graphics
Blu-ray Disc rewritable drive, Blu-ray 3D Disc compatible
Bluetooth 2.1 +EDR, WLAN (802.11 b/g/n), Gigabit Ethernet LAN
3 x USB 2.0, 1x eSATA / USB combo port with Sleep-and-Charge, Multi-Card Reader and 1x HDMI
1.3 MP webcam
Harman Kardon stereo speakers, Line-In with Sleep-and-Music function, Dolby Advanced Audio
Pre-installed 3D content
Toshiba Resolution+, Toshiba Media Controller, Toshiba LifeSpace
Windows 7 Home Premium (64bit)