Scientists Develop New Way to Distinguish Between Replicated and Duplicated CDs
Scientists at the University o The method, which has been published in the
American Journal of Physics
, allows scientists to spot whether or not a CD is an original or a copy.
Professor Jose Fernandez-Dorado, described a simple diffraction method to distinguish between the two types of CDs, a distinction that is not visible to the eye. The success of this method is based on the different ways in which data are pressed onto the replicated CDs and burnt onto their duplicated counterparts.
The diffraction experiment can be performed by directing a laser beam with a wavelength peak at 632.8 nm on any part of the surface of a CD except the center or edge, where no information is stored. The light is diffracted after being reflected from the microstructures of the surface, which contain the information. The diffraction patterns of replicated CDs and of CD-Rs are distinct, allowing scientists to easily spot the copied and possibly counterfeited CD.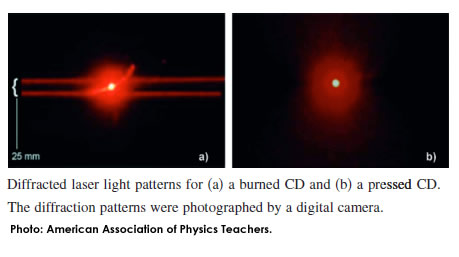 "We have tested more than 100 CDs of different makes with different types of audio and video data and have found that the method is completely reliable," Jose Fernandez-Dorado said.
The technique has also been tested in DVDs and the scientists intend to develop it for Blu-ray as well.