Samsung's NGSFF SSD Form Factor is not Compatible with the M.2 Specification, PCI-SIG Warns
PCI-SIG, the standards committee behind PCI Express and related standards, has recently warned about incompatibilities between their M.2 standard and Samsung's NGSFF/NF1 SSD form factor.
The committee concluded that the NGSFF or NF1 mechanical form factor is not compatible with the M.2 specification as it connects a subset of NC pins for proprietary purposes. The use of these pins is in direct conflict with the latest M.2 specification, and could cause interoperability problems and host and/or AIC damage, according to PCI-SIG.
Samsung's new form factor is based on a mechanically identical M.2 connector, so M.2 drives could be installed in NGSFF slots or vice versa.
PCI-SIG's complaints about NGSFF are all about conflicting pin assignments for the M.2 M-keyed connector, as yo see below: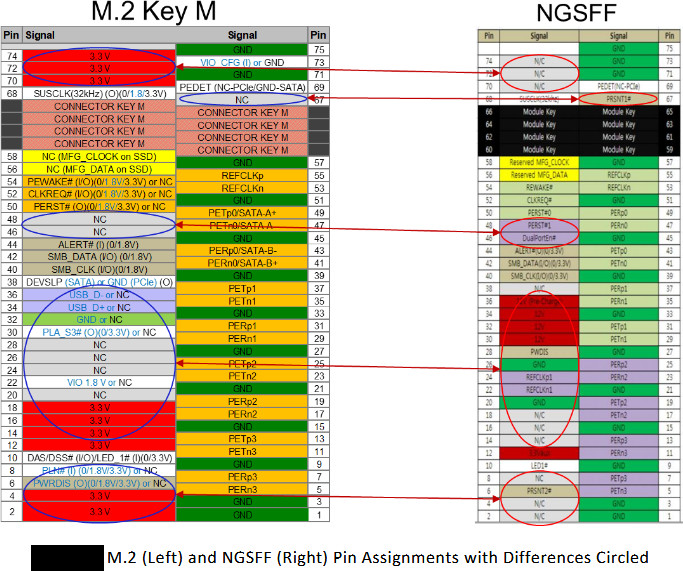 Given the industry has shipped over 1 billion M.2 host and AICs and 100s of millions more ship every year, the PCI-SIG believes it is critical for the industry and consumers to be aware of this situation to minimize impact to the industry and consumers.
All of these can be avoided by adding mechanical keying to ensure incompatible hosts and AICs do not mate, PCI-SIG added.
Samsung's NGSFF proposal was intended to take the best qualities of U.2 and M.2 and make it better than both. The goal was to maintain evolutionary compatibility with M.2 where possible, have a height optimized for 1U servers (30.5 mm x 110 mm), add new features to enable improvement of system level RAS and configurability, and also offer superior thermal characteristics compared to M.2.
However, Samsung has announced that NGSFF would have some shared mechanical infrastructure with M.2, such as a common connector. The adoption of the M.2 card edge allows a NGSFF SSD to be inserted into existing M.2 connector, according to Samsung.
Samsung has pursued standardization of the NGSFF through JEDEC with a new name of NF1 for the form factor, but that effort seems to have stalled earlier this year without achieving ratification. However, even without standardization, Samsung has been moving forward with deployment of NGSFF SSDs and they have picked up several major partners along the way.
The M.2 version 1.0 specification was released in 2013, version 1.1 in 2015, and version 1.2 is scheduled to be released in late 2018. With each release, the PCI-SIG has expanded M.2 capabilities to meet new high-volume consumer requirements including: power loss notification, 1.8V I/O support, USB 2.0 (USB D-/ USB D+) support, and on-board power disable capabilities to enable AICs to be reset to their power-on initialization state without requiring physical consumer intervention.