Samsung Showcases Ultra-Thin Video Wall, Latest Curved Gaming Monitors and Transparent OLEDs At CES
Samsung Electronics is showcsing its newest SMART Signage and monitor line up, highlighting world's thinnest bezel to bezel video wall, new curved gaming monitors, mirror and transparent OLED displays. Samsung has amplified large-scale message presentation capabilities for business and retail customers with its new UHF-E (Extreme Narrow Bezel) video wall. Featuring a thin bezel-to-bezel design (0.9mm on the upper and left sides and 0.5mm the lower and right sides), the UHF-E is the world's slimmest bezel video wall available.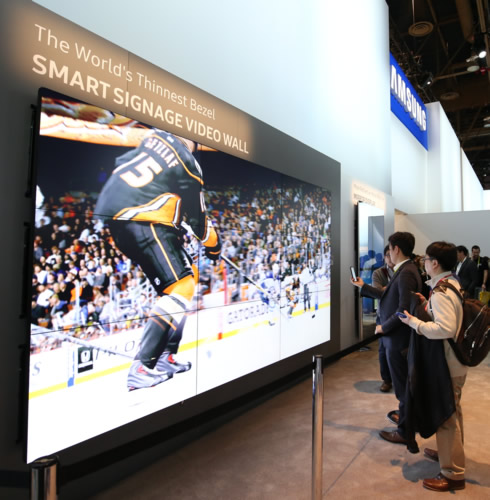 Samsung's UHF-E video wall has been optimized for indoor applications. Each UHF-E display undergoes actory tuning to maintain picture integrity. An additional embedded ACM chipset adjusts picture content to meet specific color settings and maintains a uniform presentation. The durable UHF-E video wall is designed to perform 24/7.
Samsung is also showcasing its newest curved gaming monitors (CF591, CF391, CF390 and CF398). These 1800R curvature monitors are designed to match the natural shape of the human eye, and with Samsung's flicker-free and Eye Saver technologies, the products minimize eye strain and fatigue. Samsung's gaming monitors are supported by AMD FreeSync Technology Over HDMI, which synchronizes the screen refresh rate with users' AMD graphics card frame rate to reduce input latency, stutter and lag during gaming. In particular, the CF591 monitor recently earned a verification certificate from UL, evaluating color and uniformity.
Samsung has enhanced its LED Signage to offer even greater visual detail. Samsung's LED Signage is designed with top-tier diodes across a range of fine pixel pitch configurations. Through this construction, large-screen LED Signage viewers can experience the same deep contrast, realistic picture quality and high brightness.
Samsung is showing how retail-oriented display technologies, including mirror and transparent OLED displays and ultra-slim bezel video walls, can elevate electronics shopping to a more informed and customized experience.
As customers enter the store, retailers can use mirror displays to interact and further drive point-of-purchase shopping. The displays' reflectance (65 percent), high transmittance (90 percent) and frameless design offer retailer new avenues to immediately refine and deliver content from welcome messages to special limited-time offers.
Samsung's 55-inch transparent OLED offers customers complete product visibility. It also allows retailers to deliver demos and real-time promotional content with improved brightness (150nit), transparency (45 percent) and color presentation (Adobe RGB 100 percent).