Samsung Announces First 5G mmWave Mobile Technology
Samsung Electronics announced that it has successfully developed the first adaptive array transceiver technology operating in the millimeter-wave Ka bands for 4G cellular communications. The new technology sits at the core of 5G mobile communications system and will provide data transmission up to several hundred times faster than current 4G networks.
"...subscribers will be able to enjoy a wide range of services such as 3D movies and games, real-time streaming of ultra high-definition (UHD) content, and remote medical services," Samsung said in a statement.
5G mobile communications technology is the next generation of the existing 4G Long Term Evolution (LTE) network technology. 5G will be capable of providing data transmission speeds of up to several tens of Gbps per base station.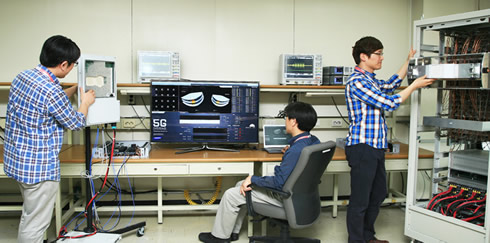 The implementation of a high-speed 5G cellular network requires a broad band of frequencies, much like an increased water flow requires a wider pipe. While it was a recognized option, it has been long believed that the millimeter-wave bands had limitations in transmitting data over long distances due to its unfavorable propagation characteristics.
However, Samsung?s new adaptive array transceiver technology has proved itself as a successful solution. It transmits data in the millimeter-wave band at a frequency of 28 GHz at a speed of up to 1.056 Gbps to a distance of up to 2 kilometers. The adaptive array transceiver technology, using 64 antenna elements, can be a viable solution for overcoming the radio propagation loss at millimeter-wave bands, much higher than the conventional frequency bands ranging from several hundred MHz to several GHz.
Samsung plans to accelerate the research and development of 5G mobile communications technologies, including adaptive array transceiver at the millimeter-wave bands, to commercialize those technologies by 2020.
The competition for technology leadership in next-generation mobile communications development is getting fierce. China formed a government-led 'IMT-2020(5G) Promotion Group' for the study of 5G technologies in February. And EU has decided to invest some 50 million euros only for this year and has a goal of commercializing the new network technology by 2020.
Staying with Samsung, the S. Korean giant plans to establish a new foundation in which it will invest 1.5 trillion won ($1.3 billion) over the next decade from this year as a way of fostering future science technology.
The new foundation, to be set up in June, will implement three programs dedicated to fostering future technology in line with Park Geun-hye administration?s the so-called "creative economy" agenda. Seoul National University Professor Choi Yang-hee will serve as the chairman of the foundation.
The three programs include: 1) producing Nobel science prize winners in the fields of basic science (physics, chemistry, life science and math); 2) promoting materials technology; and 3) supporting the convergence of information and communication technology (ICT) industry.
In the first phase, Samsung will select 100 to 200 projects for college faculty and researchers at mid-to small enterprises, providing 250 billion won for each program, a total of 750 billion won over the next five years. In its later phase, Samsung will provide financial assistance based on feasibility evaluation and research outcome.
The foundation will accept projects by July and select them in October to begin full-fledged support in November.