Rolex, Lego and Google Top Reputation Institute's 2018 Corporate Reputation Study
Samsung has ranked 26th in a global company reputation survey, with LG Electronics to follow and Apple to take the 58th in the aftermath of "battery gate."
According to the 2018 Global RepTrak 100, an annual study of global leading corporate reputation in 15 countries published by the Reputation Institute (RI), the world's leading provider of reputation measurement and management services, Samsung jumped 44 spots to No. 26 with a score of 73.3, showing the biggest leap among the top 100.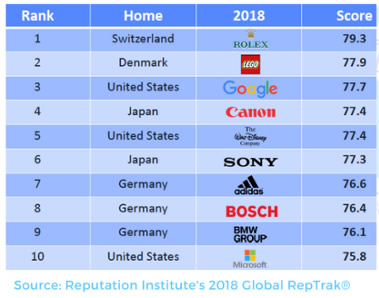 Apple plunged from 20th place last year to 58th this year with a score of 70.6. The company was outpaced by Samsung and LG, which came in 41st on the list, and ranked similar with Nokia, which ranked 64th. This is largely due to sluggish sales of the iPhone X and battery problems of its earlier models.
Swiss watch brand Rolex topped a ranking of the world's most reputable brands for a third year in a row with a score of 79.3. LEGO Group came in second, Google in third, Canon in fourth, the Walt Disney Company in fifth, Sony in sixth, Adidas in seventh, Robert Bosch in eighth, BMW Group in ninth and Microsoft in tenth. German automaker Daimler and American pharmaceutical and household goods manufacturer Johnson & Johnson nosedived 32 places to 59th and 28 spots to 72nd, respectively.
The annual Global RepTrak 100 rankings are based on more than 230,000 individual ratings collected in 15 countries during the first quarter of 2018. Product value, transparency, ethical behavior, fairness and sustainability are among the most important factors in determining a company's reputation.