Hitachi Launches 1TB HDTV Recorder
Japanese giant Hitachi unveiled the world's first hard disk drive/DVD recorder that can store one terabyte of data, or enough to record about 128 hours of high-definition digital broadcasting. Hitachi, Japan's largest electronics conglomerate, is still a relatively small player in the DVD recorder market, trailing industry leaders Matsushita Industrial Co. Ltd. , Sony Corp. and Toshiba Corp. .
But it hopes its new line-up, which also includes models able to store 160 gigabytes (DV-DH160W), 250 gigabytes (DV-DH250W) and 500 gigabytes (DV-DH500W) of data, will help boost its market share and turn its loss-making DVD recorder business profitable in October-March, the second half of the business year.
The DV-DH1000W (1TB) high definition television recorder is a part of the "Wooo" series of Hitachi products, a concept that includes both HDTV recorders and HD televisions. The new model uses a digital tuner as well as an HDMI digital interface, in order to communicate with the TV. The recorder offers a huge 1TB total storage capacity equipped with a dual hard disk set.
The two high-ranking models (1TB and 500GB) will also have an iLink interface, appart from the HDMI mentioned above. Moreover, the devices are equipped with a DVD recorder, able to record on DVD-R at 16x, DVD-RAM at 5x and DVD-RW at 6x.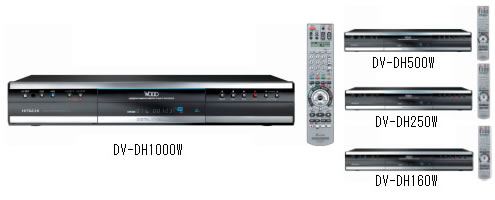 Hitachi said the new models would be the first on the market able to simultaneously record two high-definition programs, and it hopes this will be a key selling point given the spread of terrestrial digital broadcasting in Japan.
The recorders will go on sale in Japan from next month. They are expected to retail from about 130,000 yen for the cheapest model to 230,000 yen for the one-terabyte recorder, which stores data on two 500 gigabyte hard disk drives.
Hitachi said it did not have concrete plans for launching the products in overseas markets, explaining that consumers in Europe and the United States were not as keen on high-end recorders.
Japan accounts for more than half of the global DVD recorder market. DVD recorders have been slow to take off in other markets such as the United States, where TV set-top boxes with hard drives, such as those made by TiVo Inc. , are popular.
MM Research Institute predicts that Japan's DVD recorder market will grow 26 percent to 5.6 million units in the current financial year to next March, up from 4.43 million in 2004/05.
Matsushita was the top seller of DVD recorders in Japan in 2004/05, controlling 27 percent of the market. Sony was next at 20.6 percent, Toshiba at 15.6 percent, and Sharp Corp. came in fourth with a 10.2 percent share.
Hitachi said it was aiming to grab 35 percent of the Japanese market for high-definition DVD recorders in the second half of this business year. High-definition recorders currently make up about 15 percent of the overall market, but that percentage is expected to grow strongly over the next several years.