Facebook Introduces the Portal Smart Speaker for Messenger Video Calls
Facebook on Monday released Portal, a smart speaker designed to ease video calls, available in $199 and $349 (Portal+) versions and armed with a wide-angle camera that automatically keeps users in focus as they move about a room.
Portal is available at Amazon and Best Buy stores in addition to Facebook.com and starts shipping to U.S. customers in early November.
With a 10-inch 1280 x 800 display, Portal from Facebook improves video calling and lets you enjoy quality time with family and friends. You can also opt for a 15-inch 1920 x 1080 pivoting display with Portal+.
Powered by AI, Portal's Smart Camera stays with the action and automatically pans and zooms to keep everyone in view. Smart Sound minimizes background noise and enhances the voice of whoever is talking, no matter where they move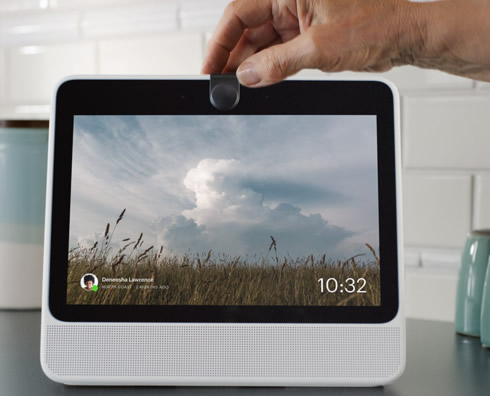 You can call Facebook friends and connections on Messenger even if they don't have Portal. Calls can be made to and from Messenger-enabled smartphones and tablets. Portal supports group calls of up to seven people at the same time.
Portal offers hands-free voice control. You can start a video call by saying "Hey Portal" and noting who you'd like to call. Portal also has Amazon Alexa built in.
Portal also enables shared activities like listening to music together or watching shows. Facebook has partnered with Spotify Premium, Pandora, and iHeartRadio, as well as Facebook Watch, Food Network and Newsy - and will add more soon.
Facebook is also incorporating augmented reality (AR) effects - powered by its Spark AR platform - to make calls even more fun and interactive. Story Time brings stories to life with custom sound effects and visuals. Smart Camera helps you read a fun story via a simple teleprompter, perfectly framed, while your loved ones on the other side watch as your face and voice transform into the story's characters.
And when you're not on a call, Portal's Superframe can display your favorite photos and videos and important notifications like birthday reminders.
Smart speakers costing under $100 from Amazon and Google have become best sellers in the nascent industry. Users issue voice commands to search, shop and listen to music, turning the speakers into a major funnel into the technology companies' competing networks.
Portal could help Facebook stop users from flocking to rival chat and video apps on other speakers and give it a new, wholly controlled environment to sell ads.
The launch of the product comes at a tricky time for Facebook. Last month, it announced an attacker gained the ability to take over 50 million user accounts because of software flaws.
Portal locks with a passcode, and its microphones and camera shuts off with the tap of a button. Video and voice calls are encrypted and contents of them are not stored, the company said.
Facebook sais it doesn't listen to, view, or keep the contents of your Portal video calls. Your Portal conversations stay between you and the people you're calling.
For added security, Smart Camera and Smart Sound use AI technology that runs locally on Portal, not on Facebook servers. Portal's camera doesn't use facial recognition and doesn't identify who you are.