The Finnish handset maker unveils a collection of 1920s-style inspired phones: the 7260, 7270 and 7280 offer sleek lines and art deco design.
Launched today at the Totally Fashion event in Shanghai, Nokia has introduced a collection of three mobile phones borrowing design hints from the lavish 1920s. Radically different from earlier models from the handset maker, the Nokia 7260, 7270 and 7280 blend old world art deco styling with a modern day twist in an attempt to outfashion competitors.
The tri-band GSM/GPRS 900/1800/1900 MHz Nokia 7260 is a silver and black candybar design weighing in at 92 grams. Featuring a stylized art deco keypad, it offers a healthy set of features as well. Those include a VGA camera and 128 x 128 pixel 16-bit TFT color display. It also includes a clothing and shoe size converter for the international "fashionista". The 760 mAh Lithium Ion battery is rated for 3 hours talk time or 350 hours standby.
The Nokia 7270 has a somewhat more conventional-looking keypad, but a novel approach to customization. The clamshell phone supports changeable snap-on textile wraps in place of the usual plastic faceplates common to most hardware-customizable phones. Those wraps wrap around the 88 x 46 x 22 mm phone, which while hefty at 121 grams offers dual color displays. The interior display is a 128 x 160 16-bit color TFT, while the external caller ID display is a 4,096-color 96 x 65 pixel TFT. In addition to a VGA camera with 4x digital zoom and video recording capability, the phone offers Push To Talk (PTT) functionality and a hardware volume control. It supports GSM/GPRS networks at 900/1800/1900 MHz and high-speed EDGE connectivity on supported networks. The 760 mAh battery is rated for 4 hours talk time or 270 hours standby.
Read more(with more pictures inside)...
Source : InfoSyncWorld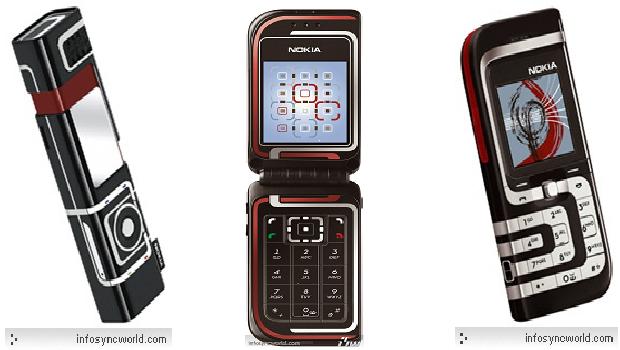 Nokia 7280, 7270 and 7260...