As i have mention (and stronglt suggested by JeanLuc), it would be a good idea to insert a CDSpeed graph from a fast DVD-ROM drive like Toshiba. It uses totally different pickups/chipsets/servo from the LiteON/Plextor drives, so our quest began, which Toshiba DVD-ROM should we use?
- Testing
Fortunatly, we have all Toshiba DVD-ROM ever produced with 16X DVD reading speed, that includes 1502, 1612, 1712 and 1802. The first problem is that the DVD reading limit of CSS and non CSS DVD discs, with the correct "fixed" firmware overpassed, and all inserted media can be read up to 16X (CAV)!
With such high reading speed can, reviewer can check
QUICKLY
the disc for any possible problem (high PI/PIF/POF/Jitter/Assymetry).
For this series of tests, we left outside 1502 since the "fixed firmware wasn't so stable (cannot read DVD-R up to 16X). That leave us three drives to compare, 1612/1712/1802.
For comparison reasons we included Plextor's PX-712A, since can read pressed media up to 16X and DVD+/-R up to 12X.
Another interesting variation is that the 1802 doesn't use TOSHIBA chipset but VIA (VOS VT7218S), when 1712 used TOSHIBA (TC94A25AF), so results expected to be much different, as confirmed from test results...
The hard question is, which reader we should use? The one with the "worst", "average" or the "best" reading performance? And what defines "worst/average/best". Probably we will have many different opinions, for probably it would be wiser to focus at the test results.
- Test results
The first test include CDSpeed Graphs from a pressed DVD5 disc, with some very light scraches at the end.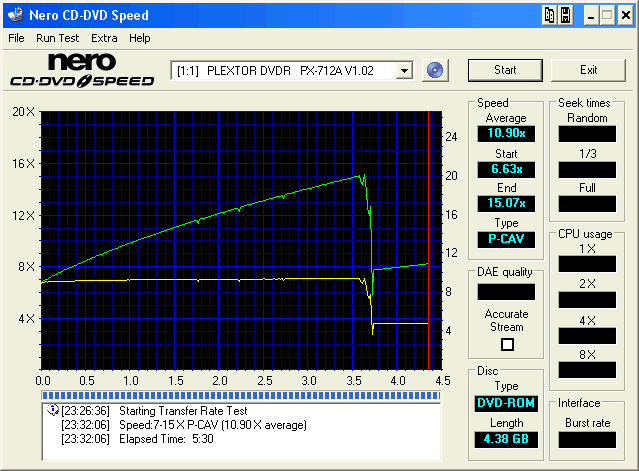 The light scraches managed to cause problems to the 1612/1712, while 1802 read it perfectly.
We can say that 1802 has the best performance, 1612 comes second (average) and 1712 third (worst). I decided that 1612 has the second place since even drops speed at the same point, it has higher reading speed and after the drop, speed rises up again.