Now going for the really interesting stuff...What will happen after inserting a blank Mitsubishi Chemicals DVD+R DL media? Using DVDInfoPro we saw that, the media was recognized correctly!
So far things look really nice. Let's proceed with the next step...burning DVD+R DL media!
Using CopyToDVD and Gladiator Special Edition Disc 1, we chosen the BenQ DW800A->830A as the desired burned and pressed ok. Unfortunaly things didn't went as we would like too: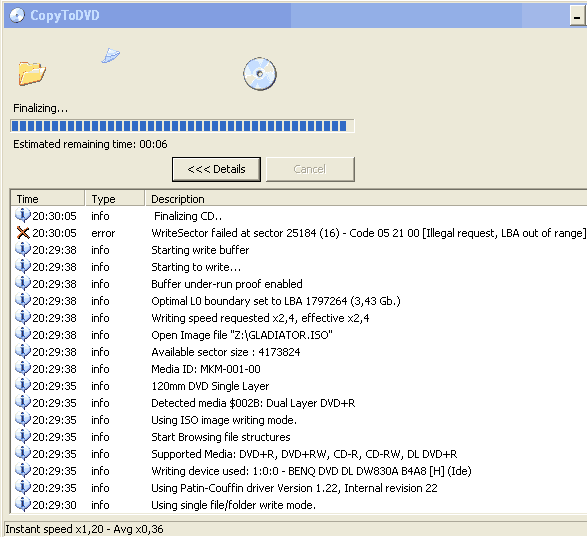 The disc was recognized correctly, the burning process started but...write error occured. CopyToDVD immediatly went to finalizing process and the drive's led was blinking red. After passed some 30mins, the drive's kept blinking red (still writing?) but the HDD led wasn't active. We decided that probably BenQ DW800A->830A stuck and rebooted.
After reboot, we ejected the burned media, and we saw that the media was burned till some point. We don't know what exactly has been written, but since the HDD led wasn't active, we assume probably the drive's laser lost focus and wrote sequentialy...
The Burned media did recognized with DVDInfoPro, with proper ID and content but of course wasn't readable:
Using CDSpeed, the media recognized as DVD+R DL without however correct size, since the burn stopped before finished: