Jumping on the 3G bandwagon at long last, Siemens' new slider SG75 and clamshell SFG75 will go on sale in November, both sporting 1.3 Megapixel cameras and two-inch displays.
Launching its second and third 3G handsets, Siemens has announced the introduction of the SG75 and SFG75. Adding to Siemens' only other mobile device to offer 3G connectivity, the previously announced SXG75, the two handsets are due out in time for Christmas and among other features share two-inch LCD displays and 1.3 Megapixel cameras.
Measuring in at 98 x 50 x 23 mm and 123 g, the SG75 is the smaller of the two handsets, and sports a slider form factor which conceals a flat keypad. A 2-inch display with a resolution of 176 x 220 pixels and 262K colours serves as the centrepiece of the handset, which also integrates a 1.3 Megapixel camera as well as an RS-MMC card expansion slot in addition to its generous 70 MB of internal non-volatile memory.
A tri-band GSM 900/1800/1900 MHz handset, the SG75 also includes WCDMA 2100 MHz - or 3G/UMTS - as well as Bluetooth 1.2 on the wireless side of things. USB 2.0 is also present high-speed local data transfer, which is certain to come in handy as the media player of the SG75 supports a variety of media formats, the most notable of which are MP3 and AAC+/++ for audio and MP4 and 3GP for video.
Other highlights of the SG75 include a second, front-mounted CIF resolution camera for carrying out video calls, as well as e-mail and instant messaging clients. Also worthy of mention is the inclusion of printing and remote control capabilities via Bluetooth in addition to the more standard-fare headset and dial-up networking options.
Matching most features of the SG75, the SFG75 clamshell measures in at 90 x 45 x 24 mm and a barely lighter 110 g. Its display is carbon copy of that of the SG75, but the SFG75 also harbours a 1.2-inch external display with a resolution of 96 x 96 pixels and 65K colour depth. Connectivity-wise, the handset is again a match for the SG75, although the SFG75 includes Infrared and subsitutes RS-MMC expansion for miniSD.
Also equipped with dual cameras in a setup similar to the SG75, the SFG75 lacks the Bluetooth printing and remote control functionality of its slider sibling, and also takes a back seat to the 70 MB internal memory of the SG75 with its 32 MB.
The Siemens SG75 and SFG75 will both go on sale in Europe in November, and will according to Siemens be priced in the 'mid-range segment'.
Source : InfoSyncWorld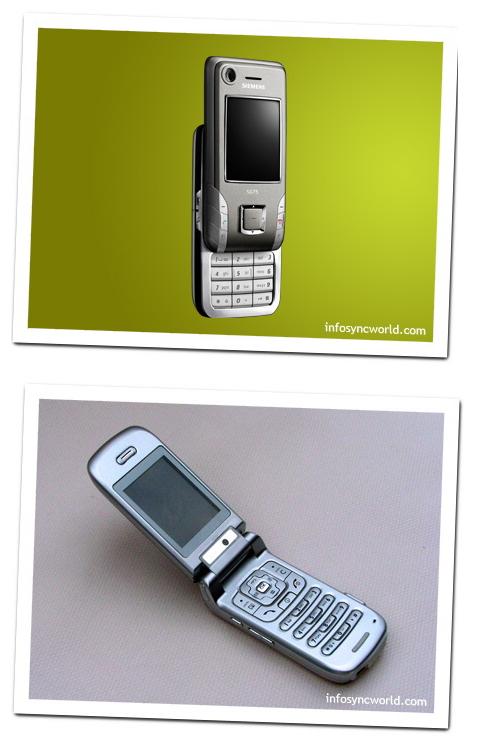 Siemens SG75 (above) and Siemens SFG75(below)