This is a new GPS receiver from
Nabi COM,
a 100% Pioneer subsidiary.
Here are the highlights of the new product:
High accuracy information output of car position, even at the time of undetermined position due to the use of hybrid (satellite/local) method of positioning.

Output of information about acceleration, useful for careful driving guidance and load/fuel economy management.

Simple car navigation by providing a connection to a a PC, thus loading map data.

Conforms to the EU (European Union) RoHS order, to be effective from July 2005.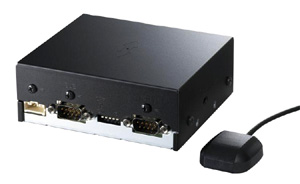 Main Specifications

Reception system: 12 channel reception system

Determination system: Multi satellite simultaneous determination (maximum of 12 satellites), position filter attachment and hybrid determination. DGPS (RTCM - depends on SC104)

Determination renewal time: Approximately 1 second (2Hz, 4Hz output enable)

Interface: 2 system EIA - 232D (RS - 232C conformance)

Transmission system: Pioneer packet 9600/2400bps, NMEA 4800bps

Output data: Tokyo geodetic survey system (to WGS84 in addition to correspondence), latitude longitude, altitude, drift speed, portable direction, time and DOP value, speed, direction. The speed change quantity and the direction change quantity are due to the error extended shaft minor axis and the gyro data.

Power source usage: 10.8 - 30. 2V

Consumed electric current: Below 200mA (14. 4V) at the time of antenna connection

Communication connector: D - Sub9Pin

External size: 110 (W) × 40.8 (H) × 95.6 (D) mm

Mass: 400g

Antenna section: Sensitivity: 130dBm and cable length: 5m.

Size: 33 (W) × 12.8 (H) × 36 (D) mm, mass: 105g