HIS IceQ II 850XT PE - PCIe vs AGP...
In a field like 3D graphics cards, totally dominated by Taiwan players, it is a nice surprise to find a Hong Kong company doing well against the giants across the Taiwan Straits. Hightech Information System Ltd (HIS) focused quite a bit on the high-end "enthusiasts" segment for ATI cards, in the same way that Gainward would have on Nvidia cards. HIS uses unique cooling systems to boost the overclocking potential of their cards beyond the usual 540 MHz GPU/1180 MHz memory clocks. The flashy ice-blue package matching the ice-blue cooling assembly completes the picture, pun intended.
It was interesting to test the otherwise identical AGP and PCI-Express flavours of their flagship IceQ II 850XT PE card - not only see the differences om how it overclocks, but compare the AGP and PCI performance in two otherwise similar PC systems.
So, the PCI Express version ran on an Intel 925XE-based board with 3.46 GHz Pentium4 EE processor on 1066 MHz FSB and 1 GB of DDR2-533 CL3-3-3-8 RAM, while the AGP version ran on an overclocked 3.45 GHz Pentium4 EE on MSI 875P Neo board, with 1 GB of DDR2-433 CL2-2-2-5 memory. Both systems ran WinXP and the newest Catalyst official drivers. In both cases, the AGP and PCI-E ran at the standard frequencies without overclocking.
Both IceQ II cards are based on the 850XT PE platform, which, until the recent arrival of Geforce 7800 series, was the fastest card around. Their cooling system, designed by Arctic Cooling, requires a two-slot configuration but it supposed to let you run close or above 600/1200 MHz configurations in many cases. The cards also have the Rage Theatre option added as standard, providing HDTV output with provided component cables. I'd like them to have a HDMI cable version, too.
I tuned the two test systems to be as close as possible to each other in actual CPU and memory performance, so that the difference would mostly be in the graphics card department. We ran both cards at the default 540/1180 speed first, then overclocked them to see how far we go... in all cases, 3DMark05 was used.
The PCI Express card overclocked OK till about 593 MHz GPU, 1220 MHz memory, while the AGP card went to 586 MHz GPU, 1214 MHz memory. For simplicity, we just showed what should be a stable long-run configuration in the PCI-Express case, with in-sync 590 MHz GPU and 1180 MHz memory so that you can also see the effects of faster GPU without memory speed change - here are the results!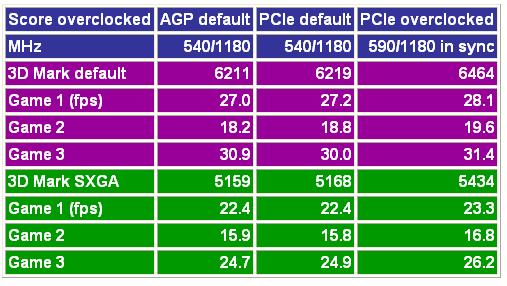 As you can see, the default config differences are minimal, but PCI-Express wins by a razor-thin margin in most cases - simply because the 850XT is a native PCI-Express GPU, maybe?
These are good cards quality wise, and they can overclock to near the limits of the 850XT GPU. The AGP version is still among the fastest stuff you can get for your AGP slot, probably. I'm keen to see how HIS R520 cards will perform, using similar cooling and in the Crossfire setup... another option would be to look at a dual GPU card with R520, later R580 chips? A good cooling setup could make that possible.... but for now.
Source . TheInquirer