I recently ordered and received my first dvd burner. After much research and debating between the NEC 3500a, BenQ 1620 and the Pioneer, I decided to go with the BenQ because of what emperor recommended. I also recently purchased 20 DVD±R sample pack from SuperMediaStore.com and a few other types of media thrown in there. I have the following scans from Nero CD-DVD. I am in no means an expert. In fact I am sort of going off of this post about the quality:
What is the min/normal/max values in Nero DVD Speed
Can someone please tell me about each burn quality and what I should really be looking for. I don't know what exactly everything means but it looks like the Prodiscs r03-03 came out on top. I am pretty paranoid with the quality write and media because I don't feel like loosing all of my data in a few months to some crappy media or burner that I bought. But so far I have been pleased with my BenQ 1620 burner.
I have included the media type, the speed at which I burned it at and how fast it took to complete the burn. I used Nero 6.6.0.3 on a K7S5A Pro with an Athlon 2000+ w/ 512mb ram that runs a somewhat clean WinXP SP2 install with the SiS drivers. Nero Cache is on the drive that I am burning the files form since the drive is 2x faster than my main drive. Ultra DMA Mode 2 is enabled and the drive is on the Master setting. I hope that is enough info... On to the images:
DVD-R MMC 02RG-20 8X 8min 32sec
DVD-R MMC 02RG-20 12X 5min 39sec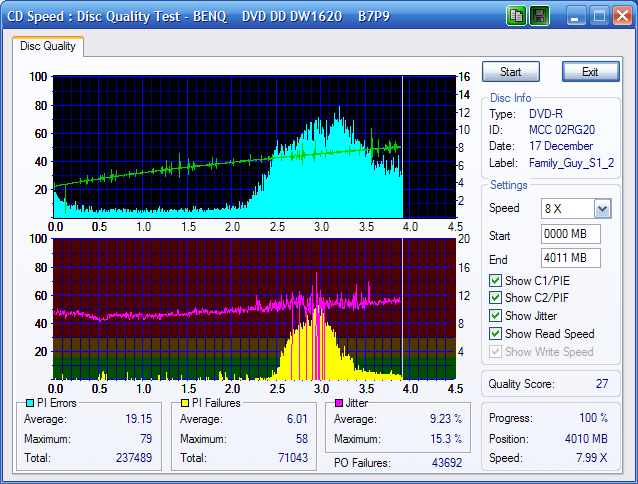 DVD+R Optodisc-0R8-00 8X 7min 50sec
DVD+R Prodisc-R03-03 8X 7min 46sec
DVD+R Prodisc-R03-03 12X 6min 08sec
DVD+R Ritek-R03-02 8x 7min 50sec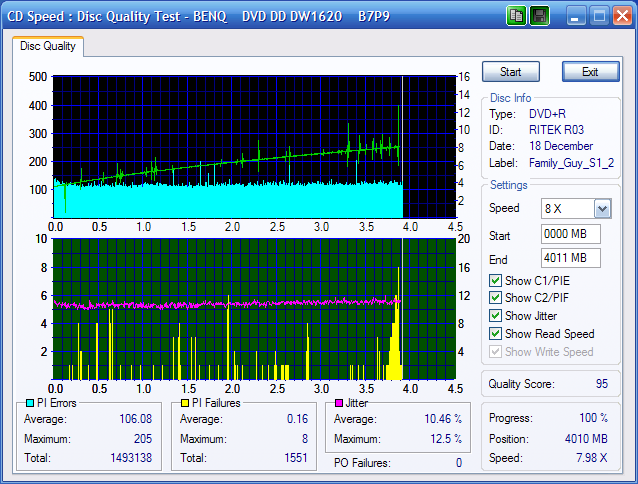 DVD-R TYG02 12x 13min 28sec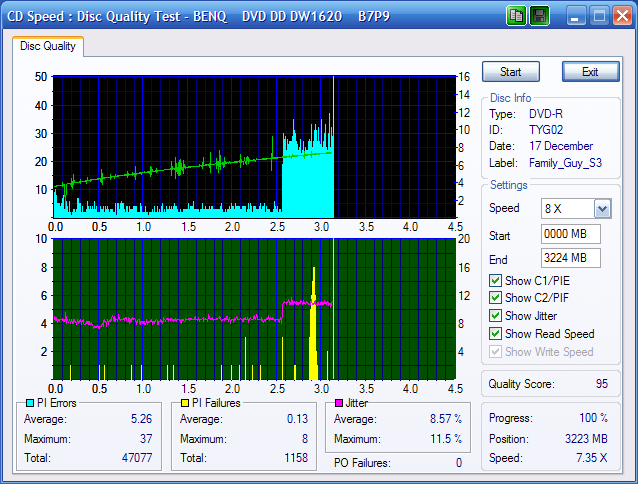 DVD-R TYG02 16X 17min 49sec
DVD+R YUDEN000-T02-00 8x 8min 01sec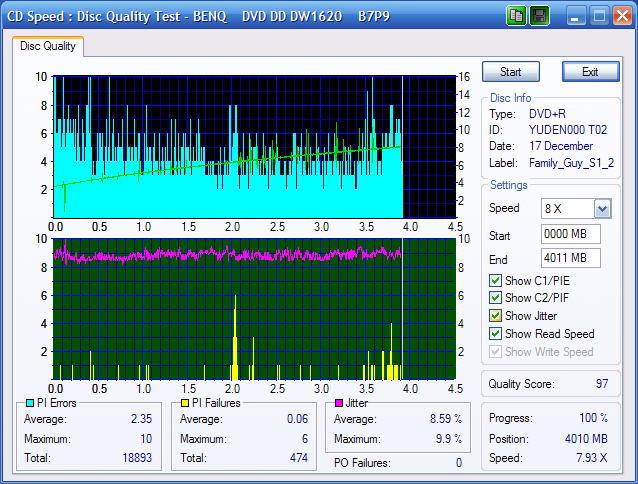 DVD+R YUDEN000-T02-00 12X 6min 10sec
DVD+R YUDEN000-T02-00 16x 5min 47sec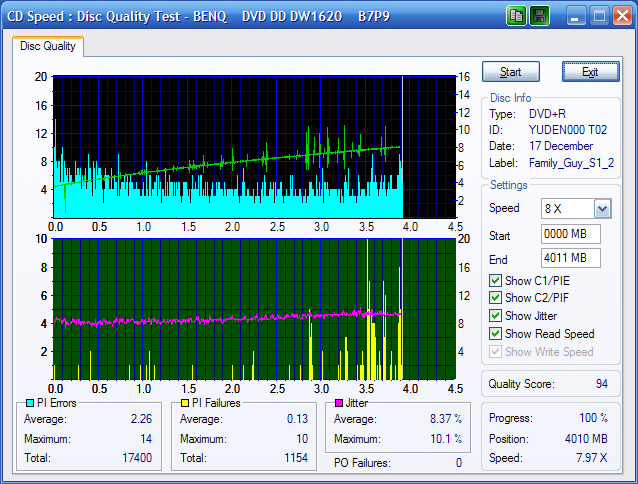 Memorex (Prodisc R03) (DVD+R) (8X)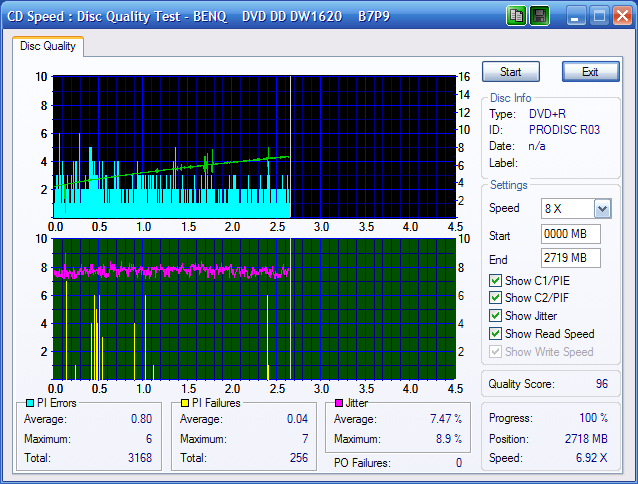 Sorry if it's too much. It's 3:21am and I'm pretty bored. Let me know if I should add any other media or info. If it's too much to handle, then I guess the mods can either change it so you would have to click on the image or whatever. Oh and feedback would be much appreciated. More from me tomorrow afternoon when I wake up. Thank you!