At last...

Here it is...update for
mr. sp
...
Let me say right at the beggining that i am not a PRO in this converting "business"...so I will just express my point of view with this program...

So...here is the screenshot of the program...so I would be able to explain everything more undestandable...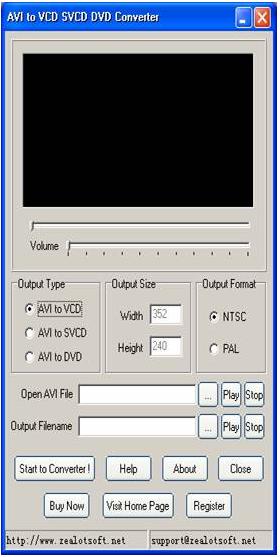 As You may see...the program converts
AVI files to VCD,SVCD and DVD
...there in the middle is shown output format width and height...and on the right...You may choose
NTSC or PAL
output format...
Then You simply
write the name of desired avi file
below....or browse (...), and
write output filename in mpg format
...(by default its the input filename but .mpg instead of .avi at the end)...
You may also press
PLAY
...to preview this video before converting....and also to set volume level above...and then...off You go...
START TO CONVERT(er)...

Converting is very fast...I loaded AVI movie 1:32 Hours long...and convertet it into DVD with PAL format (so the maximum quality that this program could convert to! - 720x576 resolution). It took me 1:52 Hours to convert...so just a little longer than at viewing the movie...which is quite good...knowing that converted DVD format had 8000+ Mbps stream...and that some other converters i used before took some 4-6 hours to convert...
Dont know what else to say....ohhh yes....in case You decide to use this program to convert some of Your videos...
try registering it first...otherways You would have that watermark all across Your new movie

...
Its also hard to judge about the quality of converted movie...its obvious that it cant be better than source video...because its AVI...and output is VCD,SVCD or DVD...and You cant make gold out of XXXX...cant You?
Its a shame that they didnt include opposite converting also...from DVD into AVI....or in VCD....or others...from each one into each one...that would be perfect

...
So for conclusion...I guess this program could be very handy to all those people who have movies or videos stored in AVI format...but want to watch them in their DVD drives....so they could fast and easily convert them and watch...altough it wont be the "true" DVD quality...not that good as if the movie would be originally recorded in DVD quality...but anyway...they would be at least as good as the AVI from which You would convert it from...[
8D]
All in one...
NICE, FAST & EASY TO USE PROGRAM
...

Is it Ok sp? Or shall I provide more details? Just say while I am in the mood...[:
D]